Ukrainian Trade Blockade: Foretaste of Russian Hegemony in Black Sea (Part Three)
Publication: Eurasia Daily Monitor Volume: 20 Issue: 122
By: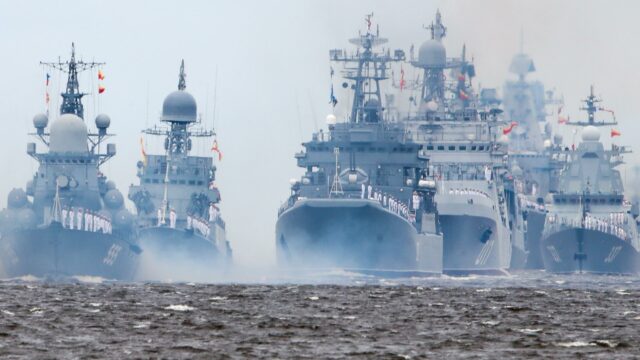 The North Atlantic Treaty Organization's (NATO) summit in Vilnius on July 11 and 12 upgraded the old NATO-Ukraine Commission to a NATO-Ukraine Council, which allows Ukraine to call for consultations during crisis situations (see EDM, July 13, 17, 19). Russia's re-imposition of a total naval blockade of Ukraine, missile strikes on Ukrainian maritime and riverine ports, as well as additional mine-laying have created this crisis. The NATO-Ukraine Council met on July 26 at the ambassadorial level following Ukrainian President Volodymyr Zelenskyy's urgent request for consultation on July 22.
The main result turned out to be a reaffirmation of moral support for Ukraine. The council "strongly condemn[ed] Russia's … attempts to stop Ukraine's agricultural exports," Russian attacks on Ukrainian maritime and riverine ports and Russia's "attempts and serious impediments to freedom of navigation," generally Moscow's dangerous escalatory actions. NATO Secretary-General Jens Stoltenberg, in his own statement, pointed out that "Russia's actions pose substantial risks to the stability of the Black Sea region, which is of strategic importance to NATO." Responding to Russia's actions, "NATO and Allies are stepping up surveillance and reconnaissance in the Black Sea region, including with [the use of] maritime patrol aircraft and drones" (Nato.int, July 26).
The statement downplays Russia's total naval blockade of Ukraine (see Part One) to a level of serious impediments. An acknowledgement of the blockade would have underscored the allies' unwillingness to undertake a freedom-of-navigation operation or a humanitarian maritime operation to unblock at least agricultural exports, as some observers have recommended (see below). The allies will respond to the current crisis merely by stepping up their remote intelligence gathering and sharing. No mention is made of Ukraine's anguished appeals for anti-missile defense to protect its ports from Russian strikes. The acknowledgment of the Black Sea region's strategic importance remains elliptic, as it appears in the Vilnius Summit Communiqué, which included for the first time in the history of NATO summits a paragraph dedicated to the Black Sea (see EDM, July 19).
As White House spokesman John Kirby confirmed, "There is no ongoing discussion about sending warships to the Black Sea now. This would only increase tensions and the potential for conflict between the West and Russia, and this is not what we want. We want the [Ukrainian] grain to come out" (Euromaidan Press, July 29).
The Black Sea Grain Initiative ("grain deal"), however, merely alleviated Russia's full naval blockade of Ukraine by making an exception for agricultural exports and an exemption for the three ports of Odesa. The United Nations Secretariat did not shape the terms of the deal as it might have preferred. Moscow imposed its terms to make the grain deal limited, conditional, temporary and reversible (see Part Two). The agreement did not affect Russia's capacity to snap a total blockade back in place if it chose to do so—which it did on July 17. The goal of returning to the pre-July 17 situation stops short of addressing the grain deal's inherent flaws and Russia's blockade as such.
Russia has declared ever-larger areas of the Black Sea as temporarily closed to international civilian navigation (by riparian and non-riparian states alike). It has used three pretexts for these unilateral measures: first, by claiming sovereignty over Ukrainian and Georgian territorial waters and exclusive economic zones as a consequence of Russia's de facto annexations of Abkhazia and Crimea; second, by invoking Russia's own live-fire military exercises to declare temporary exclusion zones; and third, as a consequence of Russia's war against Ukraine within the Black Sea region since 2022. This third stage seems to presage longer-term and more dangerous restrictions to civilian avigation, as compared with the preceding two stages. From 2014 to date, Russia has step-by-step undermined international maritime law and freedom of navigation, ultimately liquidating these outright in large areas of the Black Sea.
These abuses have helped inspire some Western proposals for freedom-of-navigation operations—and recently for humanitarian maritime operations to unblock at least the Ukrainian agricultural exports. US Admiral (ret.) James Stavridis, former Supreme Allied Commander Europe (Bloomberg, May 29, 2022 and July 25, 2023); the former US ambassador to NATO, Kurt Volker (CEPA, May 30, 2023); and Norwegian naval officer Hans Petter Midttun, formerly a NATO staff officer and defense attaché to Ukraine (Euromaidan Press, July 29), among others, have proposed such operations.
Broadly, the concept involves warships escorting cargo vessels along a corridor from Odesa (and possibly from additional Ukrainian ports) to Istanbul, then sailing onward into the Mediterranean basin. The corridor could, in various proposed versions, either traverse international waters in the Black Sea or the territorial waters of NATO members Romania, Bulgaria and Turkey. De-mining operations would precede the corridor's opening, and air cover is envisaged to protect the route.
NATO as an organization could, in theory, deploy any of its standing maritime groups to the Black Sea for such operations, but this would necessitate unanimous political approval, which seems unlikely. A US-led mission of "willing" NATO members is more plausible but not in the cards. The United States is reticent; Turkey is unwilling not only to participate but also to open the Bosporus to non-riparian warships for the duration of the war. Although freedom of navigation and commercial shipping in the Black Sea in no way threaten Russia's security, Western naval powers and Turkey look reluctant to challenge Russia's interests in the Black Sea in the ongoing conflict. NATO restraint and Turkey's discretionary application of the Montreux Convention have given Russia the chance to act with impunity in the Black Sea thus far.
The United States, the United Kingdom (in their national capacities) and NATO as an organization are issuing warnings to international shippers about the risks posed by Russian mines, possible Russian targeting of civilian vessels or the possibility of Russia staging false-flag Ukrainian attacks on commercial shipping. They also engage in remote intelligence-gathering and sharing it with allies and partners. Meanwhile, Russia holds unchallenged sway in much of the sea.
NATO as an organization and the United States in its national capacity have yet to work out a strategy for the Black Sea. The US was said to be preparing a Black Sea strategy in advance of the Vilnius summit, but the document has not materialized. When it does, critical elements to consider include: first, ending the de-prioritization of the Black Sea region relative to the Baltic region—a disequilibrium that has affected NATO's eastern frontline since the 2016 summit's decisions; second, upholding freedom of navigation in the Black Sea; third, deterring Russia from using the sea to launch or threaten to launch missile strikes against riparian countries (Ukraine today, some other country in the future); and fourth—to achieve those objectives—establishing a regular, continuous, rotational naval presence in the Black Sea, compatible with the Montreux Convention's 21 days' rotation rule and tonnage limitations.