Regional Ties Deepening Between Central Asia and South Caucasus
Publication: Eurasia Daily Monitor Volume: 20 Issue: 122
By: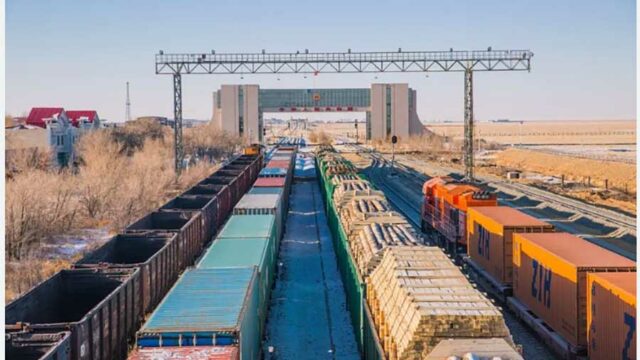 On June 23, Kazakhstan, Azerbaijan and Georgia established a joint logistics company to improve cargo transportation between Central Asia and the South Caucasus in both directions (Bm.ge, June 23). More recently, on July 17, Uzbekistan Prime Minister Abdulla Aripov paid a visit to Georgia where he discussed the importance of developing trade and transit potential between the two countries (Civi.ge, July 17). These events follow other similar developments since early 2022 with Georgia, Azerbaijan and the Central Asian countries signing various memorandums and pushing for reduced transit barriers to improve regional connectivity.
These developments highlight an increasingly pronounced trend over the past decade, which has accelerated following Russia's invasion of Ukraine in 2022—namely, that the area from the Black Sea to Central Asia is progressively viewed as one indivisible geographic space.
The South Caucasus and Central Asia constitute the heart of Eurasia, and a new order is emerging with the United States, the European Union, India, Japan, Iran, Turkey, Russia, China and the Persian Gulf states all competing for influence in one way or another. Some of these actors are more powerful due to their geographic proximity (Turkey and Iran) or military and economic capacity (Russia and the EU), while others are less so (US, China, Japan and Persian Gulf states), though still ambitious enough to seek a greater role in the affairs of both regions. Thus, the overarching pattern is becoming a highly congested geopolitical landscape where new trade routes and infrastructure are being discussed and developed with the potential to shift the power balance in favor of certain actors.
This is a relatively new trend, as for the most part, the South Caucasus and Central Asia have been seen as separate geopolitical arenas (Kremlin.ru, October 14, 2022; Fmprc.gov.cn, May 19; Commonspace.eu, June 2). Natural geography, most notably the Caspian Sea; the lack of adequate infrastructure; and, most importantly, external actors' unwillingness to regard these areas as a single space have kept the two regions largely disconnected, until now. Since the end of the Soviet Union, the two regions slowly began to be viewed as one continuous geographic area that is in need of infrastructure development to connect Eurasia's two major economies: the EU and China.
The war in Ukraine has accelerated this trend. The imposition of Western sanctions on Russia has harmed established commercial lines crossing the country from Asia to Europe (Carnegie Politika, May 9). As a result, the desire to develop alternative trade channels has highlighted the geographic suitability of Central Asia and the South Caucasus as the shortest and most viable multimodal corridors. And this has further pushed external powers to see the two regions in tandem.
Yet, it is not only new infrastructure that binds the regions together. The South Caucasus and Central Asia have also experienced similar geopolitical shifts. With the war in Ukraine, a relative power vacuum has emerged in these two areas. No single power currently dominates the two regions. As such the countries of Central Asia and the South Caucasus are engaged in a delicate balancing act. For instance, weary of the possible ramifications of the Ukrainian conflict, Kazakhstan has made a number of foreign policy moves to strengthen its ties with Turkey, the EU and China (Consilium.Europa.eu, October 27, 2022). Uzbekistan's foreign policy has been shaped by similar motivations (see EDM, May 22). Azerbaijan and Georgia, too, advocate for a foreign strategy that attempts to balance among many stronger powers (see EDM, February 14). Even Armenia, which has traditionally relied on Russia for security, is looking for more leeway in foreign policy through normalizing relations with Turkey (Al Jazeera, October 6, 2022; see EDM, November 2, 2022) and enhancing existing ties with Iran (see EDM, June 21).
This quest for greater maneuverability by regional countries has in turn encouraged increased competition among greater powers. For example, Brussels' intentions regarding the wider Black Sea region, which includes the South Caucasus, have become more apparent since 2022. High-level visits to the region that result in actual funding for regional infrastructure improvement demonstrate the EU's increased commitment to the South Caucasus. In this, Georgia was offered an opportunity to become an EU candidate country. In addition, Brussels struck a new gas agreement with Azerbaijan to quadruple Caspian Sea gas imports (Anadolu Agency, July 19, 2022) and championed the idea of a Black Sea energy cable connecting the South Caucasus to Europe (Civil.ge, December 17, 2022).
In the long run, Brussels is shifting its strategic focus to the Middle Corridor, which serves as a driver for trans-Caspian connectivity (see EDM, April 20; June 15). Others, too, support the idea. Turkey's relations in Central Asia focus on the necessity to accelerate development and use of the Middle Corridor. For instance, during his meeting with Kazakhstan President Kassym-Jomart Tokayev in May 2022, Turkish President Recep Tayyip Erdoğan endorsed the concept of the Middle Corridor in enhancing cooperation on transportation and logistics, also applauding the expansion of the Baku–Tbilisi–Kars railway (Akorda, May 10, 2022).
Nevertheless, there is still a long way to go until the corridor between the EU and China is fully implemented. To begin with, transit infrastructure in Central Asia and the South Caucasus requires more investment and stronger development. Due to the lack of infrastructure in some areas, trans-Caspian cargo trade has struggled to meet expectations. Furthermore, Kazakhstan's and the other Central Asian countries' road and railway infrastructure has only just begun to develop. And significant time and resources will be required for the construction of key projects such as the China–Kyrgyzstan–Uzbekistan railway (see EDM, March 16).
Thus, competition is brewing for the heart of Eurasia. The South Caucasus and Central Asia are increasingly seen as a common space, which means that developments in one region now, more than ever, influence critical processes in the other. Therefore the best approach for bigger players in the region is to set up mechanisms that would address all eight countries (Azerbaijan, Armenia, Georgia, Kazakhstan, Kyrgyzstan, Tajikistan, Turkmenistan and Uzbekistan) together when it comes to the issues of transregional infrastructure. Indeed, the great power that controls the routes from China's Xinjiang region to Georgia's Black Sea ports will be able to shape new patterns for the commercial corridors spanning Eurasia.