A 'People's Constitution' for a 'New Uzbekistan'?
Publication: Eurasia Daily Monitor Volume: 20 Issue: 82
By: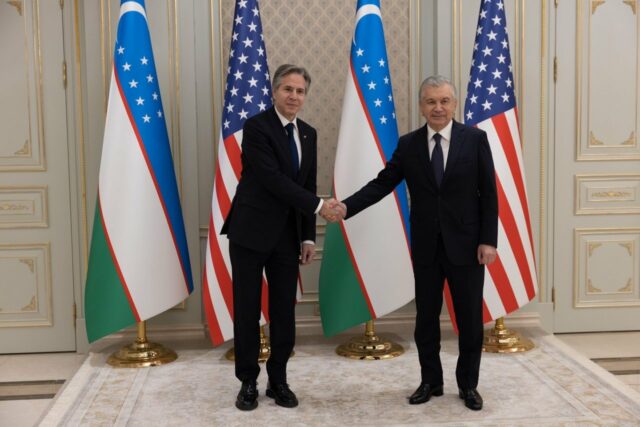 On April 30, the citizens of Uzbekistan, in a referendum, voted in favor of modifying the country's constitution. The reported voter turnout was quite high at 84.5 percent and resulted in an overwhelming majority (90.2 percent) in approving the proposed amendments. However, according to the Organization for Security and Co-operation in Europe, "The voting process was calm, but various serious violations were observed during voting and counting undermining the integrity of the process" (Gazeta.uz; Osce.org, May 1). Overall, the constitutional reforms have been presented as a bottom-up process, in which the legislative work had been informed by a plurality of voices within Uzbekistan and accomplished accordingly.
Dubbed the "People's Constitution of the New Uzbekistan," the reform was outlined after the style of numerous foreign constitutions, offering suggestions to Uzbekistan's legislators on fashioning a modern constitutional document that includes a range of rights and measures only recently added to the ranks of the state's Fundamental Law.
The laws and norms added to the new constitution include provisions on human rights, education, social norms for state assistance and housing, better integrating people with disabilities into social life, environmental rights, gender equality, freedom of movement and workers' rights—all on the basis of the "principle of human dignity." Forced labor has also finally been abolished. In addition, presidential terms have been extended from five to seven years and have been limited to two mandates. (For a comparison, see Lex.uz, December 8, 1992; May 1.) The announced scrapping of the provision on Karakalpakstan's right to secede, which had led to harsh protests in the region's capital of Nukus in July 2022, was not included among the amendments (see EDM, July 5, 2022).
Already on May 8, just a week after the referendum results, Uzbekistani President Shavkat Mirziyoyev signed a decree calling for snap presidential elections, hours later announcing that they have been scheduled for July 9. On this occasion, Mirziyoyev noted he is giving up the remaining three and a half years of his current mandate given the "extremely important and relevant changes and reforms in all spheres" that "our people expect us to make." While widely discussed as inevitable, Mirziyoyev has yet to state openly his intentions to run for re-election, which would "nullify" the mandates served thus far (currently on his second). Should the Uzbekistani president run in the upcoming elections (and again in 2030), he would potentially be entitled to stay in power until 2037, when he will be 80 years old (Gazeta.uz; Gazeta.uz, May 8)
As far as the constitution's promising content is concerned, some experts are rather skeptical. Luca Anceschi, professor of Eurasian Studies at the University of Glasgow, in an interview with this author, highlighted the propaganda surrounding the referendum and argued that the government primarily intends to use the new constitution as an instrument to extend Mirziyoyev's rule. As Anceschi argues, "New elections are envisaged to be held later this year," and "there has been no debate around the amendments proposed." Thus, "no radical reforms in terms of political pluralism and multipartism can be expected" (Author's interview, May 2).
This constitutional reform represents the latest effort by Uzbekistan to modernize and open up the country, which, since the inception of the Mirziyoyev presidency in late 2016, has worked consistently to achieve these goals following a period of isolationism under former President Islam Karimov's rule. These post-2016 efforts started with a series of administrative, economic and monetary reforms intended to open the country to foreign investments, revitalize the private sector and stimulate the stagnating economy (see EDM, January 17, 2018). After reaching a new low in 2018, Uzbekistan's gross domestic product and foreign direct investments have proceeded along an overall positive trajectory (Data.worldbank.org; Data.worldbank.org, accessed May 22
Moreover, a number of benchmark Mirziyoyev policies have attempted to settle long-standing problems that have impeded the country's further development. First, Tashkent aimed to solve the trans-boundary water—and energy—dispute with Kyrgyzstan, as well as issues regarding border delimitation, which had poisoned relations with Bishkek in recent years. After negotiating terms on the Andijan reservoir, an agreement was finally signed on the delimitation of the border by Mirziyoyev and his Kyrgyzstani counterpart, Sadyr Japarov, in 2022 (see EDM, October 17, 2017; March 18, 2021; Aa.com.tr, November 30, 2022; January 27).
The second larger problem is related to internal transportation and connections with Uzbekistan's neighbors, depending only partially on the border disputes, and practically hurdled by the physical and financial difficulties to build a functional transportation system over the mountainous area around the Ferghana Valley. Over the past decade, several attempts have been made to strike deals with external investors, with Beijing especially motivated in backing the China-Kyrgyzstan-Uzbekistan railway project connecting China to Uzbekistan through Kyrgyzstan. However, this plan has encountered increased anti-Chinese sentiments in Kyrgyzstan and unexpressed Russian hostility, as the railway would significantly reduce Moscow's influence in the region (see EDM, November 11, 2021; The Diplomat, July 15, 2022).
Notwithstanding the difficulty in overcoming the problems that still curse Uzbekistan, notable attempts to revitalize foreign relations have been registered, especially following Russia's full-scale invasion of Ukraine, as Tashkent has been receiving increased Western attention and provisions on a peaceful and cooperative foreign policy have also become part of the amended constitution.
Neighboring countries, such as Azerbaijan, are interested in engaging Uzbekistan in an effort to expand connectivity in the Caspian Sea region, with an eye to widening linkages with Europe through development projects including the "Middle Corridor" (see EDM, April 19, 2022; July 26, 2022; April 20).
On March 1, United States Secretary of State Antony Blinken visited Uzbekistan and met with Mirziyoyev. During the talks, the two sides discussed "a wide range of issues on the agenda of bilateral relations in the political, trade, economic, investment, educational, cultural and humanitarian spheres, as well as key aspects of regional cooperation" (Aa.com.tr, March 1).
Recently, Italian Defense Minister Guido Crosetto traveled to Tashkent for a preliminary visit before Mirziyoyev's much-awaited trip to Rome this summer. Crosetto's visit marked the inauguration of a revamped partnership between Tashkent and Rome, with Italy having recently increased its interest in Central Asia and serving as a potential liaison for the European Union in the region (see EDM, May 2).
In this sense, Uzbekistan's constitutional amendments can also be seen as part of this wider effort, bearing in mind the principle of conditionality that the EU applies to its external relations. And the widened attention to human rights in the amended constitution is coherent with the recent legislative effort as expressed in the approval of amendments to the country's criminal and administrative codes, criminalizing domestic violence and granting rights to women and children (Amnesty.org, April 6).
Therefore, while the skepticism surrounding Tashkent's constitutional reforms is understandable, the legislative changes, particularly to the Fundamental Law, should be already acknowledged as a step in and of itself.
Yet, while the way in which the constitutional amendments will be administered in practice remains to be seen, a frank attempt to modernize the country with these reforms should not be ruled out in principle. In fact, Tashkent seems firm in improving governance within the country, and this is in line with the overall recent developments in Uzbekistan's foreign relations.