Turkey Set to Help Kazakhstan Expand Its Caspian Fleet
Publication: Eurasia Daily Monitor Volume: 20 Issue: 123
By: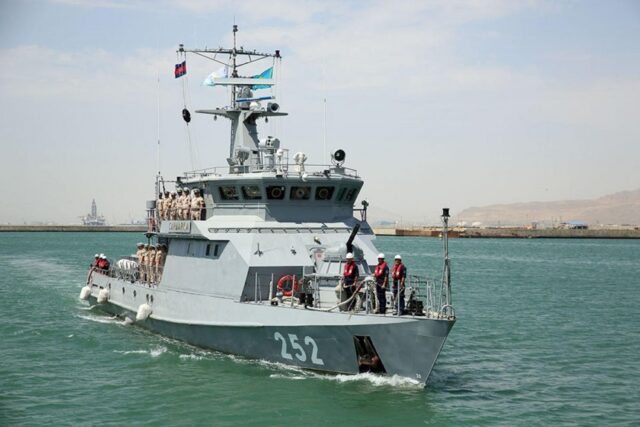 Russia's Caspian Flotilla has been dominant on the waters of the inland sea for so long that many are inclined to ignore the fact that, in recent years, it is far from the only national navy that matters. Moreover, until recently, most of the other littoral states have developed their navies primarily as coast guards to support search-and-rescue efforts or to protect offshore drilling platforms and pipelines, rather than for more conventional defense. Indeed, this remains the case for Iran, Azerbaijan and Turkmenistan.
However, Kazakhstan has recently adopted a different approach—one that not only builds on coastal defense but also focuses on sea corridors through increasingly shallow waters. Although Kazakhstan, like Turkmenistan, did not receive any ships when the Soviet fleet on the Caspian was divided up, Astana has built up the largest inventory of ships of any of the littoral states, including Russia, by purchasing them from foreign countries or building them domestically in cooperation with foreign shipbuilding firms. Most of these ships are quite small and clearly intended for fighting, poaching or search-and-rescue operations; even so, the rapid siltation of the northern part of the Caspian, the product of climate change; the collapse of dredging operations after 1991; and increased demands for water from growing populations means that Astana is now capable of projecting power more effectively than any other state, including Russia, whose Caspian Flotilla ships are larger and require deeper waters (Kz.kursiv.media, June 3, 2016; Inform.kz, March 5, 2021; see EDM, June 24, 2021; Casp-geo.ru, May 7, 2021; Inform.kz, April 2).
Kazakhstan's plans to expand its navy assumed a more public role over this past week when its Zenith factory signed an agreement with Turkey's Asfar and YDA Group to build naval vessels in Uralsk (Defenceturk.net, July 26; Kz.kursiv.media, July 31; Eurasiatoday.ru, July 31; Zakon.kz, July 31). The accord will have three major consequences: First, this agreement effectively sidelines Moscow's efforts to remain the dominant player in Kazakhstan's shipbuilding industry—a position it thought it had solidified in 2010 with an accord to build ships for Astana (Kz.kursiv.media, May 28, 2010). But after this joint effort produced two minesweepers a decade ago, its role has declined to the point that Kazakhstan has chosen to look elsewhere.
Second, Kazakhstan's agreement with Turkey expands on Ankara's already close defense cooperation with Astana. With Turkey now involved, the Russian role is likely to be further marginalized. And this cooperation is part of the Turkish government's efforts to assume a leading role in the development of the Central Asian states' militaries, as was outlined in the case of Kazakhstan during President Kassym-Jomart Tokayev's visit to Turkey in May 2022, just after Russian President Vladimir Putin launched his expanded invasion of Ukraine. With Turkey now playing the leading role in Kazakhstan's shipbuilding plans, Russia is likely to be further sidelined as far as Kazakhstan's naval development is concerned (Kz.kursiv.media, July 31).
And third, while both Kazakhstan and Russia are worried about the strategic and economic considerations of the siltation in the northern Caspian, Astana's past policies of building smaller ships, something that the Turkish-Kazakhstani agreement will almost certainly continue, is likely to put Astana in a better position economically and even militarily than Russia in the region. Moscow, in contrast to Astana, has been locked in denial about the likelihood that siltation will continue for the foreseeable future (Inform.kz, October 12, 2019). As a result, Tokayev has called attention to his country's own shipping problems by involving both China and Iran in dredging operations in the Volga-Don Canal, which links the Caspian to the Sea of Azov and then the world's oceans (Window On Eurasia, March 23, 2022, July 19; Vpoanalytics.com, July 13).
Just how significant the consequences of this agreement may be was reflected in a decision by the Defense Ministry of Kazakhstan to deny media reports that Astana had reached an agreement with Turkish firms to provide armored vehicles. The government ministry may have hoped that this would lead some to conclude that reports about an agreement on the construction of naval vessels were not true either. Nevertheless, subsequent reporting in Kazakhstan indicates that this is not the case and that the deal between the Turkish and Kazakhstani factories regarding naval production will move forward. (On the denial by the Defense Ministry, see Zakon.kz, July 19; on Kazakhstan reporting that this denial does not cover shipbuilding, see Kz.kursiv.media, July 31)
This agreement does not mean that Kazakhstan and Russia are about to clash in the Caspian. Russia's ships, while fewer in number, have far greater firepower, not to mention the likelihood that, in the event these two states indeed come to blows, the Kremlin could bring to bear its even greater superiority in the air. Nor does this mean that Turkey is about to become the dominant player in the Caspian, as it very much clearly hopes to be. While it is involved in the construction of ships and shipping components for all the littoral countries except Russia, Turkey cannot count on immediate results. Even building the relatively small ships that Astana wants will take time. Consequently, Kazakhstan is not likely to achieve dominance on even part of the Caspian anytime soon.
But as the waters of the northern Caspian become ever shallower, and the number of Kazakhstan's naval vessels that can navigate these waters ever larger, these circumstances give Astana an advantage relative to Moscow's larger vessels. The balance between Russia's Caspian Flotilla and Kazakhstan's expanding navy will gradually shift. And this will affect the plans of all littoral states in relations to regional trade and proposed pipelines—and those plans, in and of themselves, will have an impact not only on Kazakhstan's relationship with Russia but also on Astana's relations with Central Asia, the Caucasus as a whole and the West.
It is thus even truer today than when The Jamestown Foundation wrote two years ago that "Russia's Caspian Flotilla No Longer Only Force That Matters There" (See EDM, June 24). At the time, it appeared that the key players involved in changing the power balance in the region were Azerbaijan and Iran; now, in the wake of the agreement between Turkish and Kazakhstani shipbuilding firms, it is likely that Kazakhstan has assumed the most consequential role in this geo-economic and geopolitical shift—and will continue to do so as long as Moscow is tied down with military commitments in Ukraine and elsewhere.