Turkmen Exiled Opposition Ready to Return Following Explosions In Abadan
Publication: Eurasia Daily Monitor Volume: 8 Issue: 136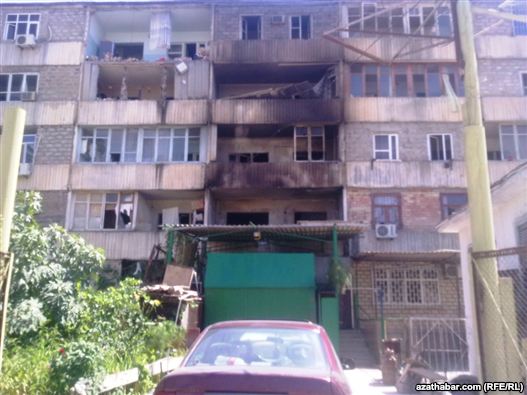 On July 7 powerful explosions in Abadan shook Turkmenistan's political landscape. Following clear attempts to cover up the incident, a few days later the Turkmen regime had to admit that the incident had caused "some casualties." Turkmenistan's President Gurbanguly Berdimuhamedov demoted several government ministers, threatening them with a military tribunal.
Ironically, on the day of the incident, Berdimuhamedov expressed his willingness to cooperate with the opposition and allow them to participate in the presidential elections in February next year. "We are ready for a dialogue with groups that identify themselves as 'opposition.' If any of them wish to participate in the upcoming presidential election, they can be sure to return to Turkmenistan. I guarantee that for them, as for the citizens of our country, equal opportunities will be created to participate in the elections," Berdimuhamedov said during his meeting with government officials (www.turkmenistan.ru, July 9).

Most Turkmenistan nationals interviewed by the Jamestown Foundation were skeptical about the president's latest statement. Nevertheless, it has invigorated Turkmen opposition leaders currently living in exile in Europe. "If this statement from Berdimuhamedov is genuine and he will fight for it to be implemented, it is hard to overestimate the statement's importance," according to the leaders of "Vatan" opposition party Khudaiberdi Orazov and Republican Party of Turkmenistan "Abroad" Nurmukhammet Khanamov (www.chrono-tm.org, July 11). They called on Berdimuhamedov to invite the Organization for Security and Organization in Europe (OSCE) to oversee the process of opposition leaders' returning to Turkmenistan. In their view this would instigate a "civilized political process" in Turkmenistan and lead to "true democracy."
Abadan (formerly Bezmein) is only few kilometers away from the capital Ashgabat. The explosions lasted for several hours, opposition sources reported. Clouds of smoke were seen from the capital city. Turkmen opposition leaders immediately claimed that the explosions occurred at a local arms stockpile located close to residential areas. They warned that scattered ammunition damaged residential buildings, while the number of casualties reached 1,382 people, and a school and a kindergarten were destroyed (www.chrono-tm.org, July 12). Ashgabat hospitals were overcrowded, while all roads leading to Abadan were closed. The number of casualties, however, was not confirmed by any alternative sources.

Ashgabat's sudden openness to a political dialogue might also be a preemptive response to Western criticism. Turkmenistan's official version of the incident insists that the explosion was caused by fireworks stockpiled to celebrate the country's Independence Day.

The Turkmen foreign ministry has accused the Russian media of disseminating misleading reports about Abadan. "Deliberately false reports about 'numerous victims' that is being replicated by the state [TV] channel is nothing else but a rough provocation that aims at inserting suspicion into official information that is openly provided by the Turkmen side" (www.turkmenembassy.ru, July 11). The government calls on the Kremlin to stop such "libel" and punish those distributing it.

Unlike statements addressed to opposition leaders, Ashgabat's reaction to the Russian media might be directed more at the domestic public which has greater access to Russian-language media outlets due to satellite dishes. While Turkmen TV channels continued to broadcast concerts and celebrations, Russian channels became the only reliable source of information for many Turkmens.

Along with smearing the Russian media, opposition sources reported that due to the lack of his own resources Berdimuhamedov was forced to resort to Russian military squads to clean up Abadan. Meanwhile, beyond Turkmenistan online social networks and telephone interviews with locals were the only credible alternative to the government's reports. Contrary to Turkmen government statements, international media in addition to Russian TV channels were portraying an equally murky picture of the event. Videos, photos and first-hand accounts of what occurred in Abadan had leaked into the international press. They all testified about the numerous casualties among military personnel and civilians (www.neweurasia.net, July 8).

"Bombs, rockets, guns, automatic weapons — all of them went off. My home burned down completely. The area where I have been has been completely burned down. I saw a child bleeding with ripped off hands and feet in the arms of his mother; no car would stop to take them…" an eyewitness reported to Neweurasia.net.

According to some reports, the incident provoked scenes of chaos on the streets of Ashgabat. For the first time in several years locals gathered on the streets in panic. The state's tight control loosened for at least some time as cases of looting in the wake of the explosions were reported. The public dismisses official interpretations, while rumors and conspiracy theories continue to spread inside the country.