Twin Soliloquies in the South Pacific: China and the West Pursue Pacific Island Nations
Publication: China Brief Volume: 22 Issue: 13
By: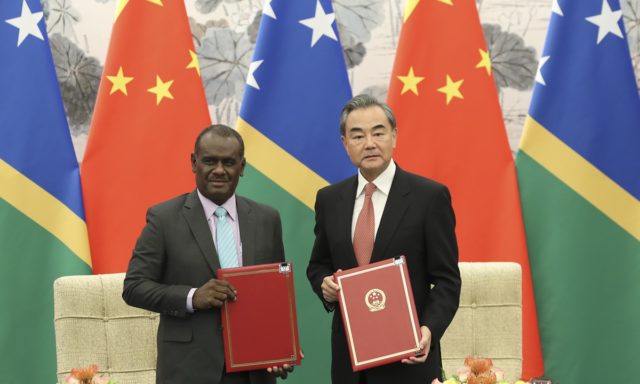 Introduction
In recent years, the People's Republic of China (PRC) has significantly increased its engagement with the Pacific Island Countries, which has resulted in growing Chinese influence across the region. In response, Australia, the U.S. and allied countries have made efforts to counter these growing inroads. The expanding PRC links to the Pacific Islands have occurred in parallel to declining recognition of the Republic of China (Taiwan) with many countries seduced in to switching diplomatic ties from Taipei to Beijing. In September 2019, the Solomon Islands ended 36 years of recognition of Taiwan and established diplomatic relations with the PRC, a move which was followed days later by Kiribati (Xinhuanet, September 23, 2019; People.cn, September 28, 2019). The Pacific Islands are a key target of the PRC's 'One China' policy as Taiwan retains diplomatic relations with Tuvalu, Nauru, Palau and the Marshall Islands, all of which Beijing is pursuing with offers of economic and security related assistance.
Efforts by the PRC to develop relations in the region are not new and hence, should not come as a surprise. In a recent document, "China's Position Paper on Mutual Respect and Common Development with Pacific Island Countries", the Chinese Ministry of Foreign Affairs stated that "China has signed Belt and Road cooperation MoUs with all the 10 Pacific Island Countries having diplomatic relations with China. From 1992 to 2021, total trade volume between China and Pacific Island Countries having diplomatic relations with China registered an average annual increase of 13 percent and expanded by over 30 times" (FMPRC, May 30). The long list of initiatives in the position paper include tangible actions that are likely to strengthen long term ties, but also unconvincing rhetoric such as the paper's first point, which states that China will "advocate for peace, development, equity, justice, democracy and freedom, which are the common values of humanity."
The recent controversy regarding growing links between the PRC and the Pacific Island countries presents another area for competition between China, and the U.S. and its allies. In this context, the PRC government has repeatedly proffered police and security assistance to the Pacific Island nations, which may be a cover for the gradual introduction of Chinese armed forces to the region.
The Diplomatic Police
In April, the PRC and the Solomon Islands finalized a security agreement that was leaked on social media, when Dr. Anna Powles of the University of New Zealand posted a copy of the purported draft agreement. In  Article 1- Scope of Cooperation, the agreement includes provisions for "China to send police, armed police, military personnel and other law enforcement to the Solomon Islands to assist in maintaining social order, protecting people's lives and property, providing humanitarian assistance, carrying out disaster response, or providing assistance on other tasks agreed upon by the Parties; China may, according to its own needs and with the consent of Solomon Islands, make ship visits to, carry out logistical replenishment in, and have stopover and transition in Solomon Islands, and the relevant forces of China can be used to protect the safety of Chinese personnel and major projects in the Solomons" (Dr. Anna Powles, Twitter, March 24).
The Solomon Islands Government announced that the agreement on security cooperation with China had recently been signed and was necessary due to the internal instability, which the country experienced in 2006, 2019, and 2021, when the capital Honiara suffered rioting and looting. The Solomon Islands Government stated that "Against the ongoing internal security threats, the Government intend to beef up and strengthen the Police capability and capacity to deal with any future instability, by properly equipping the Police to take full responsibility of the countries security responsibilities in the hope that the country will never be required to invoke any of our bilateral Security Arrangements" (Solomon Islands Government, April 20).
In late May and early June, PRC State Councilor and Foreign Minister Wang Yi made a ten day trip to the Pacific Island countries. While in the Solomon Islands, he stated that the security cooperation agreement "aims to assist Solomon Islands in improving its policing and law enforcement capabilities and support Solomon Islands to better safeguard its social security while also protecting the safety of Chinese citizens and institutions in Solomon Islands, which is reasonable and legitimate with everything being operated in an open and transparent manner" (FMPRC, May 26).
Both governments have insisted that the agreement only seeks to promote safety and security in the Solomon Islands through police assistance and developing the capabilities of local law enforcement. However, Western governments remain unconvinced and have evinced growing concern that the police related language is intended to mask the pact's real intent, which is to establish the Solomon Islands as a future base for the People's Liberation Army (PLA). The leaked draft agreement did not specify which Chinese units may be deployed to the Solomon Islands, only referring to them as "police, armed police, military personnel and other law enforcement."
Since the disorder in Honiara in 2019, PRC Ministry of Public Security (MPS) officers have been stationed in the capital as a part of the China Police Liaison Team, which is led by an officer of the rank of Commissioner third class (China Brief, May 13). Public Security officers seem to be at the forefront of PRC overseas deployments for security and police support.
For several decades, the MPS has been developing its international capability to support security for overseas PRC nationals and companies, as well as its ability to deny safe havens to pro-independence Tibetan and Uyghur activists. [1] A corresponding increase has also taken place in the number of MPS attaches posted to PRC embassies, which is similar to the deployment of police personnel at consular liaison officers in other countries by many other nations. Currently, 97 police liaison officers are stationed in 55 PRC embassies and consulates in 48 countries (PRC MPS, May 24). In addition to routine police liaison posts, in the past 22 years, the PRC has deployed more than 2,600 police officers to peacekeeping missions in the United Nations headquarters and eleven mission areas including Liberia, South Sudan, and Cyprus. These prolonged overseas deployments help MPS officers attain valuable experience and skills.
MPS assistance to Pacific Island governments is also expanding. For example, the MPS recently deployed a team of eight Chinese forensic pathologists to Samoa to conduct post mortem examinations to help relieve a backlog of cases due to COVID-19 related deaths, and also to conduct forensic technical training for local police (PRC MPS, July 21 2021). In Fiji, the MPS appointed a police liaison officer and signed an MOU with the Fiji Police Force to facilitate Chinese training of local officers (The Fiji Times, September 13, 2021). China's involvement in training and building the capacity of local police forces looks set to further deepen. The PRC's Ambassador to Kiribati has stated that the host country needs to work with China to improve its police and law enforcement capabilities (Global Times, June 1).
In the Pacific Island countries, the PRC has also begun to shift beyond just security training and assistance programs to include direct operational actions, often targeting overseas Chinese nationals. In 2019, Chinese police officers escorted six PRC nationals in Vanuatu onto a flight back to the PRC due to accusations of Internet fraud. However, no local judicial process occurred in what was essentially a government ordered deportation. Similarly, in 2017, 77 Chinese nationals in Fiji were deported back to the PRC (South China Morning Post, 10 July 2019). In Tonga, the PRC has provided customs inspection equipment and a fingerprint laboratory to help the national police combat illicit drug activities (Maitangi Tonga Online, May 30). Such assistance to the Pacific Island countries, which includes the provision of equipment, training, and direct support for local law enforcement agencies, is significant. It also indicates that the PRC is using the MPS as a major part of its diplomatic engagement in the region.
Policing the Mineral Silk Road
The expansion of PRC police and law enforcement assistance to the Pacific Islands should not be seen as altruistic aid, but rather ought to be viewed in the context of the protection of Chinese economic interests and nationals in the region. The expanded global footprint of Chinese economic activity has brought greater risk to the companies and people involved. The major PRC oil companies Sinopec, China National Petroleum Corporation (CNPC), and China National Offshore Oil Corporation (CNOOC) have been active in volatile countries such as Sudan, Syria, Libya, Myanmar and Iran for years. PRC mineral companies such as China Minmetals Corporation, the Metallurgical Corporation of China and Tianjin Minerals & Equipment Group, have been active in countries including Sierra Leone, Tanzania, Zambia, Swaziland, Mozambique, and Afghanistan. [2] Resource extraction from countries with fragile political systems and high-risk operating environments is not new for Western companies, but Chinese companies have been dealing with the same kinds of challenges that require professional security and government support for some time now.
PRC police deployment in the Pacific Island countries is likely to increase as China's economic links with region grow through the  Belt and Road Initiative (BRI). The BRI has created a platform for PRC commercial interests to develop the procurement of resources that the country needs as part of its development plan, and the Pacific Islands are a part of this strategy. The PRC imports seafood, wood and minerals from the Pacific, which is reflective of Chinese interests in the region's fishing, logging and mining industries.
Deep sea exploration for minerals including high-value strategic metals such as copper, gold, manganese, zinc, cobalt and nickel is the next energy resource frontier. The PRC is actively engaged in commercial projects in the Pacific. The Beijing Pioneer Hi-Tech Development Corporation, a state owned enterprise, and the International Seabed Authority (ISA) have signed a 15-year contract for the exploration of polymetallic nodules, which contain nickel, copper, cobalt and manganese, and are needed for battery technologies (International Seabed Authority, 24 October 2019).
At the recent China-Pacific Islands Foreign Ministers' meeting, Wang Yi stated that "China will continue to provide the island countries with economic development assistance within its capacity, strengthen the connection between the joint construction of the Belt and Road, the regional cooperation initiative of the Pacific island countries and the development strategies of the island countries, and deepen the infrastructure, agriculture, forestry and fishery, energy and minerals, information and communication, e-commerce, etc. Mutually beneficial cooperation in the field, and support the expansion of exports of high-quality and characteristic products such as agricultural products from island countries to China" (FMPRC, May 30). This statement includes clear references to firstly fishery, energy and minerals, and secondly to the expansion of exports from the region to China.
Clearly, the primary exports the PRC seeks from the Pacific Islands  are natural resources. This is exemplified in Wang Yi's active diplomatic engagement with the region, wherein he has prioritized guaranteeing the long term supply of natural resources. Assuring the security and safety of the growing number of Chinese enterprises engaged in exploration, mining, logging, fishing, commerce, and diplomacy in the Pacific Islands requires increased deployment by PRC police and sustained engagement with local law enforcement.
Conclusion
The recent tour of the Pacific Island countries by Foreign Minister Wang Yi was hailed by Chinese media as a success. In the context of Wang's whirlwind eight-nation trip, state media put forth several narratives for the expanding scope of PRC activity in the Pacific. The first theme emphasizes the PRC as a "reliable development partner," stressing its extensive development assistance to the Pacific Island countries, including 100 aid projects, more than 200 batches of in-kind assistance, training around 10,000 people, and dispatching 600 medical staff. Such wide ranging assistance also includes security, and the PRC media makes frequent references points of relevance in the 'Position Paper on Mutual Respect and Common Development with Pacific Island Countries', which includes jointly promoting regional peace and security and cracking down on transnational crimes, such as cyber-crimes (Xinhua, June 2).
The second point of emphasis is to characterize the PRC's relationship with the Pacific Island countries as one of "equality, mutual support, and development," in implicit contrast to the U.S., which is projected as a hegemonic power that lacks such virtues (People's Daily, June 4). PRC news media consistently portrays the U.S. as focused on security rather than economics in the Pacific Islands, but China has not shied away from taking assertive measures to ensure the security of its own nationals and interests. One state-run outlet even exclaimed that "With China's overseas interests expanding, it's only natural that it wants to send police and military personnel, if requested, to not only safeguard China's economic and human interests but also help maintain social order in the host country" (China Daily, May 31). With these narratives being more loudly promoted we can expect to see more Chinese police uniforms in the Pacific Islands in the near future.
Martin Purbrick is a writer, analyst, and consultant. He spent over 32 years in Asia working in the Royal Hong Kong Police serving in Special Branch and the Criminal Intelligence Bureau, followed by senior leadership roles managing financial crime risk with several major companies. Martin is an Honorary Fellow at the Keele Policing Academic Collaboration (KPAC) of the Keele University focused on public order and criminology in Asia.
Notes
[1] Jonas Parello-Plesner and Mathieu Duchatel, China's Strong Arm: Protecting Citizens and Assets Abroad (The International Institute for Strategic Studies, Routledge, 2015), 48-50.
[2] Ibid, 21-22.