Will the China-Pakistan Corridor Get a Boost with a New Government in Islamabad?
Publication: China Brief Volume: 22 Issue: 13
By: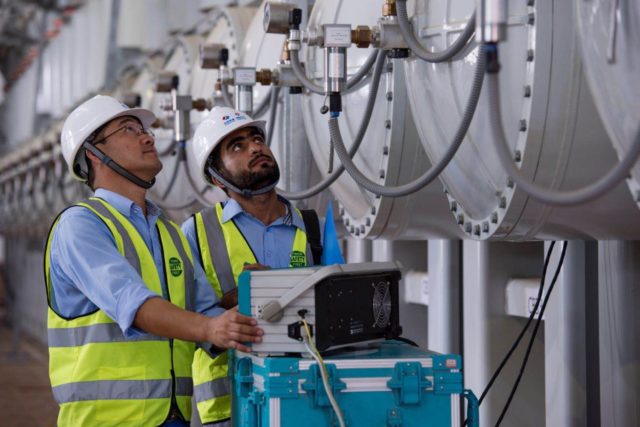 Introduction
On June 10, the Foreign Office in Islamabad received a diplomatic communication from the Pakistani ambassador in Beijing (The News, June 13). China assured Prime Minister (PM) Shehbaz Sharif, who replaced former PM Imran Khan in April, that it is eager to work with the present government (PRC Foreign Ministry [FMPRC], June 17). China also confirmed the rollover of a $2.3 billion loan to Pakistan at a reduced rate, which is a great help to the cash-strapped nation (The Express Tribune, June 22). Furthermore, China agreed to extend additional financial assistance between $2.5 to $2.8 billion, and pledged to support Pakistan's fragile economy through the multi-billion China-Pakistan Economic Corridor (CPEC) (Business Standard, June 29). Chinese leadership also urged the present government to reinvigorate CPEC projects, which were neglected under Imran Khan's government (The News, June 13; Business Recorder, June 15). However, PM Sharif's government has inherited a plethora of problems and issues plaguing progress and causing delays in  the execution of projects that fall under the umbrella of CPEC.
CPEC under the PTI government 
The previous Pakistan Tehreek-e-Insaf (PTI) government led by Imran Khan, which came to power in 2018, provided minimal support to CPEC in the first two years of its tenure. From the outset, Khan criticized CPEC deals signed by the PML-N government alleging that the agreements compromised Pakistani interests and unduly favored China. The Khan administration even went so far as to accuse then Chief Minister of Punjab Shehbaz Sharif of taking kickbacks from Chinese state-owned enterprises (SOEs) working on CPEC projects in the province (South China Morning Post, April 20).
In Baluchistan province, Gwadar port, an essential part of CPEC, was also not properly maintained by the PTI government. This negligence led to a reduction in the depth of the deep-sea port to only 11 meters due to silting. At its current depth, the port is unable to handle larger ships (ProPakistani, May 11). Under Khan's administration, only three CPEC projects worth $300 million were completed  in Gwadar. On the other  hand, nearly a dozen projects in the port city worth almost $2 billion remained unfinished (Express Tribune, May 8).
Under PM Khan, overall implementation of CPEC slowed, and many projects were put on hold. Khan was even a member of a nine-person  committee that reviewed  all BRI contracts. As a result, the new government led by PM Sharif has carried out forensic audits of projects and has lambasted his predecessor's approach for harming CPEC and angering China (Express Tribune, May 8).
Despite the initial difficulties, during the last year of his government, Khan altered his approach, and vowed to complete the CPEC at all costs calling it "a manifestation of [the] Pakistan-China friendship (SAV, January 13, 2021). However, CPEC only made substantial progress in the last year of the Khan government, following the appointment of Khalid Mansoor as special assistant to the prime minister on CPEC affairs. As a result of these policy changes and personnel shuffles, progress on CPEC accelerated again, and several projects in different sectors were completed.
Five months before Khan's ouster, the National Development and Reform Commission (NDRC), China's top economic planning body, declared  that CPEC has entered a new phase of high-quality development (Global Times, October 20, 2021). The NDRC stated that China-funded expressways, vocational schools and power plants are all now operational. The NDRC spokesperson Meng Wei declared that the two countries would continue to focus on development of Gwadar port and energy and infrastructure projects to ensure the high-quality development of CPEC
The New Government's Approach to CPEC
The present coalition government led by PM Shehbaz Sharif conists of a dozen political parties. The two largest and most mainstream parties are the Pakistan Muslim League-Nawaz (PML-N) and the Pakistan Peoples' Party (PPP). While CPEC was conceptualized under the PPP government (2008-2013), it was the PML-N government (2013-2018), which concluded and signed the final deal with China. There are expectations that the CPEC will get a stimulus and boost under the current government, as both the PML-N and PPP want to strengthen ties with China. CPEC is currently in its second phase, which includes promoting industrialization involving the private sector. China has shown  willingness to synergize this development strategy with Pakistan to help the country achieve economic stability (Express Tribune, May 13).
The present government took power in April as a result of a no-confidence motion in the parliament against former PM Imran Khan (China Brief, April 8; Dawn, April 9). In a scant two months, PM Sharif has revitalized CPEC projects and expedited progress toward incorporating Turkey into the initiative. In May, during the launch ceremony for the third Turkish Milgem corvette built by the Karachi Shipyard and Engineering works, Sharif proposed that the CPEC should be converted into "a trilateral agreement between China, Pakistan and Turkey and let us benefit from its wonderful potential to benefit our nations" (Dawn, May 21).
The present government is also addressing the serious liquidity issues and grievances of Chinese companies operating under the CPEC in various sectors, particularly in the energy sector. More than two dozen Chinese independent power producers (IPPs) have threatened to shut down their power plants unless upfront payments were made. The IPPs complained about their over Rs300 billion (roughly $1.42 billion) in delayed dues (Dawn, May 10).
Moreover, Sharif's government has decided to abolish the CPEC Authority, which was established in May 2021 by the former government through the CPEC Authority Act. The decision made by Planning Minister Ahsan Iqbal after it was revealed that Chinese power companies had shut down 1,980 megawatts of production capacity owing to non-clearance of dues. Iqbal stated that the CPEC Authority , "… is a redundant organization with a huge waste of resources which has thwarted speedy implementation of the CPEC" (Express Tribune, April 21, 2022).
There are also talks of promoting the sustainability CPEC projects through green initiatives. In June, at a workshop on "Green CPEC Alliance" in Islamabad, the Chinese Embassy Chargé d'Affaires in Pakistan Pang Chunxue said that "CPEC is steadily moving towards high-quality development; the energy sector is one of the fastest and the most fruitful areas of cooperation under the framework of CPEC; green energy projects such as hydropower and solar power have always been the focus of cooperation between China and Pakistan." In addition, Zhang Jun, Chairman of China Three Gorges Corporation said, "We aim to provide clean and green energy to Pakistan under CPEC, which is a green initiative." "Stable, clean and cheaper electricity is the most important three features of our investment in Pakistan," he added (Islamabad Post, June 2).
China's High Comfort Level with PM Shehbaz Sharif 
In a recent telephone conversation with Chinese Premier Li Keqiang, Sharif assured his Chinese counterpart of Pakistan's intention to expedite work on CPEC and stressed the importance of bilateral cooperation to fully operationalize special economic zones (SEZs) (Dawn , May 16). In the power sector, after Shehbaz Sharif's tenure as Punjab chief minister ended, CPEC energy projects added 10,400 megawatts of power in three years beginning in 2013, with more capacity well on the way by 2018. The country's first-ever mass transit systems were commissioned in Punjab's major cities: Islamabad, Lahoe, and Multan. In recognition of Sharif's crucial role in advancing CPEC's progress, Mustafa Hyder Sayed, executive director of the Islamabad-based think tank Pakistan-China Centre, said: "his work ethic and delivery of projects ahead of deadline became so famous that the Chinese leadership often used to refer to it as 'Punjab speed'" (South China Morning Post, April 20).
Beijing is more comfortable working with PM Shehbaz Sharif because of its prior relationship with him, when he was the chief minister of Punjab during his brother Nawaz Sharif's third and final tenure as PM. As a result, as PM Sharif is able to bank on his reputation for working closely with Chinese entities to realized mega projects in the transportation and energy sectors (The News, June 13). 
Conclusion 
China has been appreciative of Shehbaz Sharif for his past performance in the rapid implementation of CPEC projects. Despite Beijing's acknowledgment of  Sharif's efficiency, CPEC projects will ultimately face harder challenges in phase two versus phase one. In the first phase, projects were executed on the basis of government deals. However, with phase two's involvement of private sector industrialization, bureaucratic snags, legal formalities and involvement of various ministries and departments will slow progress on CPEC projects.
In addition, the new government in Islamabad must deal with another challenge it has inherited from its predecessor, which is the need to provide far better security to the Chinese engineers and Pakistani working on projects, particularly in Baluchistan, where attacks by Baluch separatists have recently taken place (Terrorism Monitor, May 20). Second, resolution of the liquidity issues of the Chinese companies operating in Pakistan's various sectors through CPEC must be a priority. Finally, the procedural and bureaucratic bottlenecks impeding industrialization in the second phase of the CPEC need to be removed through constitutional amendments in the parliament.
Syed Fazl-e-Haider is a contributing analyst at the South Asia desk of Wikistrat. He is a freelance columnist and the author of several books including the Economic Development of Balochistan (2004). He has contributed articles and analysis to a range of publications including Dawn, The Express Tribune, Asia Times, The National  (UAE), Foreign Affairs, Daily Beast, New York Times, Gulf News, South China Morning Post, and The Independent.