U.S., Georgia Hold Meeting Under Strategic Partnership Charter
Publication: Eurasia Daily Monitor Volume: 7 Issue: 182
By: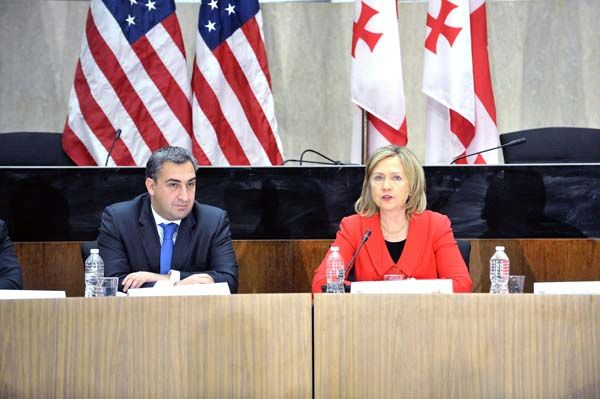 The second annual meeting under the US-Georgia Charter on Strategic Partnership was held on October 6 in Washington. Led by Secretary of State Hillary Clinton and Prime Minister Nika Gilauri, respectively, the delegations held an ''omnibus'' meeting –- that is, one encompassing the Charter's four dimensions of bilateral cooperation: democracy, defense and security, economic issues, and people-to-people contacts.
On the US side, the meeting demonstrated that the Charter's implementation mechanism remains operational, although used below its full potential. More significantly, on the Georgian side, the meeting underscored that country's rapid movement away from the post-Soviet world in all respects but geography.
This meeting was a follow-on to Clinton's get-acquainted visit to Georgia in July. The Charter meeting was expected to produce some deliverables on the US side, and to commensurate with the partnership's strategic rationale. Meanwhile, the US side duly acknowledged the deliverables that are actually forthcoming from Georgia.
Clinton and other US officials expressed deep gratitude for Georgia's troop contribution to the mission in Afghanistan. The largest contingent from any coalition country in per capita terms with 950 troops, 750 of them operating alongside US forces in Afghanistan's south without ''national caveats." The Georgians lost five killed in combat during the month of September. Apart from that context, the United States regards Georgia as an example of successful post-Soviet transformation, ''cheering for the [internal] changes that Georgia is making and the role model that you are becoming'' (State Department press release, October 6; Civil Georgia, October 7).
Politically, the US side reaffirmed its support for Georgia's goal to join NATO. It also pledged to ''continue to support improving [Georgia's] defense capabilities, including NATO interoperability.'' This Clinton remark leads some observers to surmise that Washington may consider selectively relaxing the undeclared embargo on equipping and training Georgia for defense of the homeland. In that case, interoperability might extend beyond counterinsurgency in expeditionary operatiuons, and start encompassing national defense. The latter would not only answer to Georgia's own requirements but also enhance its credentials for eventual NATO membership, in line with NATO's core mission.
The term ''occupied territories'' referring to Abkhazia and South Ossetia, has now become entrenched in US diplomatic usage. Clinton had introduced this terminology officially during her July visit to Georgia. Opening the Charter meeting in Washington she reaffirmed that the US continues "to call on Russia to end its occupation of Georgian territories." On this point, meanwhile, even Moscow agrees to disagree.
Acknowledging that "democracy in Georgia has made great strides," the US side urged that Georgia's 2012 parliamentary elections and 2013 presidential election "should not only meet, but exceed international standards." 'International standards' is a customary paraphrase for Western-standard elections. In Georgia's case, raising the bar higher than those standards may reflect either utopian assumptions behind US policy, or more likely a case of disproportionate input from one bureaucratic constituency in the inter-agency drafting process.
U.S. policy currently views Georgia's strategic value mainly through the prism of Afghanistan. That and other distractions have taken the US policy debate on the South Caucasus beyond its earlier, productive European and Euro-Atlantic context. Prime minister Gilauri brought back that context to the Charter meeting in Washington. He emphasized Georgia's role as an energy transit route of strategic significance to Europe and the Western community of nations. The Georgian delegation called for private-sector and state-to-state infrastructure projects to continue developing the South Caucasus corridor for Caspian oil and gas to Europe, with support from international lending institutions (where the United States wields major influence) (State Department press release, October 6; Civil Georgia, October 7).
Washington and Tbilisi are currently comparing notes on the issue of Russia's qualifications to join the World Trade Organization. WTO member countries have the right to block the entry of new members under certain circumstances, including a demonstrable failure to adhere to WTO's rules. In Russia's case, this includes the forcible shift of the Russia-Georgia customs border, from the internationally recognized state border into the internationally recognized Georgian territory, following Russia's seizure of Abkhazia and South Ossetia in the 1990s. Georgia raised this issue within the WTO and other international organizations during all those years. It submitted proposals to administer the Abkhaz and South Ossetian sectors of the customs border together with Russian customs services, without prejudicing the integrity of Georgia's internationally recognized customs territory. Moscow turned down all those proposals, underwrote rampant smuggling and other cross-border criminality in the two territories, and ultimately occupied them overtly.
Russia's ''recognition'' of Abkhazia and South Ossetia has, from Moscow's unilateral standpoint, created two new customs territories there. This fiction is meant to cover their de facto annexation by Russia. Thus, the pre-2008 violations of WTO rules, and of international law generally, have grown worse. Yet Washington seems to be broaching with Tbilisi the possibility of unblocking Russia's entry into the WTO, as part of the US ''reset'' policy. Should the US nudge the discussions in that direction, its disagreement with Russia on the occupation of Georgian territories would look less convincing than it now does at the declaratory level, and even less effective in practice.
Georgia takes the position that it merely upholds WTO rules by asking Russia to adhere to them, as a necessary qualification for joining the organization. Practically this would involve Georgian customs officials to be stationed on those border sectors, in some arrangement of cooperation with Russia (Civil Georgia, October 7). Admitting Russia into the WTO while ignoring that problem might tacitly vindicate Russia's change of international borders by force.