U.S.–Georgia Security and Military Agreement in the Works
Publication: Eurasia Daily Monitor Volume: 5 Issue: 241
By: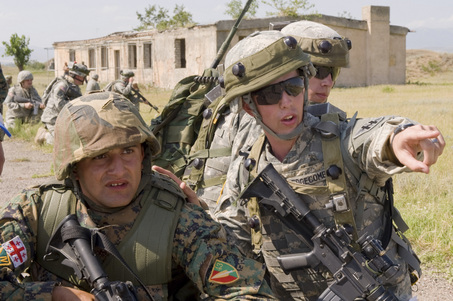 Discussions are advancing on a framework agreement between the United States and Georgia, covering various aspects of relations including security and military cooperation. U.S. Deputy Assistant Secretary of State Matt Bryza, in Tbilisi on December 16 and 17 for consultations, was tight-lipped when journalists asked about the details of the draft agreement. He hinted at a document in the works on "security cooperation and strategic partnership," intended to "deepen cooperation in the security sphere." The goals include helping Georgia fulfill the criteria for NATO membership, working with allied countries to promote that Georgian goal, and building the U.S.-Georgian strategic partnership. The agreement also covers economic relations and education (Rustavi-2 TV, December 16; Imedi TV, Civil Georgia, December 17).
Parliament chairman Davit Bakradze demurred from public comment on specifics after Bryza's meeting with parliamentary leaders; but according to Givi Targamadze, chairman of the parliamentary commission on security and defense, the draft document "effectively covers all spheres [including] military cooperation, further equipping and developing our armed forces, and—to cite the wording in the draft—all measures aimed at jointly overcoming threats" (Rustavi-2 TV, December 16).
The Ministries of Foreign Affairs and Defense are coordinating the drafting on the Georgian side. According to Deputy Minister of Foreign Affairs Nino Kalandadze, the proposed agreement draws in part on the example of the U.S.-Baltic Charter (Rustavi-2 TV, December 17). That 1998 document, coordinated by then-Deputy Assistant Secretary of State Ronald Asmus and signed by the presidents, opened the way for the three Baltic states' ultimate accession to NATO.
Georgia's leading daily, 24 Saati, had first disclosed on December 15 that an agreement might be signed in the near future on U.S. economic, political, security, and military support to Georgia (24 Saati, December 15). The parliamentary leadership's involvement in the discussions may indicate that the document is ultimately intended for ratification by parliament. President Mikheil Saakashvili only noted two days later that the agreement would build on Georgia's "very close relations with this U.S. administration and with the next administration as well" (Imedi TV, December 17).
The Georgian government has announced the nomination of Batu Kutelia, hitherto first deputy defense minister, as the new ambassador to the United States (Civil Georgia, December 16) and has brought ambassador Davit Sikharulidze back from Washington to be the new defense minister. These appointments seem to indicate that security and military issues are set to grow in significance as part of overall U.S.-Georgia relations.
With a divided NATO neither opening nor closing its door to Georgia and the EU an insignificant security actor in this region, the United States missed Russia's advance preparations for invasion, did not deter it, and was slow to react politically. U.S. credibility in the region, in Russia, and among many U.S. allies and partners took a hit when Russia invaded America's showcase political and military ward and devastated it with impunity. Washington, however, did refocus its attention on Georgia soon after the Russian invasion.
The Pentagon began planning work in September on measures to bolster Georgia 's security, as one planner was authorized to suggest publicly (Colonel Jon Chicky, "Political-Military Implications of the Russia-Georgia War and Policy Recommendations," SAIS Central Asia-Caucasus Institute Forum, off-the-record September 2008, cleared for circulation October 2008). The U.S. Navy has maintained a continuous presence in the Black Sea since August, with recurrent port calls in Georgia. The U.S. government recently decided to insure or reinsure U.S. merchant vessels (including crews and cargoes) in the Black Sea against loss or damage from military risks. Some of those vessels deliver cargo to Georgian ports. The naval presence may well be followed soon by a carefully calibrated ground presence, but not in the form of bases.
Following the August events, a watershed with global ramifications, the rationale for establishing U.S.-Georgia bilateral security arrangements has grown more compelling.
First, the transit corridor for Caspian oil and gas must be protected from Russian military interference, as was seen during the August invasion, which underscored both the high value of the transit corridor and its vulnerability to military disruption in the absence of adequate protection. That risk notwithstanding, oil and gas transit volumes are growing, which shows that the corridor has become indispensable. Transit to Europe could increase spectacularly if Western-backed Caspian energy projects come to fruition in the years ahead. Bolstering Georgia's security as an energy transit country would, by the same token, strengthen Azerbaijan, guaranteeing its unique westward access.
Second, the United States is about to increase its reliance on the supply route through the South Caucasus for U.S. forces in Afghanistan. The incoming U.S. Administration and possibly also NATO intend to boost forces and escalate combat against Afghan insurgents. With security unraveling along the supply route in Pakistan, Washington is refocusing on the South Caucasus as an additional route for military supplies to Afghanistan. The South Caucasus option is more expensive but incomparably more secure. It is also immune to Russian political manipulation, which awaits NATO if it chooses Russian supply routes. Georgia and Azerbaijan had offered full access and passage rights from the beginning of the U.S. and NATO operations in Afghanistan, but the allies made only limited use of those offers. Now, however, a larger flow of supplies by land and air would presuppose an unobtrusive U.S. military-logistical presence on the ground. It would also require reliable control of Georgian and Azerbaijani air space.
Third, given U.S. and overall Western interests and objectives in this region, the United States has no choice but to step in when NATO vacillates. For years NATO has recused itself from any security arrangements, even peacekeeping, in the South Caucasus despite the region's rapidly growing strategic significance to Europe. This year NATO promised Georgia membership in principle but withheld the tool of a Membership Action Plan. Such ambiguity was enough to provoke Russia but was demonstrably not enough to restrain it. NATO's lower-grade, yet-to-be-drafted plan for Georgia does not remove the vulnerability the country is now facing. In such circumstances this task can only devolve to the United States.