Ukraine Conflict Benefits China
Publication: Eurasia Daily Monitor Volume: 12 Issue: 62
By: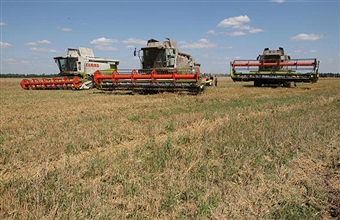 While Beijing officially supports Russia's position on its annexation of Crimea, behind the scenes China is helping keep the battered Ukrainian economy afloat. On March 26, the Ukrainian government and China's CITIC Construction (a subsidiary of CITIC Ltd.) signed a memorandum of understanding stipulating that Ukraine will receive $15 billion from China at a minimal interest rate for 15 years to build housing and attendant infrastructure (Gazeta.ru, March 26). In comparison, on March 11, the International Monetary Fund (IMF) approved a $17.5 billion four-year loan program for Ukraine. The IMF said it expects Ukraine's gross domestic product to shrink about 5.5 percent this year (Imf.org, accessed March 30).
In the political chaos that followed the ouster of the government of Ukrainian President Viktor Yanukovych and the subsequent outbreak of Russian-sponsored armed separatism in the country's east, the Ukrainian economy has stopped dead in its tracks and the Ukrainian hryvnia has fallen by more than 70 percent against the dollar since early 2014.
One of the few bright spots of the Ukrainian economy is agriculture. Ukraine reported a record corn harvest in the 2013/2014 marketing year of more than 30.9 million metric tons (1.2 billion bushels) (Interfax, January 8, 2014; US Grains Council, March 5, 2014). So far this year, China—the world's second largest corn consumer—has purchased over 600,000 metric tons of corn from Ukraine and intends to double the nearly one million metric tons of corn it imported from Ukraine in 2014, buying 470,000 metric tons in January 2015 alone (AgWeb, March 18, 2015). The large-scale Chinese purchases come at the expense of US grain exports to China.
Chinese investments are a boon to the cash-strapped Ukrainian government. Sergei Arbuzov, the former head of the National Bank of Ukraine noted, "Ukraine is losing investors. Last year, they only invested $2.45 billion in our country, but due to capital flight and the exchange rate, the revaluation of the country's investment portfolio saw it immediately decrease to $13.6 billion. This is one of the causes of the many negative phenomena that we are now seeing in the country's economy. Investment is a very serious problem. Without an infusion of funds into the economy and the modernization of fixed assets, it is impossible to talk not just about faster economic growth, but also of even stabilizing the economy in its current catastrophic state" (Forbes-Ukraina, March 3). The State Statistics Service of Ukraine supports Arbuzov's grim prognosis, reporting that direct investments from the European Union into Ukraine shrank from $43.9 billion on January 1, 2014, to $35.6 billion on December 31, 2014 (Ukrstat.gov.ua, accessed March 30).
Ukraine's confrontation with Russia also negatively impacted its trade with other Commonwealth of Independent States (CIS) countries. According to Ukraine's Ministry of Agricultural Policy and Food, Ukrainian exports of agricultural products to the CIS in 2014 fell by 31.1 percent, to $2.5 billion (Interfax-Ukraine, March 18).
Accordingly, Ukraine is seeking to boost its corn exports to China. In 2014, Ukraine exported 65 percent of its corn production. China and Ukraine are currently renegotiating a loan agreement that, according to Ukraine's Food and Agriculture Minister Oleksiy Pavlenko, could see a doubling in Ukrainian corn exports to China (Uatoday.tv, March 17; Business Recorder, March 8).
For the remainder of the year, Ukrainian corn output is projected to fall; as the country's currency has plunged against the dollar, costs have increased for both imported seed and fertilizer. Analysts at UkrAgroConsult also predict that Ukraine's wheat harvest is likely to decrease this year due to unfavorable weather during autumn sowing and a smaller sown area (Hellenic Shipping News, March 26).
China's interest in Ukraine is not limited to food exports. According to Ukrainian Minister of Economic Development and Trade Aivaras Abromavichus, China is also interested in investing in Ukraine's IT sector (Me.kmu.gov.ua, February 25). Another bright spot in Ukraine's otherwise dismal economy is China's purchase of Ukrainian iron ore raw materials (IORM). In January 2015, Ukraine's ore mining enterprises increased IORM exports by 18 percent year-on-year to 3.706 million tons, with China accounting for 51.43 percent of total exports. Given the hryvnia's volatility however, a State Fiscal Service of Ukraine customs statistics report noted that Ukraine's Forex revenue from IORM exports fell by 41.4 percent to $206.539 million (Interfax-Ukraine, February 17).
Beijing is also following through on a December 2012 $3.6 billion loan agreement signed between Ukraine and the China Development Bank. In February, Ukraine's Ministry of Energy and Coal Industry and Naftogaz Ukrainy initiated talks with the China Development Bank on the possibility of replacing projects and partially expanding the loan's purpose to include Naftogaz. Part of the loan will be used for projects in the state oil and gas industry, such as constructing plants to produce synthesis gas from coal held at Odesa's port-side chemical plant as well as the the reconstruction of state and large municipal heating stations to shift from gas to coal in Ukraine's central, western and southern regions. Moreover, the loan will go toward other state oil and gas projects, including building a Ukraine-Poland gas interconnector, renewing Ukrgazvydobuvannia drilling rigs, and modernizing the Shebelynka gas refinery (Interfax: Ukraine Business Weekly, March 4).
The new Ukrainian government's highest priority is to stabilize the country's economy and currency. In early March, Ukraine raised its benchmark interest rate to 30 percent, the world's highest, after the hryvnia tumbled to a record 34.247 per US dollar in February (Shenzhen Daily, March 12). China's willingness to purchase Ukrainian exports, from agriculture to ore, is one of Kyiv's few economic success stories. But that said, China's budding economic ties with Ukraine are most likely to always take second stage to its relations with Russia. On March 9, Chinese Foreign Minister Wang Yi told reporters at a press conference that China pledged to support Russia in the face of Western sanctions, noting that Sino-Russian relations were based on "mutual need." He noted that the two countries would work to increase trade to an annual $100 billion a year while intensifying cooperation in sectors including finance and energy (Shanghai Daily, March 9). In contrast, Ukrainian-Chinese bilateral trade is worth roughly $10 billion per annum. So while, for the foreseeable future, Chinese foreign policy will be to maintain equipoise between Moscow and Kyiv while safeguarding its economic interests, over the long term, this strategy may prove arduous for Beijing.