Ukraine Details Claims Against Russia in Maritime Dispute, Says Russia Steals Gas
Publication: Eurasia Daily Monitor Volume: 15 Issue: 32
By: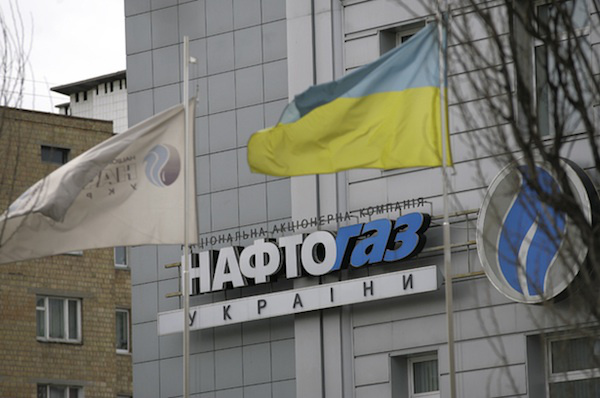 Kyiv claims Russia has been siphoning off natural gas from offshore fields it seized from Ukraine in 2014, after forcibly annexing Crimea. The Ukrainian government detailed its claims in a memo submitted to the International Tribunal for the Law of the Sea (ITLOS) in Hamburg. Moscow has nine months to come up with arguments to reject Kyiv's claims. Alternatively, it has three months to prove that ITLOS has no jurisdiction over the case. Kyiv says that, on top of the gas fields, Moscow also stole Ukrainian drilling rigs, and that the construction of a bridge to Crimea from Russia over the Kerch Strait is illegal.
Ukraine initiated arbitration proceedings at ITLOS in 2016. The first hearings were in May 2017. The Ukrainian Ministry of Foreign Affairs said the memo was filed, as scheduled, on February 19, under the 1982 United Nations Convention on the Law of the Sea (UNCLOS). Russia has, since 2014, excluded Ukraine from exercising its maritime rights, illegally exploited Ukraine's resources, and usurped its right to regulate its own maritime areas, all while stealing energy and fishery resources and blocking traffic to seaports with the Kerch Strait Bridge construction, the foreign ministry charged (Mfa.gov.ua, February 19).
Russia illegally seized the offshore gas fields Odesskoye, Golitsynskoye, Arkhangelskoye and Shtormovoye, as well as the Crimean onshore fields Semenovskoye, Zadornenskoye and Dzhankoyskoye. Since 2014, Russia has produced a total of 7.2 billion cubic meters (bcm) of gas there, Chornomornaftohaz, the subsidiary of the Ukrainian state oil and gas company Naftohaz Ukrainy for offshore fields, estimated. For comparison, Ukraine produced 21 bcm of gas and imported 14 bcm of gas last year, so the amount siphoned off by Russia is significant. From the largest of the seized fields, Odesskoye, Russia extracted 3.8 bcm of gas, drilling seven wells there in addition to the eleven wells drilled by Ukraine earlier. Russia also seized four drilling rigs, including two deep-water ones acquired by Ukraine shortly before the annexation (112.ua, February 27). Ukraine paid a total of $800 million for the two rigs in 2011.
Russia apparently understands that its legal position is weak, especially as far as Odesskoye is concerned. The Russian news agency RBC has reported, citing Russian government sources, that Russia would stop using Odesskoye as of July. This move is designed to make it seem as if Russia is conducting no commercial activities there. The wells will be shuttered on recommendation from the Russian foreign ministry, the sources said. Even if Crimea had legally been part of Russia, Ukraine's position in a dispute over Odesskoye would be strong, as Odesskoye is physically closer to Ukraine's Odesa province than to Crimea. Without natural gas from Odesskoye, Russia will apparently supply Crimea with gas via its new Kuban–Crimea pipeline (RBC, February 15).
The bridge across the Kerch Strait to Crimea, which Russia plans to launch in December 2018, may be more important for Moscow than Odesskoye (see EDM, October 12, 2017; February 12, 2018). Having failed to carve out a land corridor to Crimea via the southeastern Russian-speaking areas in Ukraine by military force in 2014, Moscow will rely on the bridge as the first and only road/rail link between the Crimean Peninsula and Russia. As such, the Kerch Strait Bridge can be expected to strengthen Crimea's economic ties with Russia proper and cement the occupation. In addition to being a strategic defeat for Ukraine, the bridge will increase the isolation of Ukraine's ports on the Sea of Azov, important especially for the metals and mining sector, which dominates Ukraine's industry. When Russia last summer temporarily closed the Kerch Strait because of construction work on the bridge, Ukraine's second and third largest steel mills, Azovstal and Ilyich, respectively, both located in Mariupol (Mariupil), had to stop using the Mariupol seaport, redirecting their exports to ports in other Ukrainian regions. Moreover, Mariupol fears that bigger ships will be unable to reach it once the bridge is ready (0629.com.ua, August 15, 2017).
The suit filed at ITLOS is one of the several cases against Russia in the wake of the Crimean occupation and the Russian invasion of the Donbas region in 2014. In June, Ukraine is going to submit a memo against Russia at the International Court of Justice under the Convention for the Suppression of the Financing of Terrorism and the Convention on the Elimination of All Force of Racial Discrimination, Ukrainian Deputy Foreign Minister Olena Zerkal said (Eurointegration.com.ua, February 19, 2018). For Kyiv, the financing by Moscow of its proxies in Donbas is tantamount to supporting terrorism; and in Crimea, the Ukrainian government argues, Russia discriminates against the indigenous Crimean Tatar people (see EDM, October 30, 2017).
Most recently, Ukraine won a four-year dispute over gas, which was also triggered by Russia's aggressive behavior. The Arbitration Institute of the Stockholm Chamber of Commerce awarded $4.7 billion in damages to Naftohaz under the gas transit contact with Gazprom from 2009. Gazprom now owes Naftohaz a total of $2.6 billion, taking into account a previous Stockholm arbitration ruling that decided Naftohaz owed Gazprom over $2 billion in arrears. This is an important victory for Naftohaz, especially since Gazprom's claims over the take-or-pay clause from the gas supply contract alone exceeded $56 billion (Naftogaz.com, February 28).
Unable to fend off Moscow's aggression by military means, Kyiv has strived to use legal disputes in order to raise Russia's costs of occupying Crimea and eastern Donbas. This, along with international sanctions, has been an important element in the effort to stop Moscow's interference in Ukraine.