Ukraine Indicts, Detains Putin's Top Asset Medvedchuk
Publication: Eurasia Daily Monitor Volume: 18 Issue: 77
By: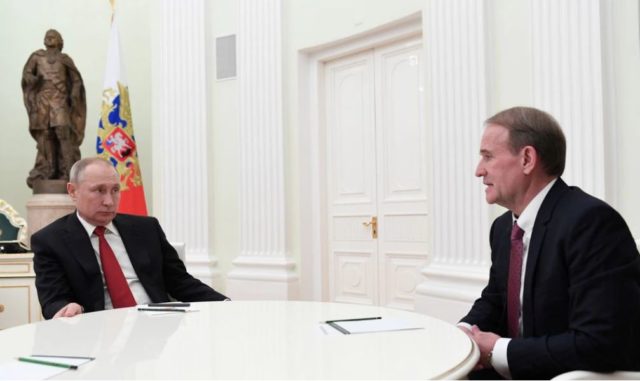 On May 12, Ukraine's General Prosecutor's Office detained Viktor Medvedchuk, pending his trial for multiple alleged criminal activities. His legal status as of now is that of "suspect," pending the change to "accused." Medvedchuk's main alleged accomplice, Taras Kozak (member of parliament with Medvedchuk's party), has absconded to Russia. Meanwhile, Medvedchuk's spouse, Oksana Marchenko, has been named as a co-conspirator but not a suspect at this time (UNIAN, May 12).
President Volodymyr Zelenskyy is vocally supporting the law enforcement's actions against Medvedchuk and the other suspects. Ukraine's National Security and Defense Council's (NSDC) Secretary Oleksiy Danilov had initiated these actions in February, and Zelenskyy endorsed them with alacrity from the inception (see below).
A diehard Russophile, personal friend of Russian President Vladimir Putin, and business "oligarch," Medvedchuk is the chairperson of Ukraine's largest parliamentary opposition party, Opposition Platform–For Life, which supports the Kremlin's positions on the full range of contentious issues between Russia and Ukraine. Since 2004, Putin is godfather to Medvedchuk's daughter.
Ukraine's General Prosecutor Iryna Venediktova and Security Service Chair Ivan Bakanov presented the allegations against Medvechuk (the basis for an upcoming criminal trial) at a joint briefing on May 11. The court-authorized investigation had been ongoing covertly for some months against Medvedchuk and his co-conspirators (see below).
Three major allegations are currently being proffered, largely based on written documents (some with Medvedchuk's handwriting, shown in captured screenshots) and audio intercepts (Hromadske, Ukrinform, UNIAN, May 11, 12).
First, Medvedchuk and Taras Kozak allegedly turned over to Russia the rights to a Ukrainian state-owned offshore oil and natural gas field, Hlyboka, in Ukraine's exclusive economic zone (EEZ) near Crimea. A Ukrainian company linked to Medvedchuk, New Projects, had obtained the license to Hlyboka prior to Russia's seizure of Crimea in 2014. The company re-registered the field as Russian with the Crimean authorities from 2015 onward, while Medvedchuk also turned over the classified geological data and planned to start operations there, defrauding the Ukrainian state of this property asset and the potential revenue. The field's perimeter, however, overlapped with a Russian naval training area, and Medvedchuk requested Putin personally to change the naval training area's boundary.
In one audio intercept, Medvedchuk discusses this matter with a "deputy prime minister of Russia" whom Medvedchuk addresses with the nickname "Dima." This, and the allegedly matching voice, seem to point to Dmitry Kozak, deputy prime minister of Russia from 2008 through 2020, and currently Putin's envoy to the negotiations on the Russian-Ukrainian war.
Second, in August 2020, Medvedchuk allegedly passed on to the Russian side, via Taras Kozak, information about the armament, staff and positioning of an (unspecified) covert unit of the Ukrainian armed forces.
Third, Medvedchuk allegedly drew up plans recently to create a network, named "Luch" (Light), among citizens of Ukraine residing in Russia as workers and students. The plan, shown in captured screenshots, envisaged using that network for political propaganda back in Ukraine.
Medvedchuk's detention and the allegations just proffered amount to a second round of actions against him and the co-conspirators, after the actions taken in February against them. On February 2, Ukraine's NSDC under Danilov introduced—and Zelenskyy approved instantly by presidential decree—sanctions on Taras Kozak and eight entities linked to him that founded and operated three Russian propaganda television channels based in Ukraine. On February 3, those three TV channels—112 Ukraine, ZIK and NewsOne—were suspended and ceased broadcasting over the air as of that date. On February 19, the NSDC imposed sanctions on Medvedchuk, Oksana Marchenko, as well as eight individuals and 19 companies linked to the Medvedchuk-Marchenko couple. The sanctions, valid for three years, include asset freezes, bans or severe restrictions on export-import operations and financial transactions, and suspensions of management rights on entities in their ownership. Also on February 19, Zelenskyy decreed the return of the Ukrainian section of the Samara-West oil product pipeline from a Medvedchuk-controlled company back to Ukrainian ownership. Ukraine's High Anti-Corruption Court promptly enforced that decree (Ukrinform, February 2–4, 19; Ukraiynska Pravda, February 19; Kyiv Post, February 23).
Some of the February sanctions are based in part on suspicions that Medvedchuk and associates have been sponsoring "terrorism," meaning the Russian-installed authorities in the occupied Donetsk and Luhansk. Those suspicions center on Medvedchuk-Marchenko's links with a Russian coal-trading company, Don Coal, based in Rostov just across the border from Ukraine. That company is said to smuggle coal out of Donetsk-Luhansk and sell it unlawfully. The proceeds are said to help fund the Donetsk-Luhansk authorities as well as the three TV channels now banned (see EDM, February 24). The suspicion of sponsoring terrorism is not a part of the current allegations against Medvedchuk and his associates, but it is expected to be added to the allegations.
The Ukrainian authorities must be careful to avoid the appearance of a politically motivated prosecution of Medvedchuk and associates. While the evidence presented looks credible and even convincing, Bakanov's and especially Venediktova's presentations at their May 11 briefing sounded politicized and designed for national pedagogy. The authorities will have to present an air-tight, professional and de-politicized case when it comes to court. If professional standards fall short, Medvedchuk and associates will be certain to seek redress in international courts.