Ukraine Introduces Sanctions Against Russian Citizens, Companies
Publication: Eurasia Daily Monitor Volume: 12 Issue: 172
By: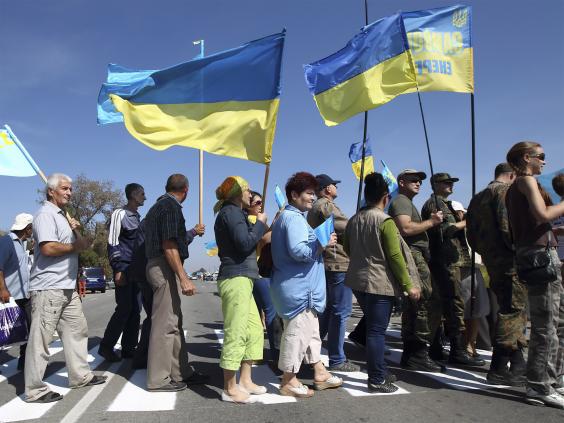 On September 16, Ukrainian President Petro Poroshenko signed a decree introducing sanctions against 105 firms and 388 individuals, mainly from Russia, for supporting the annexation of Crimea and the war in the eastern Ukrainian region of Donbas (President.gov.ua, September 16). The decree came into effect on September 22, when its text was published in the official government newspaper, Uryadovy Kuryer. This is a symbolic gesture, late and unlikely to seriously affect anybody or any business entity currently operating in Russia. Simultaneously, Crimean Tatars and Ukrainian nationalist groups have launched a blockade of highways for trucks carrying goods to Crimea from mainland Ukraine. This move, apparently backed by Kyiv, will affect both Ukrainian firms trading with Crimea as well as Crimean consumers.
Ukraine severed ties with the Russian military-industrial complex, introduced travel bans on some Russian public figures and reinforced border checks last year. However, it was reluctant to follow the example of the West and introduce formal economic sanctions against Russia. Meanwhile, economic links between Russia and Ukraine have remained relatively strong despite the war. For example, four out of Ukraine's ten biggest banks (as measured by the size of their assets)—Prominvestbank, Sberbank, Alfa and VTB—are subsidiaries of Russian banks (Bank.gov.ua, accessed September 22). Moreover, Poroshenko has not sold his Roshen confectionery plant in the Russian town of Lipetsk, despite his assurances that the financial advisory company Rothschild Group was looking for buyers for the president's company (Antikor.com.ua, January 9; see EDM, March 24).
The Ukrainian sanctions have been introduced for one year and include asset freezes and travel restrictions. They are unlikely to do much harm to Moscow, as their scope is limited—evidently because large-scale sanctions against big Russian energy companies or banks would harm Ukraine more than Russia. The Russian energy sector is conspicuously absent from the list signed by Poroshenko (President.gov.ua, September 16). This is not surprising, as in spite of the efforts to diminish dependence on Russian energy, Ukraine cannot do without Russian gas or fuel for its nuclear plants, and it has to import Russian coal, as the war in Donbas has halved domestic coal production (Ukrstat.gov.ua, accessed September 22).
Sanctions were not applied to any of the four Russian banks with large subsidiaries in Ukraine. This is not surprising either. While about a third of Ukrainian banks have failed since early 2014 due to the national currency collapse, the Russian banks remain among the few pillars of stability for the local financial system. At the same time, the sanction list includes more than 20 mid-size Russian banks. Many defense industry firms and air companies can also be found on the list, but this only confirms the status quo. The war had already put an end to cooperation with Russia in the defense sector, and passenger flights between Russia and Ukraine have been reduced to a minimum, along with the severance of business and official links.
The new measures are highly unlikely to harm any of the Russian citizens on the list. They are mainly government and military officials, so given the strained relations not many of them would dare to travel to Ukraine or have assets there, except Crimea and Donbas, where Ukraine is unable to physically enforce sanctions on them. At the same time, the list has partially undermined Ukraine's own image abroad. Its original version included a long list of international journalists, which provoked an international outcry. In particular, there were three journalists from the United Kingdom's BBC news agency on the list. Kyiv has had to admit this was a gross mistake (Eurointegration.com.ua, September 21).
Meanwhile, since September 20, Crimean Tatars and several Ukrainian nationalist groups have been blocking roads by which trucks carry food from mainland Ukraine to Crimea, causing long queues. They demand that Russia free Ukrainian political prisoners and return Ukrainian property confiscated in Crimea, and that Ukraine's parliament cancel the special trade rules for Crimea, introduced immediately after the annexation, which allow Ukrainian companies to ship goods there at a profit. They also demand that Ukraine stop supplying electricity to the occupied peninsula, Crimean Tatar leader Mustafa Cemilev has said (Deutsche Welle–Russian service, September 21). Although this blockade is likely to cause further harm to Crimea's already hard-hit economy, which has been struggling since the annexation, the campaign has succeeded in once more drawing international attention to the plight of those of its residents unhappy with living under Russian rule (International Business Times, September 22; USA Today, The Independent, September 23).
The paradox is that, from the point of view of Ukrainian law, the road blockade is clearly illegal. There is no official ban in Ukraine on trade with Crimea, and interference with traffic should, in theory, be punishable by law. However, law enforcement agencies have not interfered. President Poroshenko noted, at a recent meeting with the visiting Secretary General of the North Atlantic Treaty Organization (NATO), Jens Stoltenberg, that police was present at the venue to prevent provocations. And Poroshenko added that the blockade could be viewed as a means to restore Ukrainian sovereignty over Crimea (Zn.ua, September 21).
Although the new Ukrainian sanctions, as well as the blockade, will likely have few tangible economic consequences on Russia, they are evidently aimed at attracting the attention of the international community. Indeed, there are increasingly voices in the West arguing that the time has come to ease tensions with Moscow and begin lifting Russian sanctions. Thus, Kyiv hopes to bring the issue of Ukraine's resistance to Russia back into focus for authorities in the European Union, which now has its hands full with the refugee crisis, and in the United States, already preoccupied with the start of its presidential election season and busy with Syria.