Ukraine Needs to Secure Its Maritime Future: 'Mosquito Fleet' Provides a Viable Strategy
Publication: Eurasia Daily Monitor Volume: 20 Issue: 95
By: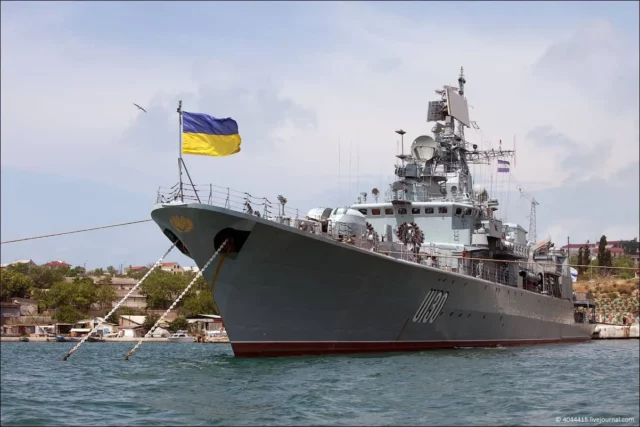 The Ukrainian Armed Forces face the difficult task of liberating 80 percent of Ukraine's coast, now controlled by Russia, including the Azov Sea region and Crimean Peninsula. The country also needs to restore navigation from its Black Sea ports blockaded by Russia as well as clear mines and ensure freedom of navigation throughout the Black and Azov seas (Tsn.ua, April 14). The Black Sea Grain Initiative has stagnated with increasing difficulties in its implementation as well as in negotiations on extending the agreements (Unian, May 18). It is becoming apparent that, to liberate its coastline and seas, Ukraine will have to rely on its own naval capabilities to conduct sea-denial and sea-control operations in the restricted waters of the northern Black and Azov seas.
Without the urgent development of the Ukrainian Navy's surface forces, it will be difficult to liberate the coastline and impossible to control maritime infrastructure, territorial waters and exclusive economic zones. Moreover, given that both Ukraine (Pravda.com.ua, February 24) and later Russia (Unn.com.ua, June 1) have effectively nullified the 2004 bilateral agreement on use of the Azov Sea (which had declared this maritime area as the "internal waters" of both states), Kyiv needs a postwar naval strategy to deal with contested areas. Thus, the so-called "mosquito fleet" concept (Zn.ua, April 24) represents one of the few, if not only, viable way to secure Ukraine's permanent maritime rights and effectively counter current and future Russian military threats, including naval, marine and long-range aerial attacks (see EDM, May 25, 2021; July 25, 2022).
After publishing the "Strategy of the Naval Forces of the Armed Forces of Ukraine 2035" (Navy.mil.gov.ua, January 11, 2019), expectations began to grow for the dynamic development of the Ukrainian Navy's surface fleet, including first stage development of the so-called "mosquito fleet"; specifically, 30 multifunctional boats were to be added to the navy's fleet by 2024. Small, fast, maneuverable and well-armed boats and unmanned vehicles have a much better chance of winning in the conditions of a confined area of operations and enemy dominance in the air and sea. However, rather than fully meeting this demand, behind the scenes, personal projects were pushed ahead of these strategic considerations—scattering resources, losing time and slowing down development of the surface fleet (Focus.ua, October 11, 2021). Consequently, Ukraine's "mosquito fleet," so badly needed to protect its littoral waters, has no patrol, missile or amphibious boats whatsoever (e.g., the Mark VI patrol boat or P-50U attack craft).
At the outset of Russia's February 2022 invasion, the Ukrainian Navy consisted of five Island-class patrol boats, seven Gyurza-M river gunboats, as well as 18 obsolete Soviet-era ships and boats alongside a dozen support vessels. Such a flotilla presented little deterrence, let alone defense, capabilities and was only able to provide limited port protection. Enjoying 12-fold dominance in forces at sea (Armyfm.com.ua, February 23), Russia quickly captured the entire coastline of the Sea of Azov from Henichesk to Mariupol, blocked Ukraine's Black Sea ports and seized Snake Island. During the first week of the war, several civilian vessels were destroyed or damaged while navigating to Ukrainian ports. Almost 40 foreign ships remain trapped in Ukraine's ports—now for over 15 months (Latifundist.com, May 20, 2013). Russian ships have also approached and shelled Ukraine's coast and ports with naval artillery (24TV.ua, March 21, 2022).
In the early days of fighting, the Ukrainian Navy's only effective operation was the installation of defensive mine barriers in the territorial seas from Odesa to Ochakiv, preventing an enemy amphibious landing in March 2022.
Only after months of fighting did missiles deliveries to Ukraine begin to change the naval balance of power: The addition of Neptune (officially put into service in August 2020) and Harpoon missiles resulted in the destruction of the Russian flagship cruiser Moskva, the tugboat Vasily Bekh, offshore drilling platforms and the liberation of Snake Island. As a result, the Russian military command withdrew its surface fleet to areas around the Crimean Peninsula. The liberation of the right (west) bank of the Dnipro also contributed to improving the security of Ukraine's coastal regions. But the surface fleet's lack of critical capabilities to conduct sudden landings and provide substantial fire support to marine operations (e.g., with Mark VIs) prevents the liberation of the Kinburn Peninsula and impedes operations to stop the shelling of the port infrastructure at Ochakiv, Kherson and Mykolaiv (see EDM, January 18). Moreover, a lack of missile boats allows Russia to continue launching Kalibr missile strikes from remote sea areas.
The rapid development and use of naval drones against Russian surface ships in areas beyond the reach of coastal missile systems have recently proven effective and efficient within the "mosquito fleet" concept and have partially compensated for the lack of strategically needed vessels. Before the war, several naval drone projects had been developed in Ukraine; however, they failed to be implemented due to numerous administrative and corrupt obstacles. Nevertheless, attacks by Ukrainian naval drones on Russian ships close to Crimea since October 2022 have forced the Russian Navy to significantly strengthen the protection of its own ports (Pravda.com.ua, April 25), disperse ships to more distant bases and even withdraw the most valuable vessels to Novorossiysk. Yet, even under such circumstances, the Russian fleet has retained its strike potential: Not a single Kalibr missile carrier has been destroyed, and these ships continue to conduct missile strikes on and effectively blockade Ukraine's ports.
Thus, for the Ukrainian Navy, the "mosquito fleet" concept may be the only feasible strategy that could give the surface fleet the capabilities it needs to be effective. Current negotiations with Ukraine's partners—countries of the so-called "Ship Coalition"—would be best served by focusing on the implementation of this strategic concept (Tsn.ua, March 24). Kyiv is also hoping to increase the number of countries participating in the said coalition. Furthermore, Ukraine may "unfreeze" certain stalled projects (e.g., increased production of Island-class, Mark VI and P-50U vessels) and, in this, seek to maximize cooperation between Western and Ukrainian shipbuilders, with a special focus on developing the proper capabilities to fully implement the "mosquito fleet" approach.
Ultimately, small, fast, maneuverable and well-armed boats as well as unmanned aerial and surface vehicles comprising a well-equipped "mosquito fleet" could quickly and efficiently strengthen the Ukrainian Navy and improve the chances to execute successful operations within confined and contested areas where, for now, Russia enjoys dominance in the air and sea.