UKRAINE PREPARING LEGAL PROCEDURES FOR RUSSIAN FLEET'S WITHDRAWAL ON SCHEDULE
Publication: Eurasia Daily Monitor Volume: 5 Issue: 116
By: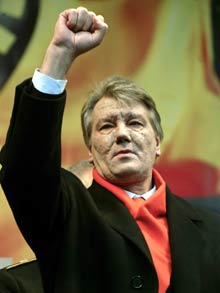 Ukraine's Cabinet of Ministers is drafting a bill for submission to the Verkhovna Rada (parliament) on preparations for terminating the Russian Black Sea Fleet's deployment in Ukraine in 2017. Concurrently with that draft law, the Cabinet is working on a comprehensive assessment of the economic, ecological, and other implications of the Russian fleet's deployment in Ukraine. President Viktor Yushchenko has instructed the cabinet to provide those documents by July 20, so as to initiate the process of withdrawal of Russia's Black Sea Fleet from Ukrainian territory as soon as possible (Ukrainian Center for Independent Political Research (UCIPR), Research Update, vol. 14, no. 20/538, June 2008).
Nine years ahead is none too soon for initiating the withdrawal process, if the deadline of 2017 is to be respected. Russia's Black Sea Fleet, with its 16,000-strong manpower and extensive land-based installations in Sevastopol and elsewhere in the Crimea, will require a long time to relocate to Russia and hand over its land-based fixed assets to Ukraine.
The Russian government, however, insists that any discussion about the withdrawal process is premature. It also argues that Russia is entitled to avail itself of the basing agreements' prolongation clause. Such arguments indicate that Russia intends to stall any serious discussions about withdrawal until the deadline of 2017 draws near, then to demand prolongation on the grounds that any withdrawal requires lengthy preparations.
The agreements on the temporary deployment of Russia's Black Sea Fleet in Ukraine were signed in May 1997 for a 20-year term. They leave open the possibility of prolonging the deployment by subsequent periods of five years at a time, unless either side serves official notice of termination at least one year prior to the 2017 deadline or the subsequent five-year deadlines.
These provisions inescapably signify that Russia's naval presence in Ukraine would lose any legal basis in 2017, if Ukraine serves a termination notice one or more years ahead of the deadline. The process of withdrawing the Fleet must start with sufficient lead time, if the withdrawal is to be completed by 2017.
Ukraine's presidency and government deem it necessary to begin talks as soon as possible on procedures and a time-table for the Russian Fleet's withdrawal. In addition, Kyiv seeks to continue and accelerate the long-running talks with Moscow on drawing up an inventory of buildings, training installations, and land plots used, leased, or sublet by Russia's Fleet, often illicitly, in the Crimea; settling financial accounts in that regard; transferring lighthouses and other navigational installations from the control of the Russian Fleet into that of Ukraine; and the distribution and delimitation of radio communications frequencies used by the Russian Fleet and Ukrainian authorities, respectively. The Ukrainian presidency and government take the position of "adhering to the basing agreements to the last letter" while negotiating "calmly and respectfully" to bring Russia into compliance with the agreements (UNIAN, Interfax-Ukraine, June 7, 14).
A gradual withdrawal of the Fleet, from an early starting date to completion by 2017, should be relatively painless for Russia, both militarily and politically. Conversely, a precipitate withdrawal on a short-term Ukrainian legal notice could be painful for all concerned and fraught with risks for Ukraine. If the latter scenario occurs, Moscow would probably orchestrate a domestic nationalist backlash and use it as an excuse for noncompliance with the deadline.
A quick start to talks about procedures and a time-table would help foster political expectations that the Fleet would indeed ultimately withdraw. The prospect of withdrawal should stimulate Russia to prepare new bases, at Novorossiysk or elsewhere on Russia's Black Sea coast, for accommodating the ships and personnel ahead of their relocation from Sevastopol. Conversely, if Russia doubts Ukraine's intentions in this regard, or if Moscow generates doubts about Ukraine's capacity to obtain compliance with the deadline, Russia would not seriously tackle the base construction at Novorossiysk. It would then claim that the Russian Fleet had nowhere to go from Sevastopol and use that argument to pressure Ukraine for a prolongation of the basing agreement.
Ukraine's constitution prohibits the basing of foreign forces on the country's territory. Transitional provisions of the constitution, however, exceptionally allow the temporary deployment of Russia's Black Sea Fleet until 2017, reflecting the Ukraine-Russia agreements of 1997 on the basing of the Fleet in Sevastopol.
Russia, however, seems to have learned in Moldova that it can station military forces on a country's territory in defiance of that country's constitution, which in Moldova's case as in Ukraine's bans the stationing of foreign forces. Neither country will be able to rid itself of Russian forces if it is left to handle the problem on its own, without serious Western backing.