Ukraine's Crisis and Federalization Options
Publication: Eurasia Daily Monitor Volume: 11 Issue: 32
By: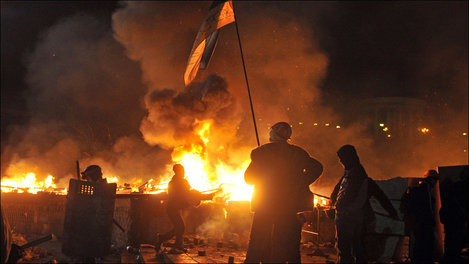 Federation as a possible way out of Ukraine's political crisis is currently at the center of domestic political and expert discourse. But meanwhile, the new outburst of violence in the streets of Kyiv on February 18 may lead to an escalation of the crisis in the Ukrainian regions. On February 18, protesters seized the government centers in Lviv, Ternopil and Ivano-Frankivsk, which were previously released by anti-government demonstrators on February 16 during the "armistice" period. The protesters also stormed regional prosecutors, police and Security Service (SBU) offices in Lviv, Ivano-Frankivsk, Ternopil, Lutsk and Uzhorod, in western Ukraine (Kommersant Ukraine, February 18; lb.ua, February 19). The imposition of public order restrictions by the Cabinet of Ministers on February 18 resulted in the police restricting street access to Kyiv. Also, overnight trains from Lviv and Ivano-Frankivsk had reportedly been stopped for inspections by the police well outside Kyiv, possibly in an attempt to prevent the arrival of more opposition supporters to the capital city (24tv.ua, lb.ua, February 19).
In the past few weeks, the idea of federalization was widely discussed in Ukraine and was even encouraged by some Russian officials. Russian official Andrei Vorobyev suggested on February 12 at a round table in Kharkiv, that Ukraine has already been developing as federation and, indeed, was already a federation informally. In response, Ukraine's Ministry of Foreign Affairs summoned Vorobyev for talks and expressed strong criticism of his remarks (UNIAN, February 13). On February 14, the Russian foreign ministry said it was "perplexed" by its Ukrainian counterpart's reaction (Interfax-Ukraine, February 14).
Vorobyev's comments followed a similar statement made by the Russian presidential advisor Sergei Glazyev, who insisted that federalization should include the "possibility of partial foreign policy self-determination" for Ukrainian regions. Glazyev argued that "as of today, economic, cultural and human connections between the oblasts of western and eastern Ukraine are less than between southeastern Ukraine and Russia, [or those between] Western oblasts and [the countries of the European Union]" (https://www.kommersant.ua/doc/2400532). The notion that Russia openly supports and promotes the federalization of Ukraine received a significant boost last month when Andrei Illarionov, Vladimir Putin's former advisor, noted that this outcome would be most ideal for the Kremlin, whose objective is to gain control over the eastern and southern parts of Ukraine. Moscow's minimum-gain scenario, Illarionov contended, was to establish control over the predominantly ethnic-Russian Crimea or at least the Sevastopol port itself (located in Crimea), where Russia strategically bases its Black Sea Fleet (https://censor.net.ua/n269036).
Nonetheless, Sergei Glazyev's call was followed by pro-federation statements from the leader of the Ukrainian Communists, Petro Symonenko (Interfax Ukraine, February 13). Additionally, Mikhail Dobkin, the head of the Kharkiv Oblast State Administration, argued on February 12: "if Ukraine as unitary state had not been accomplished, there is a need to seek other form of governance" (https://www.facebook.com/ukrfront?hc_location=timeline). Moreover, arguments in favor of restructuring Ukraine into a federation were also raised by some Party of Regions members in Donetsk oblast at an assembly in Kharkiv. Yet, these remarks were subsequently criticized by other representatives from the same party (espreso.tv, February 5). On February 4, Crimean local parliamentarians argued about the need to strengthen Crimean's autonomy and to turn to Russia for political assistance (lb.ua, Febuary 4). These statements motivated the SBU to announce it would launch a criminal investigation against possible "separatism" rhetoric coming out of the autonomous peninsula's legislature, but the security service's move was subsequently criticized by pro-Russian Party of Regions Rada Deputy Vadim Kolesnichenko (https://www.unian.ua/politics/882960-kolesnichenko-zvinuvachue-sbu-u-roboti-proti-chinnogo-prezidenta.html).
Notably, President Viktor Yanukovych has also spoken fairly agreeably about the option of federalizing Ukraine. Although on February 14 he declared, "The introduction of a federative model of state structure in Ukraine is not topical," President Yanukovych also referred to Germany's positive example of a federation model and suggested that the issue "requires examination" (https://www.president.gov.ua/en/news/30095.html).
Some proponents of the federation idea are clearly trying to justify decentralization as a way to resolve economic and, especially, fiscal inequality issues among the Ukrainian regions. While the eastern Ukrainian regions are the country's dominant exporters of goods, the state's outdated and heavily centralized budget allocation system makes only three such regions—Dnipropetrovsk, Kharkiv and Sumy—net donors to the national budget, alongside Poltava in the center and Lviv in the west of Ukraine. On the other hand, the city of Kyiv and core Eastern Ukrainian regions Donetsk and Luhansk are inappropriately subsidized to the point of becoming net recipients of state budget funds, despite their healthy economies (https://www.investgazeta.net/ekonomika/zona-proedanija-164683/).
Ultimately, at stake in this debate is Ukraine's East versus West geopolitical orientation. According to a recent public poll conducted by the Kyiv International Institute of Sociology (SOCIS), 38 percent of Ukrainians nationwide support their country joining the Customs Union with Russia, Belarus and Kazakhstan, while around 47 percent support Ukraine joining the EU. The SOCIS poll revealed that the country is evenly split on support for or against the ongoing protests—48 percent of Ukrainians in both cases. Only 11 percent of Ukrainians support radical measures to manage the crisis, however, while 63 percent are in favor of negotiations as means to resolve the conflict (https://www.slideshare.net/victorkylymar/prezent-socis-kiispress).
If unchecked, the unfolding Ukrainian crisis, which continues to be influenced by local elites and with possible backing by Russia, may well lead to the country's split. The director of the Institute of Ukrainian Policy, Kost Bondarenko, said on February 19 that a civil war and Ukraine's ultimate division are quite likely if the parties to the conflict fail to reach an agreement (https://www.from-ua.com/news/fafbda084baf8.html). Opposition deputy Olesya Orobets, of the Fatherland party, disagreed with Bondarenko and, speaking to the BBC World Service (February 19), she characterized the conflict as "people against the authorities." Nevertheless, as the violence continues, Moscow is explicitly making its own interests in the ultimate outcome of the Ukrainian protests known. On February 19, the Russian foreign ministry blamed the opposition for the escalation in Kyiv, reprimanded European politicians for interfering in the crisis, and warned that Russia would use "all its influence" to achieve peace in Ukraine (https://www.mid.ru/brp_4.nsf/newsline/63C02F61E8AD7E1244257C840035AB6D). Whether "all its influence" will mean Moscow's active participation in dividing Ukraine remains to be seen, but such an outcome would have earthshattering consequences for the European geopolitical order.