Ukraine's Deeply Flawed Blueprint for Guaranteed Neutrality (Part Three)
Publication: Eurasia Daily Monitor Volume: 19 Issue: 47
By: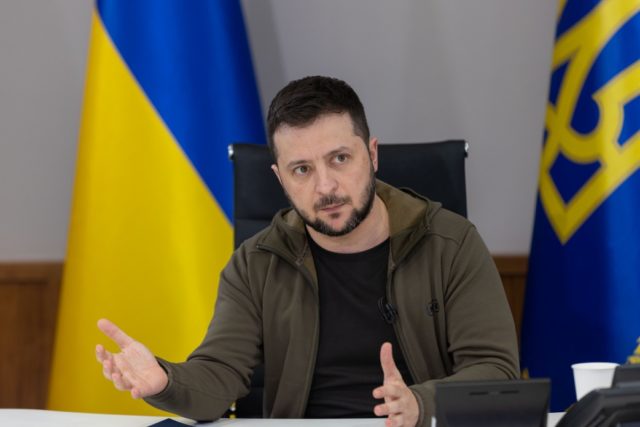 Invaded Ukraine is negotiating under duress for a two-part deal with the invader Russia: a bilateral treaty on the terms of ending the war and another treaty by which Russia and a number of Western countries would jointly guarantee Ukraine's security in the future. The first treaty would commit Ukraine to permanent neutrality (or non-bloc status), which would keep Ukraine not only out of the North Atlantic Treaty Organization (NATO) but from any military or security alliance of which Russia is not a member. The second treaty would, in essence, bestow international legitimacy on an arrangement already imposed by Russia on Ukraine; and it would install Russia among the guarantor powers, undoubtedly with blocking rights. This construction gives Russia impregnable advantages over Ukraine in the negotiation process and its eventual outcome (see EDM, March 30, 31, April 4).
Ukraine's President Volodymyr Zelenskyy, his circle of advisors, and leaders of his Servant of the People parliamentary majority party have all announced that the treaties would (if signed) be submitted to national referendums for approval. The treaties would necessitate amending Ukraine's constitution, and those amendments could also be submitted to referendums. The Ukrainian leadership for a number of reasons (see below) would prioritize referendums, rather than parliamentary votes, when it comes to ratifying these treaties and amending the constitution accordingly.
Such referendums would allow Ukraine's incumbent political leadership to share with the people the burden of responsibility for painful concessions in controversial treaties. This is almost certainly the leadership's candid thinking behind the referendum idea. But the leadership might also, at some critical juncture, realize that it can use a referendum in order to fend off or downright reject Russian terms unacceptable to Ukraine.
According to President Zelenskyy, Russia wants Ukraine to take the first step and amend its constitution, dropping from it Ukraine's commitment to NATO accession and replacing it with a commitment to permanent neutrality (or non-bloc status). That done, Russian forces would withdraw from Ukrainian territories seized after February 23, 2022 (this type of conditionality resembles that employed in Transnistria from the 1990s to date and in Donbas from 2014 through February 2022). To avoid that conditionality, Zelenskyy proposes a different sequence: he and Russian President Vladimir Putin sign the bilateral treaty, Russian forces withdraw to the February 23 positions, and only after that would Ukraine submit the constitutional amendments to a referendum (Ukrinform, March 27; President.gov.ua, April 2).
Zelenskyy's position implies bracketing out the status of the Russian-occupied Donbas for some time to come, as discussed in the ongoing negotiations (see EDM, April 4). Also left unsaid, however, is the possibility that Ukrainian referendums might turn Russian-imposed constitutional amendments down. The Presidential Office may or may not think such thoughts now, but may do so down this thorny road.
The chairperson of the Servant of the People parliamentary party (majority leader), Davyd Arakhamiya, who concurrently heads Ukraine's delegation to the negotiations with Russia, proposes the same sequencing in those negotiations (Ukrinform, March 23, April 2; Levyi Bereh, March 30); and Ukraine's permanent representative to the United Nations, Serhyi Kislitsa, has notified the UN Security Council accordingly (Interfax, March 30).
Under Ukraine's constitution and legislation, referendums may not be conducted during wartime or a state of emergency. This is a bargaining card that Kyiv could use to demand a complete and verifiable cessation of all types of hostilities and withdrawal of Russian troops to the February 23 positions before, not after, Ukraine ratifies treaties and constitutional amendments.
Furthermore, any Ukrainian referendum would have to encompass any territories that would still be under Russian occupation beyond the February 23 lines on the date when the treaties are signed. A referendum held under Russian occupation in those areas of Ukraine would be invalid under international law and not recognized by guarantor countries; nor would the latter ratify the treaty of guarantees in their national parliaments. According to Zelenskyy (see above), the parliaments of Ukraine and of the guarantor countries would ratify the treaty of guarantees after Russian troops withdraw to their February 23 positions. This consideration could motivate Russia to withdraw its troops to the February 23 lines—assuming, however, that Russia would have shaped the treaties sufficiently in its favor to warrant that withdrawal.
Russia also wants Ukraine to recognize the "independence" of the Donetsk and Luhansk "people's republics" (DPR, LPR) as well as Crimea's "accession" to the Russian Federation. Russian forces are currently well along expanding the "DPR's" and "LPR's" territories deeper into Ukraine. Moscow's political demands regarding these territories would also entail changes to Ukraine's constitution because the Donetsk and Luhansk provinces, the Crimean Autonomous Republic and (distinctly from it) the City of Sevastopol are enshrined in the constitution. Kyiv hopes to negotiate a 15-year deferral of a solution regarding Crimea and Sevastopol.
The Ukrainian negotiators have preliminarily accepted Russia's demand that the international guarantees of the security and territorial integrity of a neutral Ukraine shall not apply to the Crimean peninsula and the Donbas territory that Russia already controlled as of February 23. This is a first, self-inflicted dent into the principle (if not the reality) of Ukraine's internationally recognized territorial integrity.
Ultimately, those constitutional defense mechanisms and room for maneuvering are palliatives and damage-limitation measures. The negotiating process is stacked clearly against Ukraine while the military stalemate on Ukraine's own soil predetermines Russia's advantage at the negotiation table.