Ukraine's Deeply Flawed Blueprint for Guaranteed Neutrality (Part Two)
Publication: Eurasia Daily Monitor Volume: 19 Issue: 46
By: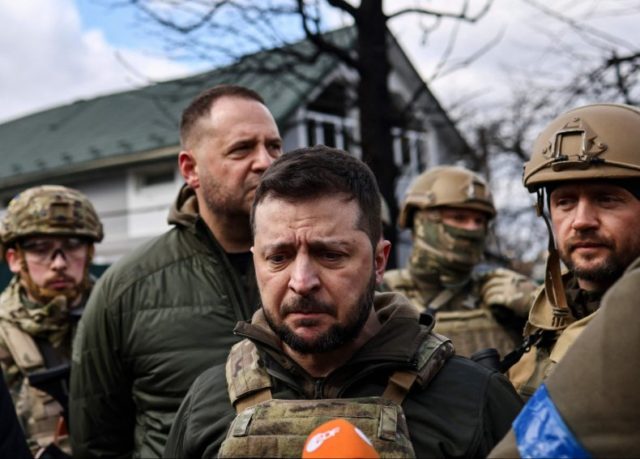 Russian forces have perpetrated mass-scale, intentional atrocities on civilians in the Kyiv region. Uncovered in the wake of the Russian military's defeat and withdrawal from that region (March 31–April 4), the evidence horrified the free world while the Kremlin remains impervious and unrepentant. These latest atrocities on the ground add to Russia's war crimes against Ukrainian civilians through air bombing and missile attacks.
This situation entails, for Ukraine, the chance to suspend its negotiations on a "peace" agreement with Russia, or at least to pause and rethink Kyiv's recent proposals. Ukraine has all moral and political grounds on its side for a time-out and reconsideration of its negotiating position without risking Western remonstrance.
Kyiv has submitted its proposals to Russia for a bilateral "peace" treaty and an accompanying international treaty to guarantee Ukraine's permanent neutrality. Tabled on March 29, the proposals concede too much too soon to Russia and ignore how the international system works (see EDM, March 30, 31).
The proposals are equally flawed in terms of procedures for negotiating the two treaties and bringing them into force. The procedures are concerned with: the sequence of negotiating treaty clauses, territorial applicability of the treaties, and the treaties' ratification.
Kyiv started the process already on February 24–28 from a weak position, under the shock of Russia's assault, which seemed unstoppable initially. Kyiv urgently sued for negotiations on terms that Moscow might accept. Kyiv, however, did not rethink its negotiating position after Ukrainian forces had halted Russia's ground offensive while Western deliveries of military materiel to Ukraine significantly increased. Despite this improving outlook, Kyiv allowed Moscow to "pocket" Kyiv's initial proposals, submitted in a moment of weakness, and use them as a basis for continuing the negotiations.
While Kyiv has submitted its proposals, Moscow has not submitted its own. Instead, Moscow will evaluate the Ukrainian proposals and bend them step by step even more in Russia's favor. The Kremlin has placed on Kyiv the onus of striving for "peace" on terms that Russia could accept.
Although Kyiv had initiated the negotiations, it did not necessarily follow that it should hasten to submit "peace" proposals, particularly as the military and international outlook were turning in Ukraine's favor in net terms. Kyiv, however, has not exploited this turn.
Moscow rejected Kyiv's opening gambit to agree on a ceasefire for the duration of negotiations. Ukraine is being forced to negotiate under fire and offer political concessions now, in return for a ceasefire later. According to senior officials Davyd Arakhamiya and Oleksiy Arestovych, directly involved in the negotiations, Kyiv seems presently to envisage the following stages of this process (Ukrinform, March 29–31; RBC, Leviy Bereh, March 30):
1) Ukrainian commitment to Russia about Ukraine's permanent neutrality under international guarantees (the basic premise of the whole process, already accepted by Kyiv); 2) Kyiv-Moscow negotiations about a bilateral "peace" agreement; 3) a meeting of Presidents Volodymyr Zelenskyy and Vladimir Putin, to be held in a third country, when the bilateral agreement is ready for initialing by the Ukrainian and Russian foreign ministries.
Notably, the two foreign ministries are only secondary players in these negotiations. They are merely represented on the inter-agency negotiating teams led by the Kremlin and the Ukrainian Presidential Office, respectively. Zelenskyy has relapsed into his fixation on meeting with Putin and reach a personal understanding with him. Kyiv officials speaking for attribution tell Ukrainian media that a Zelenskyy-Putin meeting is an interim goal of these negotiations and they hope to arrange it within weeks (Ukrinform, UNIAN, March 29–April 2).
For their part, Russia's chief negotiator Vladimir Medensky and Kremlin press secretary Dmitry Peskov signal openness to a presidential-level meeting at the stage of signing, not merely initialing the agreement, if the terms satisfy Moscow (TASS, March 29–30, April 2). The Kremlin evidently hopes to string Zelenskyy along to a summit with Putin in return for Ukrainian political concessions, on the déja-vu model of their December 2019 summit (see EDM, December 11, 12, 2019).
The international treaty to guarantee Ukraine's permanent neutrality will presuppose its own sequence of steps, interrelated with the bilateral Ukrainian agreement but distinct from it. The international treaty of guarantees will not come under negotiation any time soon due to a lack of interested parties. In any case, negotiations toward both documents need to deal somehow with the status of the Russian-occupied Donbas and Crimea.
Ukrainian negotiators (presumably representing Zelenskyy's views) propose to bracket both the Donbas issue and the Crimea issue out of the draft Ukrainian-Russian agreement for the time being. They propose, instead, to leave these issues up to the two presidents' decision at their meeting that Zelenskyy hopes to obtain. However, they have already conceded (Ukrinform, March 29) that any international guarantees to the security and integrity of a neutral Ukraine would not apply to the Russian-occupied Donbas and Crimea.