Ukraine's New Presidential Administration Filled With Show Business Friends
Publication: Eurasia Daily Monitor Volume: 16 Issue: 75
By: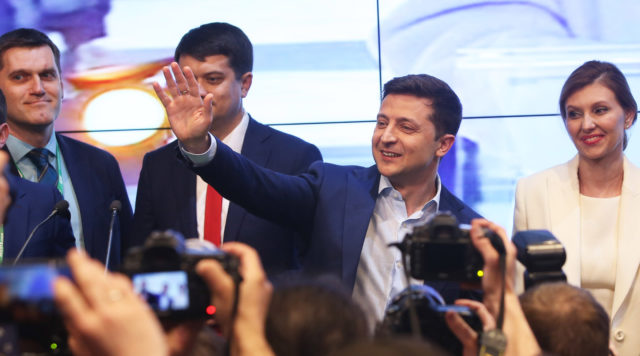 Ukraine's elder statesman, Volodymyr Horbulyn, cautioned President-Elect Volodymyr Zelensky ahead of his inauguration that he should not fill the senior presidential staff and top national security posts with his personal friends and business associates. Ukraine's previous presidents repeatedly made that mistake, privileging personal loyalties at the expense of professionalism, Horbulyn noted in a widely-circulated essay (Fakty, May 16).
Inaugurated on May 20, Zelensky dissolved the Verkhovna Rada (parliament) on the same day and called parliamentary elections for July 21. The Cabinet of Ministers will operate in a caretaker capacity, with limited powers, for the next few months. On May 21 and 22, Zelensky issued a series of decrees appointing top officials of the presidential administration (the president's senior staff) as well as his first top-level national security appointments (Ukrinform, Ukraiynska Pravda, May 21, 22).
Zelensky has appointed Ivan Bakanov as acting head of Ukraine's Security Service (SSU). Bakanov, a childhood friend of the new president from their birthplace, Kryvyy Rih, is also Zelensky's business partner in several TV entertainment companies, offshoots of the Zelensky-centered Studio Kvartal-95. In December 2017, Bakanov was chosen as leader of the Servant of the People political party, named after Zelensky's most successful television comedy (in which he plays a history teacher elected Ukrainian president). Bakanov went on to head Zelensky's presidential election campaign staff. The Servant of the People party will obviously choose another leader as it enters the parliamentary elections campaign (see above).
Under the constitution, the president's appointment of the SSU head requires parliamentary approval. But the parliament has just been dissolved, and it would in any case have rejected this appointment on its merits. Zelensky has therefore appointed Bakanov as the SSU's acting head, which does not require parliamentary approval. Zelensky may hope to have Bakanov approved by the new parliament, but this is far from certain, given the discrepancy between the position and the appointee. This choice leaves the country's top counter-intelligence agency, in effect, without a competent leader, even without a statutory leader, and undoubtedly with damage to staff morale, in a situation of military and political confrontation with Russia (Liga.net, Ukraiynska Pravda, May 22).
Concurrently, Zelensky has decided to appoint Oleksandr Daniliuk as secretary of the National Security and Defense Council (NSDC). This is far removed from Daniliuk's line of work. A free-market economist and private investment manager, Danyliuk strove for radical economic reforms while serving in the presidential administration of Petro Poroshenko and in Volodymyr Groysman's government. He was dismissed as finance minister in 2018 and joined the Zelensky project. Many among Ukraine's Western friends hoped to see Danyliuk return to economic policy-making. His appointment to the NSDC would, however, remove Danyliuk from that sphere, without necessarily adding value to the management of national security and defense.
Zelensky has appointed Andriy Bohdan as the new head of the presidential administration. Bohdan claims the credit for having conceived the political project of Zelensky's presidential candidacy and promoting it through Zelensky's show on the television channel owned by oligarch Ihor Kolomoysky. Bohdan has worked from 2014 to date as Kolomoysky's attorney, litigating for him against the Ukrainian state over the nationalization of Pryvat Bank (Ukraine's largest bank, co-owned by Kolomoysky and Hennadiy Boholiubov, found to have been defrauded and insolvent in 2016). During the months leading up to the presidential election campaign, Bohdan chaperoned Zelensky on thirteen visits to the self-exiled Kolomoysky in Israel and Switzerland. The Zelensky campaign's anti-oligarchic message required that those visits remain confidential, until Radio Liberty broke the story on them (see EDM, April 23).
Bohdan had previously worked as "plenipotentiary for anti-corruption policy," with a deputy minister's rank, in then–prime minister Nikolai Azarov's Cabinet of Ministers, from 2010 to 2014, until the EuroMaidan revolution toppled that egregiously corrupt government. Under the Lustration process that followed, Bohdan was banned from holding government posts until 2024. Appointed nevertheless as head of Zelensky's presidential administration, Bohdan has suspended his legal practice for the duration of this appointment (Liga.net, Kyiv Post, May 21).
Zelensky has appointed Serhiy Trofymov as first deputy head of the presidential administration. Trofymov has worked until now as executive producer of the Kvartal-95 Studio, the production company of Zelensky's televised comedy shows.
Also appointed are four presidential administration deputy heads. Of these, Yuri Kostiuk has been a leading script writer for the Kvartal-95 Studio and Zelensky's Servant of the People comedy series. Kostiuk handled political advertising for Zelensky's presidential campaign. Kyryllo Tymoshenko, now also deputy head of Zelensky's administration, owns the Good Media agency, which had produced political ads and promotional films for Kolomoysky and his allies and recently worked for Zelensky's presidential campaign. The third deputy head, Ruslan Ryaboshapka, was a mid-level official of the Ministry of Justice from 2001 to 2010, afterward in then–prime minister Nikolai Azarov' Cabinet of Ministers in 2010–2013 (like Bohdan—see above), with Transparency International (2013–2014), and finally with the National Agency for Prevention of Corruption (2016–2017) (Ukrinform, Ukraiynska Pravda, May 21, 22).
Fourth in the sequence of these appointments, the diplomat Vadym Prystayko, hitherto Ukraine's representative to the North Atlantic Treaty Organization (NATO), will become a deputy head of the presidential administration. This appointment may perhaps slightly mitigate the criticism that has already erupted over Zelensky's personnel policy. It is, however, a last-minute lurch. This post had been offered to Deputy Foreign Affairs Minister Olena Zerkal on the previous day, but she declined the offer (Ukrinform, Liga.net, May 21, 22).
Mikhail Fedorov has been appointed counselor to the president, a "non-staff position" (this can imply unremunerated). Fedorov's Media Studio Digital provided social media services for the Kvartal-95 Studio and then for Zelensky's campaign.
Zelensky has named Serhiy Shefir to the post of first assistant to the president. Shefir is a script writer and producer for Zelensky's comedy shows on Studio Kvartal-95. He and his brother Borys Shefir are also Zelensky's business partners as co-owners and producers of Kvartal-95. The Shefir brothers hail, like Zelensky, from Kryvyy Rih. Working directly below Serhiy Shefir will be Andriy Yermak, a copyright lawyer and film producer in his own right, as assistant to the president.
Andriy Herus is the new presidential representative in the Cabinet of Ministers. An investment fund manager, Herus became the head of the Association of Communal Services Consumers and joined Zelensky's presidential election campaign as an adviser on municipal utilities and energy tariffs. During the campaign, Herus proposed further delaying the process of adjusting utility tariffs to market levels, although the adjustment and corresponding timetable are a condition for International Monetary Fund (IMF) crediting to Ukraine. While such proposals are no surprise at election time, the European Union's mission in Kyiv and other Western advisers took issue publicly with Herus's proposals (UNIAN, April 26; Gordon, February 12, April 18, 23).
Judging from this first series of appointments, President Zelensky's personnel policy (whether it is his own considered policy, or that of influential individuals backstage) seems to reflect the origins and character of the Zelensky political project and electoral campaign. It relies on a small circle of friends and business partners, lacking expertise in the affairs of state, but wielding unmatched expertise in modern methods of electioneering, and replacing policy with political technologies. These appointments have already generated massive criticism in Ukraine. This reaction may, perhaps, induce the novice president to do better from this point onward on personnel policy and policy in general. The president's and his team's statements on foreign policy around the inauguration have sounded equally disconcerting.