EU, Azerbaijan Struggling to Convert Partnership Priorities Into Agreement
Publication: Eurasia Daily Monitor Volume: 16 Issue: 75
By: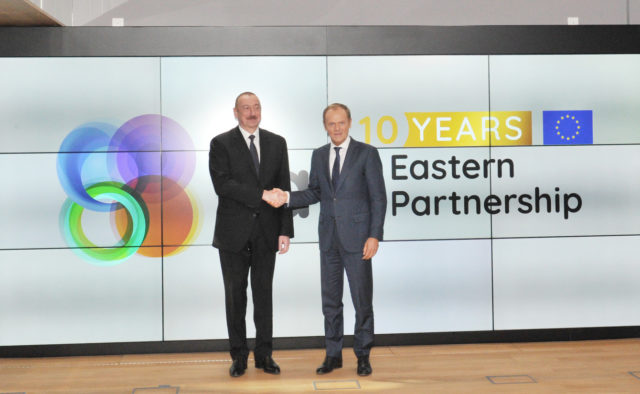 A long-awaited European Union–Azerbaijani strategic partnership agreement was not signed on May 13–14, at the Eastern Partnership's (EaP) tenth anniversary summit, despite all the optimism and expectations that had been voiced earlier. The two sides signed a document listing four priority areas for partnership on July 11, 2018. But negotiations on the final partnership agreement are yet to be completed. The key to understanding why Baku and Brussels have not been able to convert last year's priorities document into an actual agreement lies in the content of the 2018 document itself (President.az, May 14).
The two most sensitive issues—for Azerbaijan, the settlement of the Karabakh conflict, and for the EU, political reforms, including human rights and the democratization agenda—were not prioritized but just mentioned in general terms in the context section of the July 2018 accord. This structure of the document was regarded as a compromise to unfetter negotiations on a final partnership agreement (see EDM, January 15, 2019; Eur-lex.europa.eu, October 24, 2018).
Yet, this did not prevent the parties from issuing their own statements with different interpretations of the priorities document on the day of its signing. A statement from the Azerbaijani Ministry of Foreign Affairs interpreted it as renewing both sides' commitments to the principles of territorial integrity and inviolability of internationally recognized borders as well as to the independence and sovereignty of Azerbaijan. It made no mention of human rights, democratization or the rule of law (Mfa.gov.az, July 11, 2018). Whereas a press release from the European External Action Service referred to the respect for human rights, democracy, the rule of law, and dialogue with civil society as part of the agenda committed to by Baku and Brussels, without a note on the territorial integrity principle and related issues (Eeas.europa.eu, July 11, 2018).
The seriousness of this difference in interpretations became evident during last week's Eastern Partnership summit. First, the Azerbaijani delegation vetoed the final summit declaration based on the fact that the document failed to voice support for the territorial integrity principle. As a result, the final document was downgraded from a "declaration" to "chair's conclusions" and was signed only by the EU's foreign policy chief, Federica Mogherini, instead of all the participants (Azeridaily.com, May 14). Second, the EU published a report on human rights and democracy in Azerbaijan on the same day that Baku vetoed the final EaP summit declaration. The report specifically criticizes Azerbaijan's record of human rights and democratic norms and procedures (Eeas.europa.eu, May 13). Furthermore, the EU Commissioner for European Neighborhood Policy and Enlargement Negotiations Johannes Hahn acknowledged, on May 14, that the human rights issue was responsible for prolonging the negotiations (Azadliq.org, May 15).
In principle, the EU and individual member states recognize the territorial integrity of Azerbaijan and have already imprinted their position in various important documents. But Brussels has apparently struggled with the wording of that position—notably, in contrast to its more resolute declarations of support for territorial integrity in the previously signed association agreements with Georgia, Moldova and Ukraine. In turn, Baku recognizes, in principle, the need and importance of reforms; but it insists that the driver of these processes must not come in the form of "instruction" from outside (Brussels) and instead should happen gradually and willfully (see EDM March 26, 2019; Europarl.europa.eu, March 13, 2019; Azertag, October 10, 2018; President.az, February 18, 2017; Consilium.europa.eu, May 22, 2015).
According to Commissioner Hahn, Azerbaijan tries to "focus more on the economic sphere, which is also important for the EU." Indeed, the economic partnership is essential considering that Azerbaijan's GDP is bigger than the combined GDPs of the three smallest EaP countries—Armenia, Georgia and Moldova—and Azerbaijan plays a key role in safeguarding European energy security. In turn, the EU is Azerbaijan's largest trade partner. Nonetheless, the trade component of their strategic partnership agreement also became bogged down and delayed over technical issues related to Azerbaijan not yet having acceded to the World Trade Organization (WTO). If signed, the EU-Azerbaijan agreement would have been the first free trade deal Brussels had ever to reached with a non-WTO country (Amerikaninsesi.org, April 9; Contact.az, April 29).
Another factor to consider is Azerbaijan's cautiousness to not upset its relations with Russia while upgrading the partnership with Europe. Baku wants Brussels to mind Azerbaijan's major concern: it does not wish to jeopardize relations with a major neighboring power—Russia—for an agreement that only applies a selective, euphemistic approach to its territorial integrity (Studiieu.org, p.109–129, April 27, 2018).
That said, Armenia would seemingly provide an important counter argument. Despite its membership in multiple Russian-led integration blocs, namely the Eurasian Economic Union (EEU) and the Collective Security Treaty Organization (CSTO), Yerevan nonetheless has signed a Comprehensive and Enhanced Partnership Agreement with the EU. And this did not result in a deterioration of Yerevan's relations with Moscow (Turan.az, April 6). But such an assessment ignores key specifics and nuances of the Armenian-Russian relationship. Armenia's ties with Russia have been institutionalized politically, economically, militarily and otherwise. Moscow has secured its interests in Armenia and defined clear limits for Yerevan's relations with the EU or any other economic-political bloc through Armenia's obligations to the EEU, CSTO and so on. On the other hand, Baku has succeeded in refraining from joining those kinds of integrationist structures. Moreover, Azerbaijan developed large, multinational oil and natural gas pipelines and other infrastructure projects that help guarantee the country's economic well-being and independence. So unlike Yerevan, Baku could, at least theoretically, upgrade its ties with Brussels whenever it deems it appropriate (see EDM, February 25, 2019; March 24, 2017).
Optimism about a coming EU-Azerbaijan agreement peaked on April 4, when Europe's High Representative Mogherini used the phrase "Inshallah" ("God willing") to describe progress on the finalization of the negotiations (EurActiv, April 4). Many in Azerbaijan enthusiastically, if not naively, perceived her remarks as a sign that the partnership agreement would be signed imminently (Musavat.com, April 9). Yet, ironically, in Europe, the phrase "Inshallah" tends to imply such connotations as "no," "not yet" or even "never" (Dearinassociates.com, accessed May 22, 2019; Arabnews.com, March 9, 2015). And yet, Azerbaijan (and in particular President Ilham Aliyev) can be expected to keep the door open to further negotiations, even at critical times (Zerkalo.az, April 11, 2019; President.az, September 20, 2016; Azernews.az, RFE/RL, September 30, 2016; Azertag, June 2, 2016).