Sacking at Kommersant Tightens Noose on Press Freedom in Russia
Publication: Eurasia Daily Monitor Volume: 16 Issue: 76
By: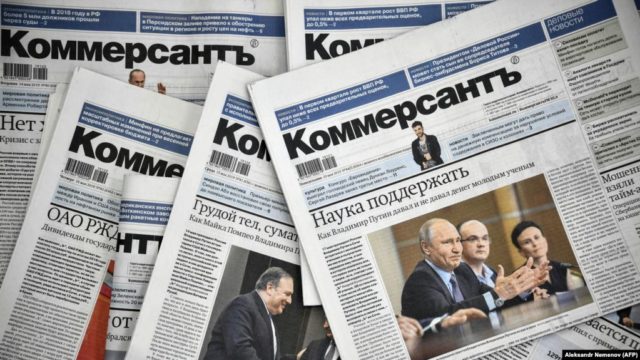 Russia's flagship business and political daily, Kommersant, just suffered a severe blow: On May 20, it was announced that the paper's editor, Maxim Ivanov, and special correspondent Ivan Safronov were being fired "for violating corporative rules and ethics." Ivanov and Safronov disclosed on social media that the firing was punishment for an April 17 article in Kommersant that quoted unnamed sources about the possible future resignation of the speaker of the Federation Council, Valentina Matviyenko (constitutionally the third most important position in Russia's hierarchy of power, after the president and prime minister). The piece alleged Matviyenko would be replaced as speaker by the Foreign Intelligence Service (Sluzhba Vneshney Razvedki—SVR) chief, Sergey Naryshkin. Matviyenko (or possibly someone else from the Kremlin potentially more influential than Matviyenko) was much annoyed by the publication and phoned the owner of Kommersant—Uzbekistani-born multi-billionaire Alisher Usmanov—and demanded retribution (Newsru.com, The Bell, May 20).
The April 17 article in Kommersant was apparently seen as a so-called "zakazukha"—a Russian-style publication of leaked information whereby the journalist and possibly the editor are ostensibly handed a cash bribe in an envelope (konvert) to release the compromising material (kompromat) without questioning its validity. The chair of Kommersant's board of directors, Ivan Streshinsky, and the news outlet's chief editor (since July 2018) and general director of its publishing house, Vladimir Zhelonkin, both representatives of Usmanov's business empire, demanded that Ivanov and Safronov disclose their sources and fired the journalists when they refused. After the May 20 firings, Kommersant continued to publish, but with virtually no coverage of the internal Russian political situation (Newsru.com, The Bell, May 20).
Kommersant's deputy chief editor, Gleb Cherkasov (47), a veteran political journalist and editor with whom this author has worked in the 1990s at Segodnya, submitted a letter of resignation to protest the firing of Ivanov and Safronov. In an interview with Liberty Radio, Cherkasov stated he was in charge of the April 17 print issue of Kommersant, personally deciding to run the Matviyenko resignation story and put it on the front page. Cherkasov oversaw the political section of Kommersant and said he warned the owners and chief editor he would resign if any of his journalists were fired without his approval and without due cause (Svoboda.org, May 21). Ten other Kommersant journalists—more or less the entire political section of the newspaper—followed Cherkasov and submitted letters of resignation (Interfax, May 20). The dissident journalists put June 15, 2019, as the day of termination of employment, but Zhelonkin terminated their passes and service computer accesses immediately, reportedly firing them all on May 22 (Interfax, May 22).
The politically motivated mass firing of the Kommersant journalists turned into a political scandal in Russia. Both Usmanov and Matviyenko publicly denied any responsibility, saying they knew about the story only after it went public. Matviyenko declared she would never harm a journalist no matter what they write about her, while Usmanov insisted he, as owner, does not influence the newspaper's editorial policies. Human rights activists and the journalism community denounced the mass firing as an act of illegal censorship, whereas presidential spokesperson Dmitry Peskov expressed sympathy and understanding but insisted the Kremlin will in no way become involved, "because this is an internal Kommersant corporate matter" (Interfax, May 21). Of course, President Vladimir Putin's Kremlin has never really shied away from becoming involved in media matters before. The first item on Putin's agenda when he came to power in 2000 was to take over and secure control of all television news outlets in Russia. And today, the authorities have been expanding their grip on the media by hoping to build a well-controlled "Sovereign Runet [Russian Internet]" to replace the Western-dominated free web (Interfax, April 22; see EDM, February 27, April 4).
Safronov's father, Ivan Senior, was a Space Troops lieutenant colonel until he retired in 1997 and began working as a defense correspondent for Kommersant. While in journalism, he maintained good connections with individuals in the military, space and strategic missile fields. In 2007, the elder Safronov (then 51 years old) died a mysterious death, falling or jumping out of a window in Moscow after writing about Russian missile and arms sales to the Middle East. His death was officially declared a suicide, but many in Moscow suspected foul play. Safronov's son was then taken on by Kommersant as a correspondent specializing primarily on defense matters; so with Safronov Junior's termination, Kommersant will lack good defense coverage.
According to Cherkasov, it is possible to publish more or less freely in Russia today, via the Internet; but obtaining exclusive internal government (Kremlin) information and, in particular, confirming such facts is virtually impossible. If journalists agree to disclose anonymous sources, nobody will ever talk to them again, and legitimate journalism becomes impossible. The mass resignation of Kommersant journalists, Cherkasov asserted, was not an attempt to politically challenge authorities, but to preserve professional standards. The publication about Matviyenko and Naryshkin on April 17 did in not undermine the Kremlin or the regime. The former Kommersant deputy chief editor believes the political situation in Russia is stable and that there are no serious political challenges threatening Putin's rule; no worthy opponents exist who could replace him. Some protests have been breaking out in parts of Russia recently, but they are sporadic and also pose no real concern, Cherkasov said. Still the people in the top echelons of power in the Kremlin are full of fear, jittery and very nervous, he concluded (Svoboda.org, May 21).
Usmanov has vast business interests in the West: The Sunday Times estimates he is currently the eighth-richest resident of the United Kingdom. Still, Usmanov apparently does not worry about possible Western sanctions for actions that can be considered a suppression of press freedom (Rosbalt, May 20). Russian oligarchs fear the wrath of the Kremlin more than anything else, which has time and again proven to be right.