Zelensky-Putin Direct Dialogue? A Whiff in the Air
Publication: Eurasia Daily Monitor Volume: 16 Issue: 76
By: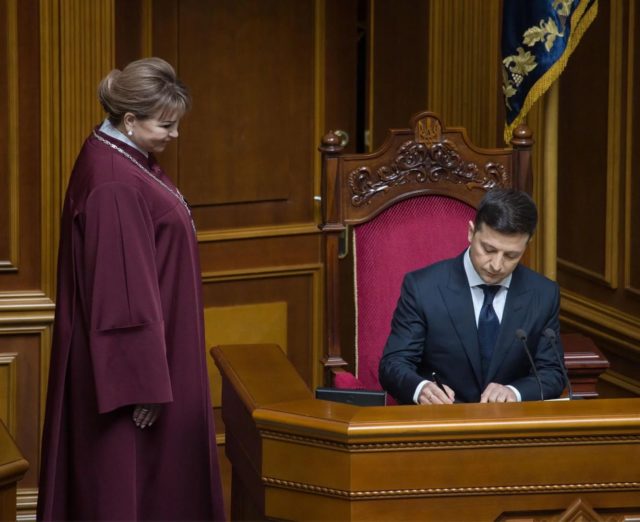 President Volodymyr Zelensky's inaugural address to the country, delivered on May 20 in the Ukrainian parliament, includes an unprecedented offer to start a direct dialogue with the Kremlin (see EDM, May 22). Switching to Russian for this part of his speech, Zelensky made an opening gambit: "We are ready for a dialogue; but, surely, the first step for starting this dialogue is the return of all the Ukrainian hostages. Our next challenge is to return the lost territories" (President.gov.ua, May 20).
Germany welcomes the idea of a dialogue between the two warring countries: "The new president, Zelensky, has announced his readiness for dialogue with Russia. We definitely expect similar readiness from [Russian] President [Vladimir] Putin, who is a signatory to the Minsk accords," said Chancellor Angela Merkel's spokesperson (Bundeskanzlerin.de, May 22).
The US State Department's special representative for Ukraine, Kurt Volker, had already remarked that for the newly elected Zelensky to speak directly to Putin "would be a good thing, not a bad thing"—a Trumpian paraphrase born of frustration with Volker's Russian counterpart Vladislav Surkov blocking their bilateral channel (Dzerkalo Tyzhnia, April 26).
A direct dialogue may seem surreal for the time being, as Putin has demonstratively refused to acknowledge Zelensky's election. If this refusal is designed to pressure the opposite side into offering direct talks, rationalized as "breaking the deadlock," it might be working as intended.
Ukrainian observers have noted with concern the dire shortage of foreign policy and national security experts on presidential candidate Zelensky's team, and even in his first batch of high-level appointments once elected and sworn in (see EDM, May 22). This weakness is palpable in the president's inaugural offer to Russia:
"Our very first task is to stop the fighting in Donbas […] for our heroes to stop dying. [For] that I am ready to do everything, unafraid of difficult decisions. I am ready to lose my popularity ratings, to lose this post, without hesitation, in order to bring peace. But losing none of our territories by doing so—never! It was not us who started this war, but it is we who will have to stop it. And we are ready for a dialogue; but, surely, the first step for starting this dialogue is the return of all the Ukrainian captives [i.e., prisoners of war and political detainees]. Our next challenge is the return of the lost territories. Crimea and the Donbas are Ukrainian lands" (President.gov.ua, May 20).
The new president's offer may well prompt the following conclusions in Moscow, and not only there:
Kyiv takes upon itself the burden to make the ceasefire hold, thus relieving the Kremlin of that international political liability (a gratuitous relief gesture, as Russia is widely deemed responsible for almost all ceasefire breaches). But Ukraine lacks the power to stop the hostilities; only Russia has the power to stop them—and the initiative in calibrating the hostilities. Ukraine's new president has advertised weakness, instead of communicating resilience, which would not have been too difficult, since the military pressure has been on a low boil for some time. An emboldened Moscow will conclude that it can impose costs on Kyiv in return for Russia itself making the ceasefire hold. Those costs will be political-diplomatic in the Normandy and Minsk conflict resolution processes. But, first, Zelensky's barely disguised plea may stimulate Moscow to keep breaching the ceasefire, raising the military and economic costs on Kyiv, then to extort the political-diplomatic price in return for a temporary military reprieve, and repeat the cycle as needed.
The new president's and his team's top priorities, as stated in Zelensky's inaugural address, are humanitarian-political: stop the fighting and loss of life, bring back the captives. The issue of bringing the Ukrainian captives (held in Russia, occupied Donbas and illegally annexed Crimea) back home has gained unprecedented salience in Ukraine during the presidential election campaign. The upcoming campaign for parliamentary elections will again generate pressure on politicians to deliver some results regarding the captives. While Ukrainian society is sensitive to humanitarian considerations, and Ukrainian politicians are in turn sensitive to voter pressure, the Kremlin is well-nigh impervious on both counts. This asymmetry translates into Russian leverage vis-à-vis an inexperienced Ukrainian presidency at election time. Zelensky seems to accommodate to this situation by linking the issue of freeing the Ukrainian captives with his risky gambit to start a dialogue with Russia.
Zelensky's offer of a dialogue with Moscow strictly separates the military and territorial conflict (for which he seemingly holds no one responsible) from Russia's multidimensional war against Ukraine. His dialogue offer contains no allusion to Russia's relentless psychological and economic warfare against Ukraine, the most recent measures of which the Kremlin has undertaken in the past two months (see EDM,

April 25

,

May 1

,

2

,

9

,

13

). Such omissions will also provide Moscow with reasons to conclude that the new president is anxious to start a dialogue with Russia. On the other hand, Zelensky did make firm commitments during the electoral campaign never to give up Crimea and Donbas, as his inaugural address confirms. To this, Moscow will have its answer ready: Crimea is non-negotiable, while the Donbas region is negotiable on Russian ("Minsk") terms. Watching Ukraine's electoral politics, the Kremlin is presumably waiting to see how Zelensky and his nascent party will attempt to reconcile the "peace president" image offered to some parts of the electorate and the "patriotic president" image held out to other voters.
The Kremlin's response is heavily conditional. According to presidential spokesperson Dmitry Peskov, "Putin will congratulate Zelensky in connection with his first successes in settling the internal conflict in southeastern Ukraine, and normalizing Ukrainian-Russian relations […] on the basis of the clear-cut plan laid out in the Minsk agreements." As for Crimea, "this issue does not exist, Crimea is a part of Russia." As for exchanging detainees, "talks will continue in the existing format of the Minsk Contact Group" (TASS, May 20, 22).