Moscow Deploys Large Network of Far Right–Linked GONGOs Against Belarus
Publication: Eurasia Daily Monitor Volume: 16 Issue: 76
By: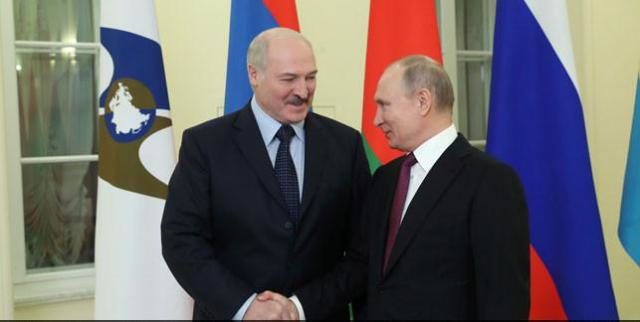 Moscow has organized and deployed a large network of "government-organized non-governmental organizations" (GONGO) in both Russia itself and in Belarus. These entities were first elaborated prior to the 2014 Russian attack on Ukraine to promote the integration and absorption of Belarus into the Russian Federation. GONGOs are especially dangerous because, while they claim to be non-governmental actors, they are, in fact, completely subordinated to the Kremlin. And, in many of these cases, what is especially worrisome is that their leaders have emerged from the extreme right or even neo-Nazi groups in Russia. Such origins say a great deal not only about Moscow's plans for Belarus but its intentions for Russia as well.
Indeed, that is the main conclusion reached by Belarusian journalist Alyaksandr Ostroshchenkov, who has written the third partial summary of a recent report concerning Russia's "creeping attack on Belarusian sovereignty" (Reform.by, May 19). The two earlier summaries of this report, which was issued in Warsaw earlier this year by the International Strategic Action Network for Society (iSANS), focused on the ideological basis of the Russian challenge to Belarusian independence and Moscow's use of the Internet and especially social media against Belarusian targets (Reform.by, April 15, 23; Windowoneurasia2.blogspot.com, April 17, 24).
The new summary is especially important because it focuses less on ideological tropes and more on the basic players in the Russian effort, their backgrounds and ideas, as well as the GONGOs that operate within Belarus to advance the Kremlin's agenda. Specifically, the iSANS report says, "[T]he ideological and imitation-social promotion of Russia's influence on Belarus is being carried out in fact by one and the same circle of people." This network operates in league with the Commonwealth of the Independent States–Election Monitoring Organization (CIS-EMO), the People's Diplomacy Initiative, the Vigilance site against Russophobia and, particularly in recent times, the Union Civic Initiative.
These groups, in turn, closely cooperate with others even more closely linked to the Kremlin, including the Russian Institute for Strategic Studies (RISI), which is part of the presidential administration, and the Institute for CIS Countries, led by Duma deputy Konstantin Zatulin. According to the iSANS report, Zatulin is, "in fact, the coordinator of the activities of several pro-Russian Belarusian organizations." But the chief executors of Kremlin efforts in Belarus are Aleksey Kochetkov and Stanislav Byshok, two people with notorious pasts in the Russian Far Right. Additionally, cooperating with them are five pro-Russian Belarusian activists, Kirill Averiyanov-Minsky, Lev Krishtapovich, Aleksey Dzermant, Aleksandr Shpakovsky and Sergey Lush (Reform.by, May 19).
All these individuals present themselves and their organizations as independent of the Kremlin. Yet, as iSANS concludes, "the number and depth of the ties of the actors with those close to the Kremlin completely excludes the possibility that such organizations are an initiative from below. Instead, they indicate that the formation and activity of these GONGOs is occurring at the direction of the Russian leadership." Equally important, the report says, those organizations working against Belarus earlier worked against Georgia, Ukraine and in other so-called frozen conflicts in the post-Soviet space. Some have even been involved in Russia's activities in Syria (Reform.by, May 19).
Perhaps the most useful part of Ostroshchenkov's summary is his detailing of the iSANS report's biographies on the Russians most closely involved with Moscow's subversion efforts in Belarus today. Among these, Aleksey Kochetkov is far from atypical. Kochetkov arose as an activist for the neo-Nazi Russian National Unity organization, which was led by Aleksandr Barkashov, an apologist of Adolf Hitler's crimes. In 1993, Kochetkov supported the coup against Russian leader Boris Yeltsin but then changed sides after being pardoned. Since then, he has worked closely with President Vladimir Putin's advisor Vladislav Surkov in Ukraine and in other conflict zones, and he has even surfaced as someone with ties to Syrian dictator Bashar al-Assad. Now, Kochetkov is focused on undermining the independence of Belarus. The iSANS report points out that others in this movement, such as Stanislav Byshok and Sergey Lush, have similarly unsavory backgrounds both ideologically and professionally.
According to Ostroshchenkov, the iSANS study argues that all these people and groups have become more active since the end of last year, publishing greater volumes of articles and thus making it easier to track what they are doing. However, they have not changed the direction in which they have been working—in many cases for more than a decade. These individuals and groups are now focusing on expanding ties with groups in Belarus capable of direct action against Alyaksandr Lukashenka's regime. These groups include: Belarusian branches of Russian nationalist organizations like the National Liberation Movement (NOD), Russian National Unity (RNE) and the National Bolshevik Party (NBP)—groups with highly unsavory reputations in Russia itself—as well as legal youth groups involved in paramilitary training, Kremlin-controlled neo-Cossacks, and Belarusian sporting and hunting clubs where people have access to weapons.
The iSANS report also provides analysis of social media accounts operated by the various Russian promoters involved in this effort as well as their Belarusian accomplices. The report shows that both groups display "a mix of Stalinist, nationalist, great power and even Nazi convictions" not only in the ideas they present but in the symbols they affix to their online accounts and websites. All this is intended to promote divisions within Belarusian society that Moscow can then use against Minsk in pursuit of the inclusion of Belarus within the Russian Federation.
Despite their efforts, however, the report concludes, these Russian GONGOs and their leaders have so far had less success among Belarusians than the Kremlin had hoped. As a result, these same entities are now focusing their attention on groups within Russia that Moscow may deploy in Belarus in the future in order to ensure that the Kremlin maintains complete control of the situation (Reform.by, May 19).