A Year in Review: Azerbaijan Optimizes Its Balanced Foreign Policy in 2018
Publication: Eurasia Daily Monitor Volume: 16 Issue: 2
By: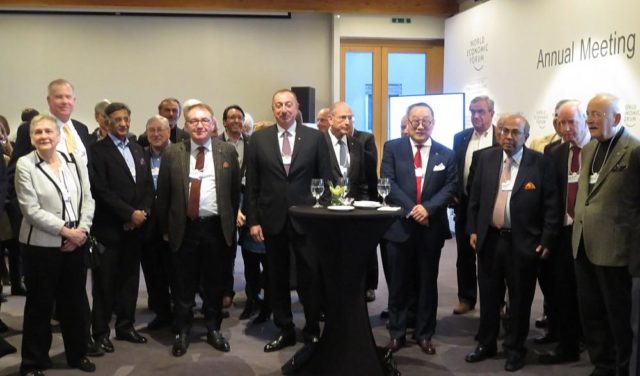 Azerbaijan saw several important events in 2018—both domestic and external and sometimes interlinked. And a major takeaway from contextualizing the past year has been Baku's cautious optimization of its existing balanced foreign policy. In particular, when looked at together, the events of 2018 suggest that Azerbaijan's strict adherence to a balanced foreign policy has been growing slightly but noticeably flexible.
Politically, 2018 started with the surprising announcement of snap presidential elections to be held in March, almost concurrently with those in Russia and Armenia. The decision was justified as an effort to proactively address potential external risks and threats to Azerbaijan's domestic political process (see EDM, February 14, 2018). Further developments gave some legitimacy to this argument. First, in light of the so-called "Velvet Revolution" in Armenia that spring, it was prudent to maintain political stability in Azerbaijan. Second, a series of violent incidents rocked the second largest Azerbaijani city of Ganja, which is located close to the Karabakh conflict zone and the routes of the strategic Baku–Tbilisi–Ceyhan (BTC) oil pipeline and the South Caucasus Pipeline (SCP) for natural gas. These incidents were formally treated by law enforcement authorities as terrorism, with the suspects involved reportedly found to have foreign links (Kavkazskiy Uzel, July 6, 2018).
Following the presidential elections, a number of Azerbaijani ministers and top officials were replaced with relatively younger individuals. Russian expert Sergey Markedov regards this government reshuffle as emblematic of an "uneasy phase of elite change" in the country (Sputnik News, January 9, 2019). But it would probably be more accurate to describe this phenomenon as a relative "rejuvenation" of the elite than a true change. The purpose of the new appointments and personnel reorganizations has been to improve the functioning of the government and to bolster the effective implementation of the state's policies and tasks, according to President Ilham Aliyev. In a recent address, the Azerbaijani leader also announced structural government reforms to follow the personnel changes, and he termed the existing structure as "outdated" (President.az, January 11, 2019).
Economically, the year 2018 saw the inauguration of quite a few significant transnational projects designed to amplify the country's economic strength and, therefore, political weight internationally. First, the Trans-Anatolian Pipeline (TANAP) project was launched as part of the Southern Gas Corridor to deliver natural gas from the Caspian Sea to Europe. Second, Azerbaijan's state oil firm SOCAR activated the multi-billion dollar Star oil refinery in Turkey. Third, Azerbaijan opened the Baku International Sea Trade Port Complex on the Caspian Sea as part of the East–West Transport Corridor (EWTC) from China to Europe. The North–South Transport Corridor to connect India to Europe via Azerbaijan is also currently under development (see EDM, April 24, 2017 and November 9, 2017; RFE/RL, May 10, 2018; Azernews, May 14, 2018).
Yet, the transnational nature and scale of these projects are also inflating the various geopolitical interests affecting Azerbaijan. And this context helps to explain the Azerbaijani president's statement that external, not domestic risks are more likely to threaten peace in the country (Azertag, December 26, 2018).
On the international arena, Baku remains committed to maintaining robust cooperation with the Transatlantic community (see EDM September 18, 2018; President.az, September 6, 2018). Indeed, some additional progress was reported last year in relations with the European Union. Specifically, Baku and Brussels agreed to four strategic partnership priorities for further cooperation. This can be regarded as a compromise after the failure to reach an Association Agreement in 2015. Controversial themes such as the EU's position on the settlement of the Karabakh conflict, human rights and democratization issues are not prioritized in the partnership priorities document (see EDM, March 24, 2017; Eeas.europa.eu, July 11, 2018).
Meanwhile, Russia has pursued its own active official and public diplomacy with Azerbaijan. Bilateral relations seem to be warming significantly, with the two countries' presidents having met six times in 2018, including two official reciprocal visits (see EDM September 18, October 24, 2018). Bilateral economic and commercial ties are also tightening. A ten-fold increase in transit volumes to and from Russia via Azerbaijan last year is just one case in point (Abc.az, December 26, 2018).
Relations with Iran also progressed during 2018. Notably, Baku and Tehran agreed on joint development of disputed offshore energy fields in the Caspian Sea, and a number of joint economic and commercial projects are being implemented (see EDM April 5, 2018). But at the same time, Azerbaijan managed to maintain its partnership with Israel, notably in the sphere of arms purchases (see EDM, June 14, 19, 2018).
Last year, Azerbaijan, Russia, Kazakhstan, Iran and Turkmenistan signed a treaty on the legal status of the Caspian Sea (see EDM, September 12, 26, 2018). Though serious issues such as delimitation of the seafloor, disputed offshore energy fields and the construction of subsea pipelines remain yet to be resolved, the treaty satisfied Russian and Iranian interests by preventing third-party militaries from being allowed to access the sea (The Russia File, September 5, 2018).
Finally, the settlement of the Karabakh conflict with Armenia remains Azerbaijan's top priority. "Baku does not want to see a quiet status quo, but a quiet status quo is unfortunately what I think the new Armenian leadership wants," South Caucasus analyst Thomas de Wall says (Caucasus Watch, January 11, 2019). At the moment, Azerbaijan is practicing "strategic patience" toward Armenia and its revolutionary leader, Nikol Pashinyan (Azertag, December 22, 26, 2018). And there has been a noticeable thaw in the rhetoric. Moreover, Azerbaijan has started replacing army units with border troops along its official state border with Armenia (Report.az, December 14, 2018). Violent incidents between Armenian and Azerbaijani forces stationed on the contact line around Karabakh have also significantly dropped in recent months, with no serious violations of the ceasefire recorded. Additionally, the two sides established formal communications channels to prevent future armed incidents (Armenpress.am, November 6, 2018).
Azerbaijan's approach contributes to a more relaxed domestic environment for the new Armenian government either to succeed or to fail. And from Baku's perspective, either outcome is likely to contribute to reshaping Armenia's attitude and perception of the Karabakh conflict and its consequences (see EDM June 14, 2018; Creergeneva.org October 14, 2018). At the same time, more active bilateral talks should limit third parties' abilities to manipulate the conflict and related hostility between the two neighboring nations. As such, this is a particularly notable element of Azerbaijan's optimization of its traditional balanced foreign policy, which is being shaped by the new circumstances and emerging realities in the region and beyond.