Ukrainian Crisis Sparks Worries in the South Caucasus
Publication: Eurasia Daily Monitor Volume: 11 Issue: 77
By: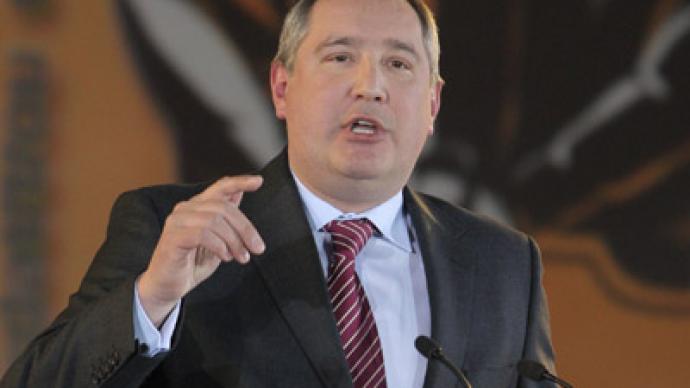 On April 11, Russian Prime Minister Dmitry Medvedev appointed Deputy Prime Minister Dmitry Rogozin as chairman of the Russian part of the inter-governmental commission on economic cooperation with Azerbaijan. The news arrived as the North Atlantic Treaty Organization's (NATO) Assistant Secretary General for Emerging Security Challenges Sorin Ducaru was meeting with high-level officials in Baku, including Azerbaijan's President Ilham Aliyev. A former Russian ambassador to NATO, Rogozin is now deputy prime minister for the defense and space industry. As part of President Vladimir Putin's inner circle, Rogozin was included in the sanctions list signed by President Barack Obama on March 17, the day after a controversial referendum in Crimea served as pretext for its annexation by Russia. The new Russian envoy's high-level government position was interpreted as a warning to both Azerbaijan and the West as tensions in eastern Ukraine continue (APA New Agency, Trend News Agency, April 11; Business Insider, March 17).
The annexation of Crimea has worried Russia's neighbors and prompted the North Atlantic Alliance to strengthen ties with partners in Eastern Europe and the South Caucasus. On April 1, NATO's Ministerial Council decided to increase cooperation with and expand its presence in Armenia, Azerbaijan and Moldova. Although NATO Secretary General Anders Fogh Rasmussen said in Brussels that this was nothing new and the enhanced cooperation will take place within the framework of existing partnerships, Ambassador Ducaru in Baku specified several areas related to the changing security environment in Ukraine and Afghanistan: security, energy security, terrorism and information technologies. The conflict in Ukraine and potential further sanctions against Russia can threaten both Europe's energy supplies from Russia via Ukraine and NATO's transportation routes to Afghanistan via Russia. "Azerbaijan's cooperation with NATO is important in the light of the withdrawal of troops from Afghanistan in 2014," Ducaru said in Baku. "Azerbaijan has opened transit opportunities for us" (Trend News Agency, April 11).
Despite active collaboration with NATO within the Partnership for Peace program and recent plans to expand it, the mood in Baku and Tbilisi is not optimistic about possible protection by the West in case of Russian intervention in the region. The experience from the Russia-Georgia war in August 2008 and the muted Western reaction to Russia's invasion of Crimea in March are indicative that the South Caucasus countries may not rely on help from outside. Russia is treating the South Caucasus as a military polygon with about 5,000 Russian troops stationed at its Gyumri base in Armenia, numerous troops left in Abkhazia and South Ossetia after the 2008 war, and a substantial military presence in the Caspian Sea.
Georgia was unpleasantly surprised by President Obama's statement in Brussels on May 26 that "neither Ukraine nor Georgia are currently on the path to NATO membership and there have not been any immediate plans for expansion of NATO membership." Georgia's President Giorgi Margvelashvili commented in an interview with Rustavi 2 TV on March 28: "I would not say it was the statement I was looking forward to and I wanted to hear," but he stressed that his country will continue efforts to seek security within the Euro-Atlantic space (civil.ge, March 27, 28).
President Obama's remarks resonated negatively in Azerbaijan as well, although Baku does not have plans to join the Alliance and has maintained a balanced relationship with Russia and the West. But Baku is concerned about the unresolved conflict with Armenia over Karabakh and potential deterioration if Russia attempts to destabilize Azerbaijan. President Ilham Aliyev has pointed out that the West is applying double standards when reacting to the occupation of Crimea with sanctions against Russia, but has never considered sanctions against Armenia for the take-over of Karabakh. His voice was joined by the Conservative member of the British parliament David Davis, who said in a statement that "despite global recognition, Azerbaijan's position in Nagorno-Karabakh is not supported enough by the Western states." The statement also indicated that the British company BP is the largest investor in Azerbaijan and has much to lose in case of a resumption of the conflict (Trend News Agency, April 16; Azernews, April 18).
Azerbaijan and Georgia are strategically important for European energy security because of the energy corridors from the Caspian Sea to Europe across their territories. Azerbaijan became the first Caspian littoral state to export oil to European markets via the Baku-Tbilisi-Ceyhan oil pipeline. Azerbaijan's State Oil Company (SOCAR) is currently expanding the natural gas corridor from the Caspian Sea through Georgia to Turkey and building the Trans-Anatolian natural gas pipeline (TANAP), which will connect with the prospective Trans-Adriatic pipeline on European Union territory. When deliveries of Azeri gas start in early 2019, this will be the first Caspian gas reaching European markets. Although the quantities will be relatively small—from 10 billion cubic meters (bcm) a year as a start to 31 bcm later—they will be an important diversification factor on the European market that currently depends on Russia for up to 25 percent of its gas consumption.
Baku is also working with Ashgabat to ensure a transfer to Europe of much larger quantities of natural gas from Turkmenistan—at least 40 bcm a year. "The Azerbaijani side is always ready to offer its transit opportunities in the case of implementation of the Trans-Caspian gas pipeline project," head of SOCAR Rovnag Abdullayev told journalists in Baku (Trend News Agency, April 23). Turkmenistan and the EU are currently negotiating the Trans-Caspian gas pipeline project—a 300-kilometer (186-mile) pipeline along the Caspian Sea bed from Turkmenistan to Azerbaijan—but Russia objects to the project.
Fears are growing in the region as the Ukrainian crisis unfolds. Azerbaijani political analyst Vafa Quluzada said that Russian military representatives are warning Azerbaijan to stop cooperating with NATO. "They say that if gas and communication grids are directed to the West and if Azerbaijan cooperates with NATO, then there may be a threat to our country," Quluzada said in an interview with Azadliq newspaper on April 11. The analyst advocated closer military ties with Turkey such as signing a military agreement between Turkey and Azerbaijan and creating a Turkish military base in the country (Azadliq, April 11).
Meanwhile, Georgia received high praise from NATO member states for the progress it achieved during the NATO-Georgia Commission meeting on April 2 in Brussels. Tbilisi is working hard to receive a Membership Action Plan at the NATO summit in Wales in September, or at the very least a declaration that the country has made another step toward NATO membership (Trend News Agency, April 3).