Ukrainian 'Footprint' in the Libyan Civil War: Reality or Disinformation?
Publication: Eurasia Daily Monitor Volume: 16 Issue: 120
By: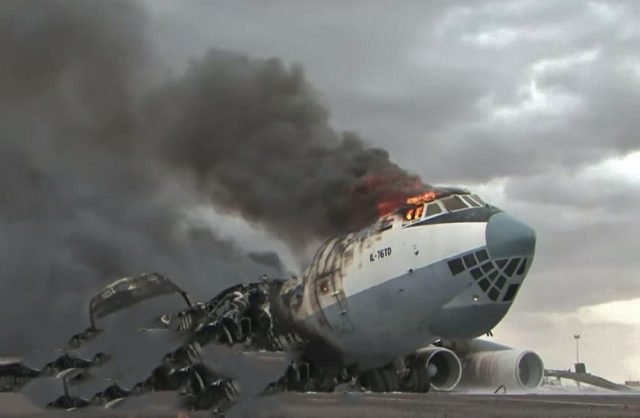 On August 6, an Ilyushin Il-76TD turbofan strategic airlifter owned by the Ukrainian airline SkyAviatrans LLC was destroyed at the Misrata International Airport, in northwestern Libya. The airport had been the site of an intense armed conflict between the Libyan National Army (LNA) loyal to Field Marshal Khalifa Haftar and forces of the Government of National Accord (GNA), headed by Prime Minister Fayez al-Sarraj. The Ukrainian airplane had arrived from Ankara amidst these clashes and, according to the Ukrainian side, was transporting humanitarian cargo on behalf of the International Committee of the Red Cross (UNIAN, August 6). Immediately after the incident, Russian information outlets suggested that the actual cargo on board the demolished Il-76 was weaponry meant for the GNA forces. Russian media further alleged that the plane was fired upon by a Chinese-made Wing Loong unmanned aerial vehicle (UAV) belonging to LNA forces (Anna-news.info, August 6). The Ukrainian side, while admitting that its aircraft had been destroyed, denied Russia's narrative.
This episode was only the latest in a series of similar, highly controversial incidents involving Ukrainian cargo aircraft in Libya. On June 23, at Tripoli International Airport, an Antonov An-124 Ruslan strategic airlift allegedly originating from Ukraine was severely damaged in a mortar attack (Avia.pro, June 23). And a month later, on July 26, two Ilyushin Il-76 turbofan strategic airlifters allegedly belonging to a private Ukrainian company (and reportedly transporting weaponry from the United Arab Emirates) were obliterated in a missile strike. Volodymyr Bukhalsky—one of Ukraine's most experienced pilots—was killed in the incident (Zn.ua, July 28). These events raised an uproar in the Russian media, which accused Ukraine of smuggling weapons to both sides in the Libyan conflict (Fakty.ua, August 2). Some ultra-conservative Russian outlets even declared that international sanctions should be introduced against Ukraine for its "violation of the resolution of the [United Nations] Security Council" (Tsargrad.tv, August 2).
Furthermore, Russian military expert Colonel (ret.) Vladimir Popov asserted that the advance of the LNA forces has been partly hindered by "the support [for the GNA] provided by locally operating Ukrainian military advisors…which is deliberately overlooked by the West." Specifically, Popov contends that "the Tripoli government has been using services offered by Ukrainian specialists to [help it] utilize military equipment produced in Soviet times… Since December 2014, a group of experts from the Odessa Aviation Factory has been working in Libya" (Nezavisimaya Gazeta, April 7).
However, as argued by the head of the Dialogue of Civilizations Research Institute, Alexey Malashenko, the probability of the Ukrainian government's involvement in the Libyan civil war is extremely low and should not be overestimated. In particular, he argued, "I do not think that Ukraine is involved in any politics there [Libya]…it is all about money. I am more than sure that they are selling them Soviet or Russian weaponry…Ukraine is making a profit out of this war…and by the way not just Ukraine, also Belarus and others who consider this to be acceptable. This does not suggest that they [the Ukrainian state] are directly involved in the war" (Nsn.fm, July 28).
Reactions to this news by Ukrainian sources was diametrically opposite. Ukraine's Deputy Minister of Information Policy Dmytro Zolotukhin stated that "the [August 6] incident at the Misrata airport is nothing but a new attempt of the Russian side to discredit Ukraine… Russia has been trying to accuse Ukraine of smuggling weaponry for the past ten years […] but there is no direct evidence proving this" (Obozrevatel.com, August 7). As argued by Ukrainian military commentator Alexander Kovalenko, the Russian side falsely attributed the transport planes to Kyiv (rather than private companies) and lied about the contents of their cargo. Russia's goal, he contends, was to discredit Ukraine, both in the eyes of the West and Turkey, and to raise the issue of international sanctions, thereby distracting attention from Russia's own activities in the region (Uc.od.ua, August 3).
Moreover, Kovalenko claimed that the "information campaign launched by Russia" bears all the traces of previous "anti-Ukrainian disinformation campaigns that involved various [Russian-linked] actors, ranging from trolls and marginal disinformation outlets to large, state-sponsored platforms such as Zvezda, Lenta.ru and others" (Sprotyv.info, August 6). Likewise, the coordinator of the Ukrainian online investigative platform Information Resistance, Yuri Karin, claims that Russia's key objective in this story is to "discredit Ukraine in the eyes of [its] Western partners […] to form the impression that the country is smuggling weaponry to various terrorist formations in zones of regional instability." Karin also points to similar fake stories previously disseminated by the Russian media, such as the purported "deliveries of Ukrainian rocket facilities to North Korea" as well as "weaponry smuggled to Syria, Lithuania, Yemen […], the Islamic State, the Taliban […], and other examples." According to Karin, "Russia's additional goal is to exploit the specter of "new refugees"—an extremely sensitive topic for the European Union—which Ukraine could be blamed for because of its supposed "weapons deliveries into an intense military confrontation" (Sprotyv.info, July 28).
Undoubtedly, Moscow is determined to use these developments in its favor—to vilify Ukraine's image in the eyes of the international community. However, some blank spots remain. First, rumors suggesting the presence of Ukrainian mercenaries or military instructors in Libya first surfaced in 2011 (Kp.ua, February 23, 2011), at which point they were quickly repudiated by Ukrainian military officials. The seriousness of the issue required the involvement of the Ukrainian Ministry for Foreign Affairs, which dismissed all information about the Ukrainian military being involved in the nascent Libyan civil war (Obozrevatel.com, March 1, 2011). However, a special investigative report issued by the Organized Crime and Corruption Reporting Project (OCCRP) in 2017 stated that "Ukrainian authorities and companies have made the country [Libya] a key node in a network that channels Soviet-style arms from Europe to Africa and the Middle East. Many of those weapons originate in countries that are now EU members." The documents (contracts, correspondence, financial information, and order books) obtained by the investigators, indeed, appear to demonstrate the existence of several weapons smuggling schemes (Occrp.org, September 25, 2017).
With respect to the most recent incidents in Libya, it remains unclear how strategic airlifters like the Il-76 and An-124—claimed to be operated by "private air companies"—could be employed without the Ukrainian Ministry of Defense being aware of this. Amidst the ambiguity regarding the facts, these episodes clearly threaten to damage Ukraine's international reputation while easily playing into the hands of Russian propaganda.