Ukrainian Government Tries to Expel Foreign Volunteer Fighters
Publication: Eurasia Daily Monitor Volume: 15 Issue: 139
By: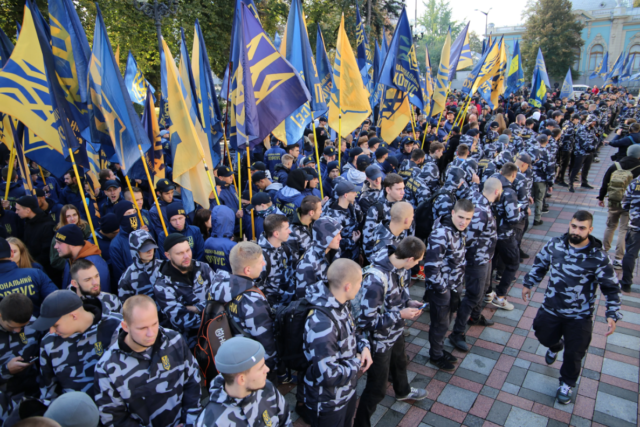 Recent tensions between local members of volunteer battalions and the police threaten to spark another wave of protests in Ukraine on the fifth anniversary of the EuroMaidan revolution. In mid-September, the Prosecutor General's Office of Ukraine extradited to Russia Timur Tumgoev, a 31-year-old Ingush man who had served in a "Right Sector" volunteer battalion in Donbas (Pravda.com.ua, September 13). In his statement, Prosecutor General Yuriy Lutsenko claimed that Tumgoev, a Russian citizen, was a long-time member of the Islamic State in Syria and in fact had never served in eastern Ukraine. According to Lutsenko, Interpol had issued a Red Notice for Tumgoev at Russia's request, two years ago. As a result, Tumgoev was detained by Ukrainian law enforcements in 2016. But he was released shortly thereafter, when the United Nations Human Rights Committee ordered the Ukrainian authorities to halt Tumgoev's extradition to Russia because of a high probability he would face torture if forcibly returned (Khpg.org, September 13).
During his stay in Ukraine, Tumgoev had applied for asylum, claiming he was facing prosecution in the Russian Federation because of his religious beliefs and strong anti-Kremlin rhetoric. Moreover, he asserted that the Russian police and Federal Security Service (FSB) had tried to turn him into an informant (Khpg.org, September 13).
Several hundred activists, including members of several volunteer battalions and Donbas veterans, organized a demonstration in front of the Prosecutor General's Office in downtown of Kyiv, on September 17 (UNIAN, September 17). Specifically, leaders of Right Sector demanded Tumgoev's release, affirming that he served with them on the frontlines in eastern Ukraine, in the Chechen Sheik Mansur Battalion. One of organizers and former commander of Right Sector, Andrey Gergert, claimed Tumgoev would be murdered in a Russian prison since he is a personal enemy of the head of the Chechen Republic, Ramzan Kadyrov (UNIAN, September 17). Nevertheless, Deputy Prosecutor Eugeniy Enin earlier declared that Tumgoev never provided the authorities with any strong evidence of his participation in the Sheik Mansur Battalion (Gordon.ua, September 14).
On September 20, another rally on behalf of Tumgoev attracted nearly 500 demonstrators. This time, the protest, which was organized by the far-right party National Corps, took place near the Ukrainian parliament. The party's leader, parliamentarian Andrey Biletsky, harshly denounced "traitors" among the authorities, including lawmakers who had allowed Tumgoev to be handed over to the Russian FSB "without any legal reasons" (Censor.net.ua, September 20). Biletsky declared that roughly 500 foreign volunteers currently serve in the Ukrainian army and volunteer battalions, mostly from neighboring countries, such as Russia, Belarus and Georgia. And despite risking their lives on the frontlines, to date only a few have managed to obtain asylum by becoming Ukrainian citizens.
Among other demands, the activists in front of the parliament called for the resignation of Prosecutor General Lutsenko for, in their view, enabling Tumgoev's extradition. Furthermore, the protesters petitioned for the passage of Bill Number 3433, which would allow foreign volunteers to be granted Ukrainian citizenship through a simplified procedure. That piece of legislation also importantly includes a moratorium on foreign volunteers' deportation to other countries where they might be at risk of torture or other kinds of pressure (Informator.ua, September 20).
Many foreign volunteers either lost their IDs or had them expire while they stayed on the frontlines. As a result, these people became illegal immigrants, necessitating an extradition to their homeland. According to Ukrainian law, if they want to restore their IDs, they have to check in at their native country's embassy or return home, which could mean imprisonment due to their activities in Ukraine.
Before Tumgoev was detained by Ukrainian authorities, he had lived in Turkey for several years without facing any problems. The sudden decision by the General Prosecutor's Office and Security Service of Ukraine (SSU) to arrest and voluntarily turn him over to the Russian FSB is, therefore, rather unusual—especially considering the number of Ukrainian citizens who continue to be held in custody in Russia without any clear evidence of their guilt.
The Tumgoev case may spark more serious tensions between volunteer fighters and the Ukrainian government even beyond the series of protests that occurred last month, both of which resulted in violent scuffles with police. After more than four years of conflict in Donbas, there are now thousands of local volunteers who participated in combat against the regular Russian military, and they still lack any sort of legal status. Since most of them went to fight in the summer of 2014 on their own initiative, many Ukrainian volunteers have not been recognized as veterans. As such, they are not entitled to legal benefits such as social welfare or other support from the government. And the recent incident involving Tumgoev being handed over to the FSB will only increase the volunteer fighters' mistrust of Ukrainian officials and law enforcement, likely resulting in additional potentially violent street rallies in the future.
Furthermore, the upcoming Ukrainian presidential and parliamentarian elections, scheduled for next year, may increase the popularity and visibility of far-right organizations such as National Corps, Right Sector, Svoboda, etc., in the country's political arena. A number of Donbas war veterans will be taking part in these elections. But since many of them lack sufficient resources to run independent campaigns, they could become targets of manipulation by various oligarchs and businessmen tempted to exploit for their own interests the strong patriotic feelings that continue to burn in Ukrainian society (Atlanticcouncil.org, April 19).
Ongoing political pressure on indigenous and international volunteer fighters, the absence of clear legal instruments to support them, combined with publicized examples of Ukrainian law enforcement's cooperation with the FSB may further radicalize far-right activists and veterans of the war in the east. And this may lead to dangerous outcomes ahead of the 2019 elections.