Belarus Navigates Rough Waters
Publication: Eurasia Daily Monitor Volume: 15 Issue: 139
By: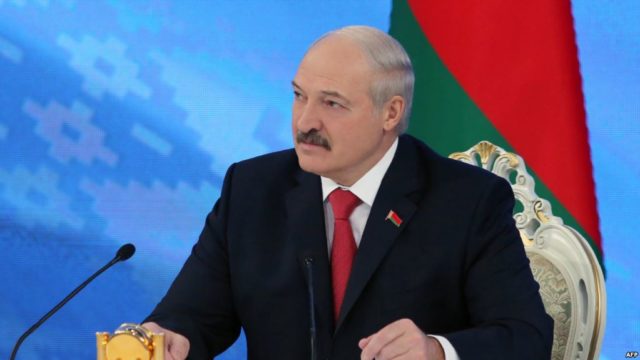 One of the dangers of traveling in a small ship is the possibility of forceful swaying in rough waters. Belarus is a small ship, and it is supersensitive to the weather around it. From the west, the weather appears rather calm, as the international legitimacy of Belarus's political regime is markedly on the rise. President Alyaksandr Lukashenka has just received an invitation to take part in ceremonies dedicated to the centennial of the end of World War I, to be held in Paris, France, this November (Tut.by, September 24). Earlier, he was also invited to Austria (Mir24.ru, May 29). And most recently, Johannes Hahn, the European Union's Commissioner for European Neighborhood and Enlargement Negotiations, said bluntly, "President Lukashenka must visit European countries." Nasha Niva, the mouthpiece of Belarus' Westernizing nationalists, pointedly included Hahn's "must" statement in the title of its article covering his remarks (Nasha Niva, September 9). "After all," the EU Commissioner added, "when people talk, they […] understand each other better." The present situation stands in stark relief to what the West's attitude toward Lukashenka's Belarus was back in 2014. A further good sign for Minsk is the fact that Anais Marin, an author of well-informed research on Belarusian issues, will replace the stern and confrontational moralizer Miklós Haraszti (Naviny, September 27) as the United Nations' special rapporteur on Belarus.
Stormy waters, however, can be seen from the east. Thus, Ukraine's UN representative, Vladimir Yelchenko, proposed that the Donbas conflict negotiation venue be transferred from Minsk because Belarus has voted against several Ukrainian initiatives in this international body (RIA Novosti, September 24). The potential loss of a peace-brokering position by Minsk would be a setback to its international standing. And the pending autocephaly of the Ukrainian Orthodox Church (see EDM, September 13) is also seen as a threat by some quarters. Piotr Petrovsky, a government-friendly analyst, views this development as initiated in Washington and as a last-ditch effort to strengthen Ukrainian President Petro Poroshenko's feeble electoral base. According to Petrovsky, instead of fostering Ukraine's independence from Moscow, autocephaly will split the Ukrainian Orthodox community into five jurisdictions reflecting historical divisions of modern-day Ukraine and the existing splinter groups. This may become contagious, he argues, and the Belarusian exarchate of the Russian Orthodox Church may split into three jurisdictions: that is, into groups of parishes subordinated to Moscow, Constantinople and to the Polish Orthodox Church (Eurasia.Expert, September 26).
Furthermore, certain experts never stop predicting Belarus's Anschluss by Russia. Yet, having read several articles to this effect in Polish newspapers, Alexander Nosovich, the author of the book Why Belarus Is Not a Baltic State (see EDM, September 24), explains that annexation is not in Russia's interest. "Culturally and in terms of values, Belarus and Russia are a single country anyway," writes Nosovich. "However, the Republic of Belarus and the Russian Federation have different economic and social arrangements, so a merger into one country will inevitably lead to conflicts […] that will undermine relations between the two brotherly peoples" (RuBaltic, September 28).
Whether or not this reasoning is reassuring, two rallies organized by the Russian-Belarusian Civic Initiative Soyuz (Union)—the first in Vitebsk in July (Nasha Niva, July 20) and the second in Grodno in September (Nasha Niva, September 19)—have definitely fueled concern among nationally conscious Belarusians. Notably, Russia's Sergei Baburin, a radical advocate of the Russian World ("Russkiy Mir"), presided over both events.
To steady the ship Belarus, many efforts might seem appropriate. Thus, Lukashenka has just won Moscow's commitment to extend the term of repayment of the loan Russia delivered for the construction of the Belarusian nuclear power plant, which, as a matter of fact, stands to be commissioned at least one year later than planned (Tut.by, September 22). Russia's newly declared intent to boost delivery of dark oil (e.g. bitumen) for Belarusian petrochemical factories by 10 percent in 2019 (Tut.by, September 26) may also prove helpful. Also, Belarus's machine building is on the rise again (Narodnaya Volya, September 29)
Not everything, however, boils down to the economy. In particular, Belarus is trying to reinforce a sense of separateness from Russia. The continued overwhelming dominance of Russian TV channels in Belarus is a case in point of the challenges that lie ahead in achieving this goal, however. In a piece written for the Belarusian Service of Radio Liberty, historian Ales Krautsevich relates a poignant anecdote to further illustrate the above. Sitting at a car repair shop in Minsk, he overheard a receptionist grumbling about the ongoing broadcast from a wall-mounted TV set in the waiting room. "It is just nuts," said a receptionist. "They will soon require registration for horse-drawn carts." "Well, is this [reporting] not about Russia, and are we not a different country?" asked Krautsevich. "Oh, yes, indeed," replied the woman after a brief reflection (Svaboda.org, September 26).
Against the backdrop of such national indifference, preparative work for Belarus's first-ever Belarusian-language university appears important; but some $7–8 million are still missing for it to start functioning. In the meantime, the would-be university functions like a kind of Sunday school, with teachers earning a symbolic pay of about $50 a month. What is peculiar is that alongside the promoters of the Russian World, who, obviously, disapprove of the new school, the new venture is also being discredited by the European Humanities University (EHU), a Belarusian university in exile, located in Vilnius, Lithuania (Svaboda.org, September 27).
Observations by Artyom Shraibman, Tut.by's political commentator, come in handy to explain why that is. According to Shraibman, "any […] Belarusian project in exile, from the EHU [see EDM, December 4, 2013], to Charter97, to Belsat [see EDM, September 24], morphs into a miniature Belarus" (Tgstat.com/en/channel/@shraibman, September 20). What he means is that, like in Belarus, these expatriate entities frequently end up squelching dissent. By saying this, however, Shraibman may be inadvertently flattering those entities and equally inadvertently demeaning Belarus. After all, for all of its imperfections and examples of internal fights against dissent, the Republic of Belarus is also quite an orderly country that takes care of its people. But often, some hyperbole is inevitable.