US and NATO Send Reassuring Messages to Georgia
Publication: Eurasia Daily Monitor Volume: 15 Issue: 136
By: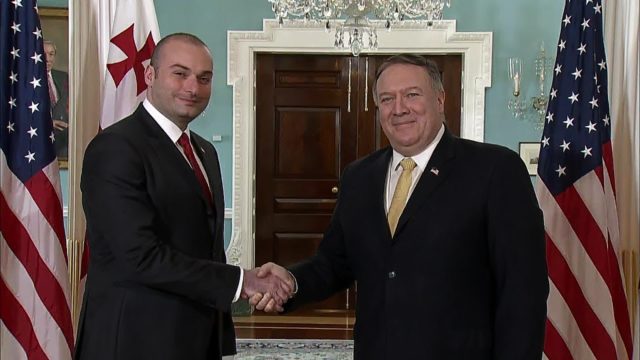 A few weeks before Georgia's presidential elections, scheduled for October 28, the authorities in Tbilisi are trying to demonstrate their unwavering support for closer links with the United States and the North Atlantic Treaty Organization (NATO). At the same time, Tbilisi has been receiving positive signals from Washington and Brussels.
On September 20, Georgian Prime Minister Mamuka Bakhtadze, who is currently visiting the United States (including to attend the United Nations General Assembly session in New York City— Twitter.com/BakhtadzeMamuka, September 25), met in Washington, DC, with Secretary of State Michael Pompeo. The main topic of their talks was deepening bilateral defense and security cooperation. Moreover, the Georgian head of government and US Secretary of State discussed the situation in the occupied territories—Abkhazia and South Ossetia (Civil Georgia, September 21).
Judging by his statement after speaking with Pompeo, Bakhtadze was pleased with the dialogue: "Great meeting with Secretary Pompeo in [the] State Department. We discussed [our] future Action plan and all-time high US-Georgian relations. This meeting added new dynamics to the existing bilateral dimension," the Georgian leader tweeted (Civil Georgia, September 21).
After the meeting, US State Department Spokesperson Heather Nauert pointedly stated, "The United States continues to support Georgia's sovereignty within its internationally recognized borders, and the US looks forward to one day welcoming Georgia into NATO" (Civil Georgia, September 21).
A reassuring engagement was also held in the White House, where Mamuka Bakhtadze held talks with one of the key figures in the administration of President Donald Trump, National Security Advisor John Bolton (1tv.ge, September 17). Following their talks, Bolton tweeted, "Today I met with Prime Minister Bakhtadze of Georgia to affirm the solidarity of the U.S.-Georgia relationship. A prosperous and democratic Georgia is a powerful example in the region" (Twitter.com/ambjohnbolton, September 17). In turn, Bakhtadze called Bolton "a great friend of Georgia." According to the Georgian prime minister, "We talked about the Russian occupation, the role of the United States and the unification of efforts to overcome this challenge. The advisor to the US president has a concrete vision for further strengthening US-Georgian strategic cooperation" (1tv.ge, September 17).
Following his high-level discussions, Bakhtadze reported that both Pompeo and Bolton reacted positively to the idea of negotiating a US-Georgia free trade agreement." But as the Georgian economist George Khukhashvili told this author in a September 22 interview, a "US-Georgia Free Trade Area" should be read strictly as a political message coming out of Washington and not realistic policy driven by economic reality. "Georgia has nothing to offer the US market," Khukhashvili asserted. Georgian wine and mineral water are already sold in US cities in volumes that could be expected based on relative US demand, he added.
Meanwhile, as the Georgian governmental delegation held talks in the US, NATO Deputy Secretary General Rose Gottemoeller reaffirmed the Alliance's "strong commitment" to Georgia during her meetings with government leaders in Tbilisi (Civil Georgia, September 21). "We are in excellent shape with regard to our NATO-Georgia relationship," Gottemoeller said at her joint press conference with Deputy Foreign Minister David Dondua. "We will continue to help you prepare for membership going forward," she stressed (Mfa.gov.ge, September 21). The deputy secretary general also confirmed that NATO "remains committed to its statement at the Bucharest Summit in 2008 that Georgia will become a member of the Alliance" (Civil Georgia, September 21).
Rose Gottemoeller expressed concern over Russia's military activity in the Black Sea region. She called on Russia to withdraw troops from Abkhazia and South Ossetia. According to her, NATO allies continue to prepare, together with the Georgian side, Georgia's accession to the North Atlantic Alliance (Svoboda.org, September 21).
No less important a signal for Georgia was the statements of influential US diplomats at the September 11–12 Tbilisi International Conference, "The World in 2018: Upside Down?" co-hosted by the McCain Institute for International Leadership and the Economic Policy Research Center (EPRC). "For Georgia to succeed on the path to reform is the ultimate and most important way to beat Vladimir Putin," A. Wess Mitchell, the US Assistant Secretary of State for European and Eurasian Affairs, said at the conference (Civil Georgia, September 12). He added that US-Georgia cooperation is "stronger than it has ever been" and Georgia is "an important symbol of freedom and Western values." Mitchell also reiterated that Washington would "remain committed to seeing Georgia into NATO." He noted the NATO and US-led exercises in Georgia "are demonstrations of US willingness to engage with Georgia as a NATO aspirant" (Civil Georgia, September 12).
An important point to observe is that US and Western leaders are increasingly considering the Georgian and Ukrainian problems under the same umbrella. This was evidenced by the presence at the Tbilisi Conference of US Special Representative to Ukraine Kurt Volker and his statement during the forum: "What happened in 2008 was Russia's planned and orchestrated invasion of the territory of Georgia. […] Georgia's troops are not on the territory of Russia, but the Russian army is in Georgia. Moscow is still not implementing the ceasefire agreement of 2008." Ambassador Volker added, "[F]or a long time in the West" the view has been prevalent "that hot heads in Georgia had led to the provocation [resulting in the August 2008 war with Russia]. But against the backdrop of events over the past couple years, and after the annexation of Crimea and the events in Donbas, the commonly held analysis of the situation today is that Russia is pursuing an aggressive policy with respect to its neighbors" (Apsny.ge, September 12).
This past summer, Ilia University Professor Georgy Nodia noted that, despite recent encouraging statements from abroad, many in the West still do not see how it would be possible to integrate Georgia into NATO. He suggested that "black swan" event might be necessary to "turn into reality what yesterday seemed absolutely impossible" (Author's interview, June 21).
In the end, Russia's mounting aggression could inadvertently tip the situation in Georgia's favor. Russia's wars in Ukraine and Syria continue. Russian intelligence operatives have deployed chemical weapons inside the United Kingdom. Moscow has been boldly interfering in the US electoral system as well as seeking provoke internal political problems in the US and its Western allies. If not curtailed, any or all of these factors together could eventually push Western elites to take additional measures to "contain" Russia and its authoritarian leader—and bringing frontline Georgia into the Euro-Atlantic security space may be part of this strategy.