Putin's Trip to Azerbaijan: Manipulating the Caucasus Triangle
Publication: Eurasia Daily Monitor Volume: 15 Issue: 137
By: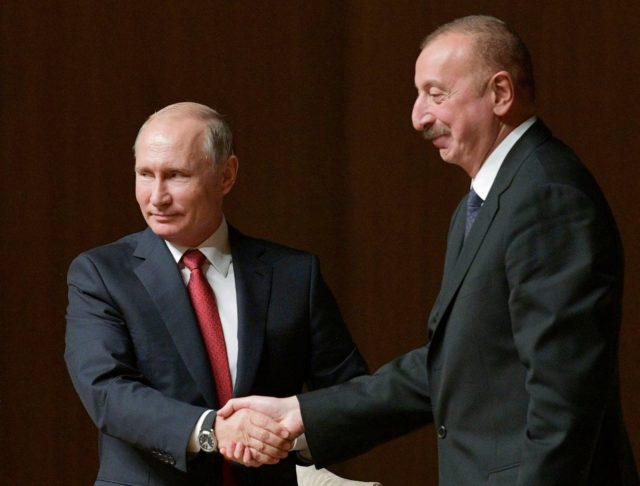 While crises in the Middle East, Ukraine and East Asia occupy much of the world's headlines, interesting and significant dynamics have been driving events in the Caucasus in recent months. Clearly, Armenia's "Velvet Revolution" of May 2018 has shaken up the political landscape across the region, but not necessarily in ways that people on the ground have expected (see EDM, May 3, 10, 30, September 18). Despite hope from some quarters that the new government's undertaken reforms and purge of the old regime (see EDM, May 22, June 25, August 8) might lead to a willingness to seek a peaceful resolution of the unending conflict with Azerbaijan over Karabakh, the opposite seems to be happening (see EDM, May 10, June 4, July 25)—even though peace is the true precondition for any enduring reforms in Armenia. Moreover, the reforms and aggressive anti-corruption drive have predictably obliged Moscow to look askance at Armenia's policies and to play to Azerbaijan's anxieties about renewed conflict in order to constrain Yerevan and preserve Russian leverage over its dependent South Caucasus ally (see EDM, September 10, 18).
Under its revolutionary acting prime minister, Nikol Pashinyan, Armenia has, since May, sought to propitiate and even draw closer to Russia—concerned over losing its preeminent security guarantor. And yet, President Vladimir Putin has not only just paid a visit to Armenia's regional arch-rival Azerbaijan, but postponed or canceled his planned trip to Yerevan in order to attend a Commonwealth of Independent States (CIS) summit in Dushanbe (Trend.az, September 7). In Azerbaijan, the official communiqué coming of out Putin's visit did not reveal any major policy shocks. But Russian media claims that, in fact, Putin struck at Armenia by making a secret deal with the Azerbaijani government. Allegedly, the two sides agreed Baku would join the Moscow-led Collective Security Treaty Organization (CSTO) (Pravda, September 28). According to Pravda, the essence of the deal is that, in return for this victory for Russia, Moscow would use its influence over Yerevan to return five out of the seven Azerbaijani provinces conquered by Armenia in 1993, during the war over Karabakh. While Baku has made no public comment about any such deal, the absence of an official denial represents its own kind of diplomatic coup for Moscow.
When the first reports of this potential deal were publicized, Prime Minister Pashinyan's government stated that Armenia could veto Azerbaijan's accession to the CSTO as well as the Eurasian Economic Union until a comprehensive peace plan for Karabakh is achieved (Asbarez.com, August 28). Therefore, if reports of the recently struck Russo-Azerbaijani deal are credible, Putin is signaling to both parties that he can nevertheless coerce Armenia into returning Azerbaijani territories due to the former's economic and military dependence upon Moscow. Of course, it is possible these reports are not credible at all, but merely rumors floated by Russia in order to achieve its long-held goal of successfully manipulating this conflict to its own advantage at the expense of the belligerents. Yet, even then, those groundless assertions of a Moscow-Baku pact still send Yerevan a message: too many domestic reforms might leave Russia no option but to crack down on Armenia.
Certainly Moscow's displeasure at Pashinyan's efforts to uproot the old elite is clear. When the authorities in Yerevan arrested former president Robert Kocharyan and CSTO Secretary General Yuri Khachaturov for their part in suppressing Armenian demonstrations in 2008, Russia's Foreign Minister Lavrov pointedly expressed his government's apprehension and uncertainty as to what was happening there (Mid.ru, September 3). Furthermore, Moscow then canceled an Armenian arrest warrant for former defense minister General Mikael Harutunyan who had also been indicted for his activities in 2008 (Asbarez.com, September 8). And lastly, Putin also contacted Kocharyan to wish him a happy birthday, thereby clearly signaling his desire to restrain Pashinyan's government and the purge it is launching against the former regime (Aysor.am, September 9).
Meanwhile Armenia has also turned up the rhetoric on Karabakh, much to Baku's chagrin. Throughout September, Pashinyan frequently reiterated that Azerbaijan cannot join the EEU and the CSTO without making peace (presumably on his terms) first (Asbarez.com, September 10). Whether or not Azerbaijan is seriously considering joining either of these regional blocs, such bombast coming out of Yerevan naturally does not play well in Baku. Nor did the fact that both sides simultaneously conducted drills on either side of the front over the period September 11–13 (Kavkavsky Uzel, September 14).
Thus, rather than alleviating tensions in the Caucasus, democratization in Armenia currently appears to be further stirring them up. Moreover, by conducting a tough policy toward Azerbaijan, Pashinyan encourages Russia to use the war as a means of cementing its control over Armenia and of constraining its democratic moves. And in the absence of a clear regional policy by the United States, the political situation in Yerevan allows Moscow to look ever more attractive to Baku.
A great deal of liberal writing on world politics invariably associates democratization with peace. But Armenia's revolution suggests that the issue is not nearly so clear-cut. Additionally, it highlights once again that maintaining unresolved conflicts—whether in the Caucasus or other parts of the former Soviet space—ultimately benefits only Moscow, not the belligerents.