UZBEK GAS OUTPUT, EXPORT SET TO GROW UNDER RUSSIAN MONOPOLY CONTROL
Publication: Eurasia Daily Monitor Volume: 4 Issue: 37
By: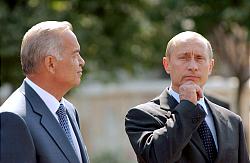 On February 19, Gazprom's subsidiary office in Tashkent announced that Uzbekistan will deliver 13 billion cubic meters of gas to Russia in 2007, up from 9 billion cubic meters in 2006. Russia is the sole export destination for Uzbek gas. Under the contract for 2007, Uzbek gas is priced at $100 per 1,000 cubic meters, up from $60 in 2006, but still far below market value. Russia intends to use the Uzbek gas partly for internal consumption in Russia itself — thereby releasing equivalent volumes of Russian-produced gas for export to European markets — and partly for re-export via Russia to those same European markets, where Gazprom delivers the gas at prices in the range of $300 per 1,000 cubic meters in 2007. Thus, Russia makes windfall profits at Uzbekistan's expense.
The Kremlin intends to include Uzbekistan — alongside Turkmenistan and Kazakhstan — in a Russia-led group of gas exporting countries that dominate European markets to Russia's unilateral advantage. This is made possible by Russia's monopoly on transit from Central Asia to Europe. The Central Asia-Center gas pipeline, running from Turkmenistan via Kazakhstan and Uzbekistan to central Russia, is also designated officially by Moscow as the "Single Export Channel" for Central Asian gas.
Uzbekistan extracted 59 to 60 billion cubic meters of gas annually in the last three years. A large portion of this output is being used internally and other portions are traditionally supplied to Kazakhstan (for that country's southern regions), Tajikistan, and Kyrgyzstan. Gazprom and other Russian companies intend to increase gas extraction in Uzbekistan in order to direct growing volumes into the single export channel to Russia.
In January of this year, Gazprom's fully owned subsidiary Zarubezhneftegaz started exploration and development work on several gas deposits on the Ust-Yurt plateau, in the Karakalpakia region of northwestern Uzbekistan. Under the framework agreement, Zarubezhneftegaz holds a five-year exploration license and exclusive rights to a 25-year production-sharing agreement with the national company Uzbekneftegaz. The agreement gives Gazprom the exclusive right to export the gas. The Ust-Yurt fields are expected to produce between 5 billion cubic meters and 8 billion cubic meters of gas annually when fully on stream.
In another project, Russia's Lukoil holds a 90% stake, to 10% for Uzbekneftegaz, in a joint venture to develop Kandim and other gas fields in southern Uzbekistan. The production sharing agreement runs for 35 years and production is expected to start in the third quarter of 2007, when the gas treatment plant should also become operational. Lukoil plans to extract 3 billion cubic meters of gas annually at this project, out of Lukoil's total gas extraction in Uzbekistan, which is expected to reach 9 to 10 billion cubic meters annually from 2010 onward.
Under the same agreement, Lukoil is to hand over its output of Uzbek gas to Gazprom as the single authorized gas exporter from Uzbekistan. At the present moment in Moscow, Lukoil is coming under pressure from Gazprom to merge with Gazpromneft, the former Sibneft company that Gazprom acquired last year. The merger would give Gazpromneft a 51% stake, to Lukoil's 49%.
Gazprom intends to upgrade the Uzbek stretch of the Central Asia-Center gas pipeline and increase its capacity from 45 to 55 billion cubic meters annually within the next two years. Gazprom further plans to increase that capacity to 80 billion cubic meters per year from 2010 onward. The capacity increases are intended to take greater volumes of Turkmen and Uzbek gas to Russia and add some volumes of gas from Kazakhstan as well. Uzbektransgas, a component of Uzbekneftegaz, is the pipeline's sole owner on national territory. Gazprom enjoys a cheap transit fee of only $1.1 per 1,000 cubic meters of gas per 100 kilometers through this pipeline.
Gazprom has also announced an intention acquire assets in Uzbekistan from the Zeromax holding, at least parts of which are said to be controlled by President Islam Karimov's daughter Gulnara. Zeromax includes companies engaged in pipeline construction and maintenance, extractive projects, oil and gas refining, and gasoline marketing.
By dint of its location, Uzbekistan is key to the success of Russia's efforts to monopolize the export of gas from Central Asia. That effort is, in turn, a component of Russia's economic and political strategies to gain leverage over Europe. This consideration seemed entirely absent from the debates and policy calculations in Washington and Brussels that led to the loss of Uzbekistan as a strategic partner in 2005.
(Interfax, February 1, 5, 19)