Uzbekistan, Turkmenistan, and Iran Forge Ahead With Proposed Transit Corridor
Publication: Eurasia Daily Monitor Volume: 20 Issue: 159
By: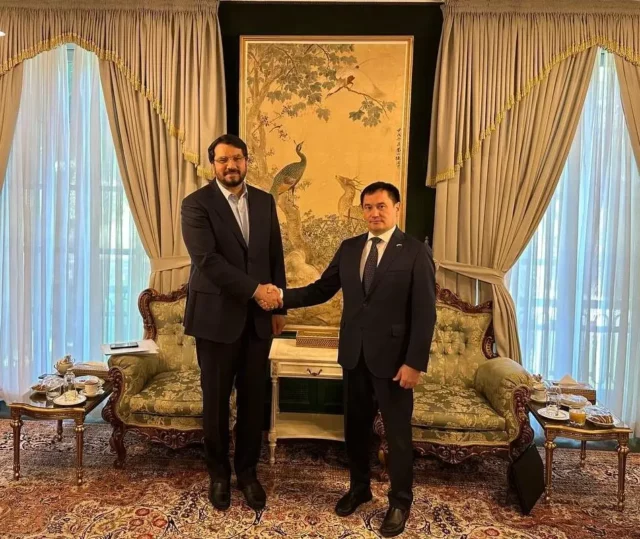 On October 14, Uzbekistan's Ministry of Transport held talks via videoconference with the transport ministers from Kazakhstan, Turkey, Turkmenistan, and Iran regarding plans to develop new regional transit corridors (Azernews, October 14). This comes as Tashkent, Ashgabat, and Tehran have expanded cooperation in developing a new corridor for moving cargo from Asia to Europe and vice versa. In August 2023, representatives from Uzbekistan's Transport Ministry and Iran's Ministry of Roads and Urban Development held discussions that sought to expedite the signing of an agreement on the new passage running through Uzbekistan, Turkmenistan, and Iran. The officials from both sides also discussed reducing fees for international transit passing through Iranian territory and exploring potential opportunities for increased imports and exports coming to and leaving the Bandar Abbas and Chabahar ports in Iran (Minitrans.uz, July 31; Teleqraf.com, August 2). The route will standardize tariffs and custom duties and is planned as a critical link within the larger China–Kazakhstan–Uzbekistan–Turkmenistan–Iran–Turkey–Europe transportation corridor (Onthemosway.eu, August 6, 2019).
Uzbekistan, Turkmenistan, and Iran have worked on improving transportation logistics and administration between one another in an effort to make the planned corridor a reality. In 2022, Tashkent agreed with Tehran and Ashgabat to simplify the regulations for freight traffic moving to Turkish and Iranian seaports (Orient.tm, May 30, 2022). The transport ministries of Uzbekistan and Turkmenistan have also agreed to organize intermodal transportation to Turkey along the Uzbekistan–Turkmenistan–Iran corridor and reduce transit fees.
The project is opening up opportunities to provide special privileges to those parties involved in this trilateral format. For example, Turkmenistan has introduced a simplified system for Uzbekestani drivers to obtain a travel visa (English.news.cn, August 18, 2022). Iran has already reduced the transit fees charged to Uzbekestani national carriers, and the two sides have discussed streamlining fuel taxes (Newscentralasia.net, June 20). Tehran and Tashkent recently agreed on the establishment of a bilateral logistics center and the construction of terminals and warehouses with the participation of Uzbekestani workers at Iranian ports (Newscentralasia.net, June 20; Business.com.tm, June 22).
Certainly, each country is pursuing its own interests with this project. Tehran is keen to diversify its possible transportation routes, particularly in response to Western sanctions against Russia. These sanctions have highlighted Iran's need to identify and develop alternative transit avenues. With Tehran itself facing stringent sanctions, it aspires to capitalize on such developments by expanding cooperation with its neighbors to advance its strategic goals.
Tashkent hopes to improve its access to European markets and facilitate access to South Asian markets (Ordu.az, November 13, 2022). Landlocked Uzbekistan has been promoting transit projects through its neighbors, including Afghanistan, since the Taliban came back to power, to reach ports in Pakistan, Iran, and Azerbaijan (English.news.cn, August 18, 2022). It has also placed special emphasis on developing infrastructure for cargo moving eastward with the proposed Uzbekistan–Kyrgyzstan–China railway project (see EDM, March 16), the Uzbekistan–Afghanistan–Pakistan rail project for trade southward, and the Uzbekistan–Turkmenistan–Iran corridor for transit westward (Report.az, August 24). Uzbekistan joined the China–Kazakhstan–Turkmenistan–Iran railway corridor in 2019 as part of the International North-South Transport Corridor, which will significantly reduce transit times for cargo moving from China to the Persian Gulf.
For Turkmenistan, these developments are part of a wider effort by Ashgabat to open up the traditionally isolated country to more regional cooperation (see EDM, May 11, 16, 18). The Turkmenstani government has considered certain mechanisms for opening the country's borders to facilitate transit. For example, Turkmenistan has four checkpoints along its border with Iran—Bajgiran, Lutfabad, Inceburun, and Sarakhs—through which most cargo traffic passes. In August 2023, Ashgabat and Tehran began expanding discussions for turning their shared border into a special economic zone, seeking to intensify cooperation with the other Central Asian states, especially Uzbekistan and Kazakhstan. Additionally, Turkmenistan and Uzbekistan have agreed to establish a bilateral trade center along their shared border, and the two countries are building a modern highway connecting Ashgabat to Turkmenabat (Daryo.uz, August 1).
If Uzbekistan, Iran, and Turkmenistan are successful in establishing the new transportation corridor, the project will increase their access to the Caucasus and the Black Sea (Strateq.az, February 16, 2017). As security issues remain unresolved in Afghanistan, this route can be an effective alternative as it avoids the need to axe Iran's much-anticipated Mazar-i-Sharif railway line (Dia.az, August 4). This railway will allow the Central Asian states to reach the open seas via Iran (Parstoday.ir, August 8). Turkmenistan's participation, moreover, means increased access to the Caspian Sea for the countries of the region.
Active development of the corridor is not without its problems, however. The initial agreements on this route were signed as early as 2014 (Caspianbarrel.org, August 14, 2014). The project did not come to fruition due to factors that were unclear at that time.
In recent years, the realization of other transit projects by Uzbekistan, Iran, and Turkmenistan has renewed optimism that the wider corridor can now be established. For example, Tashkent and Ashgabat have worked to create favorable conditions for cargo transit via the Turkmenbashi International Seaport. In December 2019, Tashkent reached agreements with several Asia-Pacific countries in using and developing a number of critical nodes along the China–Kyrgyzstan–Uzbekistan–Turkmenistan–Azerbaijan–Georgia–Europe route (Report.az, November 19, 2021). The opening of the new transport corridor from China to Turkey, passing through Tajikistan, Uzbekistan, Turkmenistan, and Iran, in 2022 has created momentum for the successful opening of the Uzbekistan–Turkmenistan–Iran corridor (Vergiler.az, October 25, 2022).
Many of the various transit initiatives agreed upon by Tashkent, Ashgabat, and Tehran in the past have not been fully realized. These have failed due to underdeveloped infrastructure, financial issues, as well as regional competition and instability. Not to mention, Russia traditionally dominated regional transit. Now, those routes passing Russia do not appear as attractive due to Western sanctions, and regional powers are taking notice. Moscow's waning influence gives countries like Uzbekistan, Turkmenistan, and Iran the chance to capitalize on this vacuum and become key players in regional trade and transit.