Violent incidents reported in Ingushetia, Dagestan and Chechnya
Publication: Eurasia Daily Monitor Volume: 6 Issue: 186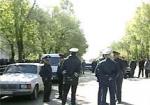 Shootouts between insurgents and police and other violent incidents have been reported across the North Caucasus this week, a week which also marked the second anniversary of the proclamation of the Caucasus Emirate, the notional Islamic state declared by the radical Islamist wing of the North Caucasus rebel movement.
A car blew up in Nazran, Ingushetia today, killing its driver. Investigators believe an explosive device was attached to the bottom of the vehicle, although they do not rule out that the bomb was in the passenger compartment. The victim was identified as Mukhammed Bekov, who just three days ago started a job as a driver for a private polyclinic and was driving the company car at the time of the blast. Also today, Ilyas Dugov, press secretary of the Ingush branch of the Federal Security Service (FSB), announced that a rebel leader, Ruslan Bartykhoev, was killed in a special operation in the village of Novy Redant. On October 7, three members of Bartykhoev's group, Adam Yevloev, Bekkhan Mamsurov and Artur Murzabekov, were captured in Karabulak along with grenades and a detonator made out of a cell phone. They are accused of planning terrorist attacks in Ingushetia.
In addition, a suspected rebel identified as Movsar Merzhoev was killed today in a special operation in the village of Ordzhonikidzevskaya in Ingushetia's Sunzha district. Merzhoev reportedly opened fire on police who were attempting to detain him, and was shot and killed by return fire (ITAR-TASS, October 9).
The Associated Press today quoted Dagestan Interior Ministry spokesman Mark Tolchinsky as saying that a bomb went off in a park in the town of Derbent overnight, killing a man police believe had planned to use it in an attack (AP, October 9).
Yesterday (October 8), a man identified as the "emir" of the Makhachkala jamaat, Gadzhimurad Kamalutdinov, was killed together with his wife during a special operation in the village of Kirovaul in Dagestan's Kizylurt district. A Federal Security Service (FSB) said the couple opened fire on police during a passport check at a private home in Kirovaul, after which FSB spetsnaz surrounded the home and then stormed it. The source said an automatic rifle, a pistol and a large quantity of ammunition were found in the house. According to the FSB, Kamalutdinov was a nephew of the "ideologue of the Dagestani extremists," Bagautdin Magomedov, who has been on the international wanted list since 1999, and headed a group responsible for attacks on police and other terrorist crimes. Interfax noted that Kamalutdinov had been reported killed during a special operation in Makhachkala earlier this year (www.newsru.com, October 8).
On October 4, FSB bomb disposal experts defused an explosive device planted in a car parked outside three five-story apartment buildings in Derbent (EDM, October 8). The car was discovered during a security operation and a robot was used to open its trunk, which contained a ten-liter can packed with aluminum powder and saltpeter ammonia along with bolts and nails, as well as 15 kilos of saltpeter ammonia in separate packs (ITAR-TASS, October 4).
On October 3, unidentified gunmen shot and killed Murtazili Magomedov, a resident of the village of Komsomolskoe in Dagestan's Kizilyurt district described as a well-known Muslim theologian, as he was driving on the Kavkaz federal highway. Magomedov was reportedly returning from Makhachkala, where he was visiting a sick relative.
The Kavkazsky Uzel website quoted a Komsomolskoe resident as saying: "Murtazali was not involved in anything; he did not have any enemies. His only assets [were] Islamic sciences, which he taught to anyone who desired it. Murtazali recently had small incidents with certain representatives of the official clergy, who hung the label 'Wahhabi' on him" (www.kavkaz-uzel.ru, October 4).
Three suspected militants were reportedly killed near the village of Toturbiikal in Dagestan's Khasavyurt district on October 3 (RIA Novosti, October 3). That same day, bomb disposal experts defused an explosive device discovered under the Mozdok-Kazimagomed gas pipeline near the village of Bashlykent in Dagestan's Kayakent district. The device consisted of a 10-liter zinc-covered bucket filled with ammonium nitrate and aluminum powder with a detonator and timer set for 12:30 Moscow time. It was deactivated at 10:10 Moscow time (ITAR-TASS, October 3).
In Chechnya, a senior lieutenant who was a commander of a Russian army unit was wounded October 7 when unidentified gunmen fired on an observation post near the settlement of Yandy in the Achkhoi-Martan district. The gunfire came from a wooded area near the observation post. Also on October 7, a suspected rebel was killed in a shootout with police in a forest near the village of Duba-Yurt in Chechnya's Shali district (ITAR-TASS, October 8).
Kavkazsky Uzel reported on October 4 that 173 people had been killed in the 170 days since the Russian government announced an end to the counter-terrorist operation regime launched in Chechnya in 1999. Out of the 173 killed, 16 were civilians. Another 125 people were wounded and 29 were abducted. According to the website, during those 170 days, at least 71 shootouts between rebels and security forces took place in which at least 95 people identified by the authorities as rebels were killed. During that same period, at least 62 law-enforcement officers were killed and at least 117 were wounded (www.kavkaz-uzel.ru, October 4).
A Russian interior ministry source said on October 7 that more than 2,000 rebels had been killed and nearly 6,300 captured in the Southern Federal District since 2003, and that around 20 tons of explosives had been seized during that same period. The source said around 750 rebels have been killed or captured this year (www.kavkaz-uzel.ru, ITAR-TASS, October 7).