Vladimir Putin's Latin American Tour
Publication: Eurasia Daily Monitor Volume: 11 Issue: 133
By: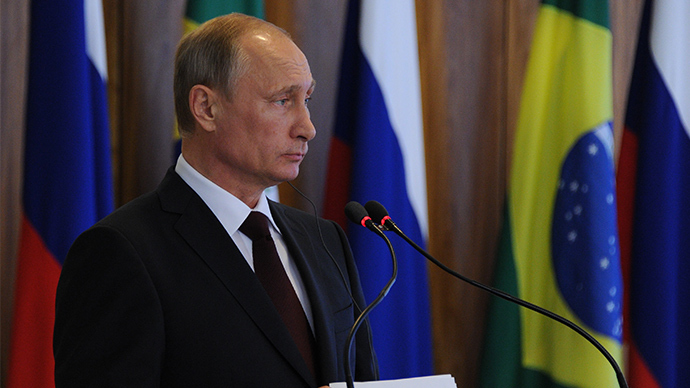 During July 11–16, Russian President Vladimir Putin traveled around Latin America. Apart from attending the BRICS (loose political-economic grouping of rising developing countries Brazil, Russia, India, China and South Africa) summit in Fortaleza, Brazil, Putin visited Cuba, Nicaragua and Argentina, he watched the World Cup final in Brazil, and he met with other Latin American presidents (see EDM, July 14).
The purposes of his trip were numerous, but it might fairly be said that its foremost goal was to show that, despite US President Barack Obama's remarks, Russia is a truly global Great Power and is not isolated. Quite the contrary, it is able to win both friends and influence—even in the United States' own "backyard" (St. Petersburg Times, July 14). Stemming from this defiant stance, the second major strategic goal was, therefore, to enhance Russia's long-term presence in key economic and strategic sectors in friendly Latin American countries. Specifically, Russia aims to create enduring points of affinity between itself and countries like Argentina, which resent US policies, as well as drum up regional support for Moscow's policies—including on Ukraine and on what Russia considers the need to create a more multipolar world order. Thus, Putin highlighted the strategic importance to Russia of countries like Argentina, Brazil and, of course, Cuba. (Latin American Herald Tribune, July 13).
More specifically, he signed several trade deals, wrote off Cuba's $32 billion debt to Moscow, and facilitated more arms purchases from Russia (Pravda.ru, July 16; RT, July 17). Brazil, for example, is interested in Russian Pantsir air defense systems as well as helicopters for anti-drug operations (Interfax, July 10). Moreover, Putin pushed the Russian GLONASS (Global Navigation Satellite System) in all the places he visited. The Russian president seemed to be arguing that every country in Latin America needs a satellite tracking station from which they can monitor the US's and other countries' space activities (Interfax, July 12). Equally, if not more importantly, the Serbian news agency Tanjug reported that Moscow and Havana reached a secret agreement to reopen the Lourdes intelligence base in Cuba, which formerly served Moscow as an electronic intelligence base for monitoring US signals traffic and space communications (Tanjug via worldaffairsjournal.org, July 16). If true, this would mark another overt sign of mounting hostility to the US and reversion to the Cold War—trends that already seem to be well-established in Russian policy.
During his trip, Putin also made several energy deals across the region, including building nuclear reactors with Cuba, and he displayed major interest in Argentina's vast shale deposits at Vaca Muerta (Rigzone, Interfax, July 10; FT, July 11). Argentina, however, is facing default and devaluation once again and is looking for Russia and/or China to bail it out. Putin will undoubtedly be unwilling and, more importantly, unable to financially save Argentina given Russia's own economic problems. Nonetheless, he played to the galleries in Argentina by admonishing the United Kingdom for failing to negotiate with Argentina over the Falkland Islands, even though he undoubtedly knows this is quite unlikely (SKY News, July 13).
During the course of Putin's Latin American tour, it was revealed that three of the five BRICS members supported Argentina's entry into the club. Yet, Buenos Aires's acceptance into the BRICS would only further politicize the grouping given the fact that Argentina has been economically mismanaged for a century, whereas the BRICS members are all supposed to be dynamic emerging markets. The group's expansion only benefits Russia and China, which clearly view the BRICS as a means to help create an alternative international economic order and conduct an assault upon the supremacy of the US dollar in international trade.
Indeed, Moscow's strategic assault on US interests, values and the international order status quo also revealed itself in Putin's expressed support for giving Brazil a permanent seat on the United Nations Security Council (Interfax, July 11). Russia makes no effort to hide such intentions, and Putin frequently emphasized the congruence of his hosts' views with those of Moscow on the reorganization of the international order—particularly when it undermines Washington's interests (Interfax, kremlin.ru, July 11). The energy deals with Cuba and potentially other actors, the overt and covert regional military deals (such as Moscow's previous proposal to provide security for a Chinese project in Nicaragua to build a canal connecting the Atlantic and Pacific Oceans—see EDM, May 2), and the efforts to achieve an enduring place for Russia among Latin American security institutions all point to such goals. In fact, they betray Moscow's larger ambition to prove that Russia is a "system-forming power" that can effectively challenge the United States even in the Western Hemisphere, and which Washington cannot isolate (Rigzone, July 10).
Taken in that context, Putin's meetings with various Latin American governments as well as the BRICS summit, with its creation of a new bank and cash reserve to fund infrastructural investments, represent an intensification and further globalization of Russia's crusade against US power. In the past, Washington utterly overlooked Russian activities in Latin America. But as Putin's recent tour shows, there is fertile ground here for Moscow's message and overtures to the governments of this region. This should alert US policymakers to the challenges, overt and covert, that Moscow presents in Latin America.