Washington Failing to Speak Up on Ivanishvili's Transgressions
Publication: Eurasia Daily Monitor Volume: 10 Issue: 99
By: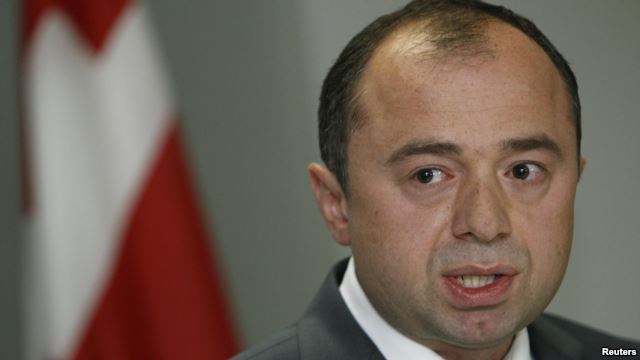 On May 21, United National Movement (UNM) Secretary General Vano Merabishvili, a probable candidate in the upcoming presidential election, former internal affairs minister and prime minister, was arrested by prosecutors on criminal charges, and detained without bail. The prosecution announced that Merabishvili and co-accused Zurab Tchaberashvili, former social-affairs minister and diplomat, and currently the Kakheti region's governor affiliated with the UNM, face between 7 and 12 years in prison, if convicted. Both are charged with misappropriating funds from the social affairs ministry's job-creation program in the 2012 parliamentary elections campaign. Additionally, Merabishvili is charged with the unauthorized use of a state-owned villa. Furthermore, according to Prime Minister Bidzina Ivanishvili and the prosecution, Merabishvili will soon be charged in connection with a 2006 murder case and the 2011 police dispersal of an opposition demonstration (Civil Georgia, May 21; see EDM, May 23).
Ivanishvili offered a political comment about Merabishvili's arrest: "How unfortunate that we have lost such a [candidate for] president," he said sarcastically about Merabishvili's removal from the upcoming presidential contest. In the same statement Ivanishvili did not rule out that President Mikheil Saakashvili would be summoned for questioning in connection with some of the charges against Merabishvili (Interpress, May 21; Wall Street Journal, May 22). His arrest also deprives the UNM of Merabishvili's highly valued managerial talents. Another possible presidential candidate of the UNM, Tbilisi Mayor Gigi Ugulava, is also being threatened with criminal investigations. It increasingly appears that the presidential election will, in any case, be a formality, but the opposition UNM was planning to maintain its public profile by choosing its presidential candidate through US-style primaries.
Merabishvili served as internal affairs minister from 2004 to 2012, prime minister during the final months of Saakashvili's government, and party leader after the UNM went into the opposition in October 2012. His name is synonymous with the police reform, which successfully uprooted the criminality and corruption that had ravaged Georgia. Reformers throughout post-Soviet countries cited the transformation of Georgia's police as a model to be emulated. Less well-known, but crucial to Georgia's security vis-à-vis Russia, was the creation of modern, professional intelligence and counter-intelligence services in that ministry during Merabishvili's tenure. For his part, Tchaberashvili served as Georgia's ambassador to the Council of Europe in Strasbourg. There, he successfully argued for establishing the terms "occupation" and "occupied territories" as normative usage in resolutions and documents about the Russia-Georgia conflict.
Ivanishvili's team seeks to cow the UNM opposition into silence, ultimately forcing it out of the political system. Apart from official investigations and prosecutions, Georgian Dream's unruly supporters have assaulted and injured groups of UNM parliamentary deputies on December 19, February 8, and May 12, enjoying impunity from the new authorities.
Nevertheless, Ivanishvili does not seem to be receiving corrective signals from Georgia's Western partners, first and foremost the United States. Therefore, he confidently asserts, "Both Europe and the United States have well understood that we do not pursue selective justice, that there will be no political persecution" (RFE/RL, May 21).
Whether it is warranted or not, such confidence reflects the weakness and vagueness of US and European responses to the situation in Georgia. Talking points of US officials, in particular, since October 2012, have included: 1) Justice should not be used for political "retribution." 2) Any investigations and court trials should be transparent and adhere to international standards. 3) The authorities should not jeopardize Georgia's "aspirations to Euro-Atlantic integration" (meaning, primarily, the North Atlantic Treaty Organization) through any political misuse of justice.
These points have proven ineffective, because: 1) "no retribution" misleadingly implies that the new government should not "get even," as if the former government had massively used the criminal justice system against Ivanishvili's Georgian Dream prior to the regime change. 2) Instead of giving a conditional green light for trials, the overriding argument should simply oppose "fiat iustitia, et pereat mundus" (justice at any price), particularly given the low probability of correct trials here and now. 3) For Ivanishvili's own team, the internal power struggle may well be a more immediate priority than qualifying for NATO (as in Ukraine's case, where former president Viktor Yushchenko decided that fighting against Yulia Tymoshenko was a more immediate priority than qualifying for NATO in 2005–2006; and current President Viktor Yanukovych cannot decide whether signing the association agreement with the European Union might be more important than fighting against the same Yulia Tymoshenko now).
Clearly, those talking points have failed to impress Ivanishvili's government. Instead, the authorities have escalated pressure on the opposition UNM through law enforcement agencies in recent weeks.
Washington can and does cite one positive achievement: namely, that power has changed hands for the first time in Georgia in October 2012, in full accordance with constitutional procedures and not through violence or "from the street." That achievement, however, was delivered by Saakashvili and the UNM government, when the ruling team instantly conceded defeat in the October 1 parliamentary elections and handed over power. The UNM announced that it would act as a normal opposition party, awaiting the next elections. UNM politicians want to settle into the role of parliamentary opposition for this electoral cycle.
Ivanishvili's team, however, plainly seeks to crush the UNM through political use of law enforcement bodies under his control. Ivanishvili has publicly identified the Kremlin-friendly politician Nino Burjanadze as an opposition leader he would like to work with, and offered to help her build a political base (www.youtube.com/[email protected]=OFGxer_hZzM, April 10).