Weighing the Impact of Russian LNG in Pakistan
Publication: Eurasia Daily Monitor Volume: 15 Issue: 124
By: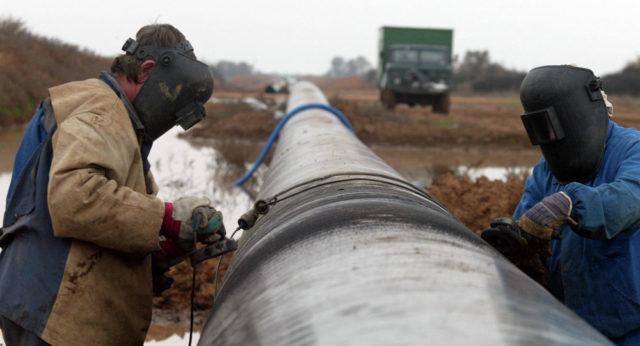 Pakistan's new prime minister, Imran Khan, announced, on September 5, the formation of a Cabinet Committee on Energy to address Pakistan's growing energy demands (Dawn, September 5). Although Khan looks to distance himself from his predecessor, Shahid Khaqan Abbasi, one policy he will likely continue is improving bilateral relations with Moscow. Exporting liquefied natural gas (LNG) may prove to be another way for Russia to signal its expanding cooperation with Pakistan and for Khan to demonstrate his reformist energy agenda.
Pakistan relies heavily on natural gas for its energy mix. IHS Markit estimates that Pakistan uses natural gas for nearly 50 percent of its energy needs (Ihsmarkit.com, February 14). Domestic production, however, has not been able to match the country's growing demand. The Asian Development Bank has pointed to the 5,000-megawatt gap between demand and supply as one major pressure point limiting economic growth in Pakistan (Adb.org, November 20, 2015). In order to ensure overall economic development, Pakistan has been considering starting to import LNG from Russia. Gazprom and the Russian government are receptive to this proposal, with Russian Foreign Minister Sergei Lavrov saying earlier this year, "The flagship project is construction of the North–South gas pipeline from Lahore to Karachi. Other options are also being examined, including deliveries of liquefied natural gas to Pakistan by Gazprom" (TASS, February 20). The Lahore–Karachi pipeline, being constructed by Russian company Rostec, is designed to transit 12.3 billion cubic meters (bcm) per year and will greatly improve the connectivity of Pakistan's energy markets (Rt-rb.ru, July 15).
In October 2017, Islamabad and Moscow signed an Inter-Governmental Agreement, which paved the way for the trade of gas between the two countries (Times of Islamabad, October 18, 2017). Pakistani energy officials have said that the two countries are negotiating energy deals worth over $10 billion (Neftegaz.ru, June 7, 2018). But beyond the high price tag, specifics on the energy deal remain largely opaque. In comparison to investment from China or Qatari energy exports, Russia's impact on Pakistani energy markets will likely remain limited for the foreseeable future. Nevertheless, in publicizing the alleged monetary commitment, Russia seeks to both project its energy capabilities abroad while also signal its political support for Pakistan.
Last year, Pakistan imported 4.5 million tons of LNG. Pakistan's Petroleum Minister Shahid Abbasi has stated that he expects the demand for LNG to swell to 30 million tons by 2022; fuel oil imports "will have lower priority, while LNG will be the main priority of the country" (Daily Pakistan Global, December 6, 2017). Qatar currently remains Pakistan's primary LNG supplier, with over 50 percent of its market share. However, with increased demand and Russia's growing ambitions, Moscow is looking to expand its foothold in Pakistani markets and South Asia more broadly (Interfax, May 17).
Currently, there are two LNG terminals in Pakistan, with a third under construction by Pakistan's Engro Corporation, set to open in 2019 (Engro, July 23). Although there was talk of developing another LNG terminal and pipeline in Gwadar, near the Iranian border, lack of funding and the diplomatic row between Qatar and other Gulf States contributed to stalling its development (Express Tribune, June 14, 2017). Funding remains the single largest challenge for LNG development in Pakistan. Meanwhile, Beijing's transcontinental Belt and Road Initiative also means that Russia is competing with China for economic influence in Pakistan, which has already invested billions of dollars in the Pakistani energy sector.
The other strategic challenge for Russia's growing ambitions in South Asia is preserving its historical relationship with India. Despite the increased interest in Pakistan, India remains the primary destination for Russian arms in the region and the area of primary focus when it comes to energy development. In 2012, for instance, Gazprom signed a 20-year deal with the Gas Authority of India Limited (GAIL) for the export of 2.5 million tons of natural gas a year (The Economic Times, June 4). But now, Russia's rush to embrace Pakistan risks upsetting its close alliance with India. Military agreements between Russia and Pakistan have already raised the ire of New Delhi (The Wire, October 13, 2016). Consequently, the future of Moscow and Islamabad's rapprochement will be determined by the ability of Russian leaders to manage India's expectations while also protectively advancing relations with Pakistan.
As is often the case with Russian energy projects, politics more than economics is the driving force in Pakistan. Russia's desire to expand its influence there politically and economically is in some ways ahead of the LNG production resources at Moscow's disposal. In 2017, Russia reached a record level of gas production at 690.5 bcm, beating the previous record high set in 2011 (The Moscow Times, January 2, 2018). President Vladimir Putin has made increasing the production and sale of natural gas a top priority of his administration. In a May interview with Reuters, Deputy Energy Minister Pavel Sorokin stated, "By 2035, Russia may set a goal of producing 100–120 million tons [of LNG] per year" (Reuters—Russian service, May 31).
Russia's ambition to increase LNG exports over the coming decades mask the availability for sale at the moment. Geographically, the Sakhalin II offshore gas field, in the Pacific, would be the most logical supplier for Pakistan, but its production capacity is largely locked into 15 to 20 yearlong contracts. Gazprom may instead plan to supply Pakistan through energy swaps or the yet-to-be constructed LNG facilities at Sakhalin III, or by expanding capacity at Sakhalin II. Either way, both of these projects are at least five years away from completion (Oxford Institute for Energy Studies, March 2017). In the Arctic Ocean, Yamal LNG offers another possible supply source for Pakistan, but it only came online earlier this year and will likely serve China or Japan before Pakistan (see EDM, April 7, 2017; Oil Price, July 16, 2018).
In this way, Moscow's talk of LNG development might be more about displaying ambition and capabilities than majorly impacting Pakistan's energy markets. In the near future, military assistance through the Shanghai Cooperation Organization (SCO) and counter-terrorism exercises will likely be the driving force in bilateral relations. In the medium term, demands for LNG may bring an economic component to their relationship, but serious logistical and geopolitical barriers remain.