Western Sanctions Against Russia Leave Kazakhstan Exposed
Publication: Eurasia Daily Monitor Volume: 15 Issue: 142
By: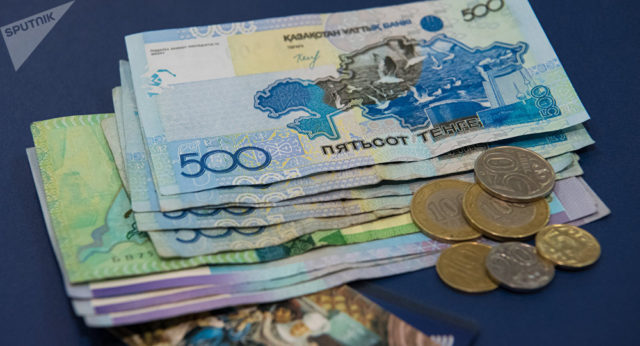 Relations between the United States and Russia have continued to deteriorate in 2017 and 2018. In August 2017, US President Donald Trump signed into law a new bill called Countering America's Adversaries Through Sanctions Act (CAATSA), which extended the post-2014 Ukraine sanctions and enlarged their extraterritoriality. Among other points found in the law, it enables the administration to sanction foreign buyers of Russian military equipment. This situation cannot be more worrying for neighboring Kazakhstan, a member of the Moscow-led Collective Security Treaty Organization (CSTO) military alliance and a regular buyer of discounted Russian weapons. The Central Asian country had earlier found itself in a difficult predicament over the annexation of Crimea. Astana had abstained from a vote on a 2014 United Nations General Assembly resolution condemning the occupation of Crimea by Russian armed forces. And most recently, in December 2017, it was one of 26 UN members that came out against a new resolution criticizing the human rights abuses and ethnic and religious discrimination on the peninsula. India, China, Cuba, North Korea, Serbia and South Africa also voted against (Informburo.kz, December 20, 2017; Interfax, August 2, 2017; Zakon.kz, March 28, 2014).
Astana has traditionally stuck to a multi-vector foreign policy predicated on the idea of maintaining good relationships with partners big and small, close and remote. Indeed, President Nursultan Nazarbayev's official visit to Washington, DC, in January 2018, was meant to establish a direct connection at the highest level to the Trump administration. Nevertheless, this balanced foreign policy orientation has not been sufficient to safeguard Kazakhstan from dangerous economic exposure to Western sanctions against Russia. And now, the US Congress is considering adopting several new, even more punitive anti-Russian sanctions bills. In particular, the Defending American Security from Kremlin Aggression Act (DASKAA)—dubbed a "bill from hell"—could complicate the situation for Kazakhstan further (Zn.ua, September 3; Kp.ru, January 17).
The Russian ruble has been steadily losing ground since the beginning of 2018. It cost around 57 rubles to buy 1 US dollar in January, whereas the current exchange rate is almost 66 to 1. The ruble volatility can, of course, be attributed to a host of other factors not directly related to Western sanctions, such as the price of oil, especially owing to the key role it plays in Russia's budget and export revenue. However, the spot price of crude has been improving since June 2017, when it hovered around $44 per barrel, reaching as high as $85 per barrel on October 3, 2018. The ruble's current weakness, in turn, has negatively impacted a neighboring currency, the Kazakhstani tenge. Kazakhstan is Russia's closest trading partner in the former Soviet space and is itself a major exporter of hydrocarbons, primarily crude oil. Despite the ongoing oil price recovery, the tenge has depreciated from approximately 312–322 tenge per $1 in June 2017, to nearly 363 tenge today. On September 10, the Kazakhstani currency traded at 380 tenge per $1 (Nur.kz, September 11; Newtimes.kz, September 6; Lenta.ru, August 8).
According to data published by Kazakhstan's Ministry of National Economy, domestic GDP grew by 3.8 percent in January–August 2018. The government forecasts growth at 4 percent for the whole year; while the inflation rate is expected to remain in the 5–7 percent band until 2020, based on central bank forecasts. Although this is not reflected in the latest official publications, Economy Minister Timur Suleimenov admitted in early September that inflation could approach the upper limit of the band by 2019 and that a government intervention might be required to contain it below that level. "We are constantly talking as if sanctions [against Russia] were directly applicable to us. They influence us only via the exchange rate," he said. In April 2018, Suleimenov indicated that Kazakhstan was prepared for various scenarios, one of which could see the ruble weakening to 90 per US dollar. Since then, the government in Astana has not revealed what measures it would be willing to take to offset the negative impact of increased volatility within neighboring Russia's financial markets (Informburo.kz, September 7; 365kz.info, April 21).
The prospect of additional Western sanctions against Russia is highly worrying for Kazakhstan because of its wide-ranging implications. In a similar vein, any countermeasures taken by Russia can potentially impact Kazakhstan's economic well-being in negative ways. Russian analyst Innokentiy Adyasov recently speculated in an article for Sputnik News Kazakhstan that the Vladimir Putin administration might attempt to channel its response to the US through the Eurasian Economic Union (EEU). The EEU was established in 2014 as an integration platform between Kazakhstan, Russia and Belarus—ultimately also joined by Armenia and Kyrgyzstan. Due to structural reasons, from high dependence on oil exports to the sheer weight of the state in the national economies, the EEU has largely failed in its promise of economic prosperity. According to prominent Kazakh political scientist Dossym Satpayev, Kazakhstani authorities are careful to disallow any public criticisms of the EEU, Vladimir Putin or Russia's adventurist foreign policy (Novaya Gazeta, September 8; Sputnik News Kazakhstan, September 4).
While there have been repeated attempts in the Kazakhstani press to question the country's alliance with Russia, the nationalist discourse is currently totally absent from the mainstream media. Even though Kazakhstan cannot easily wean itself away from its huge northern neighbor, the fallout from Russia's standoff with the West, which many in Kazakhstan are increasingly inclined to blame on Moscow, could jeopardize the bilateral relationship. In June 2018, the chairperson of Kazakhstan's Senate, Kassymzhomart Tokayev, said that, in his opinion, Nazarbayev—in office since 1991—may decide not to run for president again. The next presidential election is scheduled for 2020 but could be called earlier, according to local tradition. Given the few tangible results from closer integration within the EEU and the additional economic challenges Kazakhstan must cope with in connection with Russia sanctions, it is possible that the Central Asian republic's next leader will cherish good ties with Russia far less than Nazarbayev and his regime do (Vlast.kz, June 21).