Azerbaijan Hosts Defense-Industry Exhibition and Courts Multiple Defense Partners
Publication: Eurasia Daily Monitor Volume: 15 Issue: 142
By: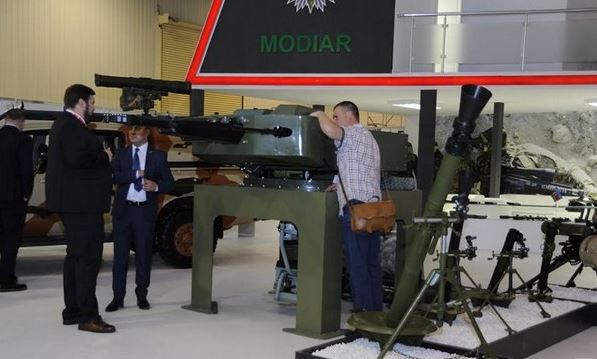 On September 25–27, the Ministry of Defense Industry of Azerbaijan (MoDIAR) hosted the defense-industry exhibition ADEX-2018 in Baku, where leading defense companies from European and Asian countries showcased their latest military products (Mod.gov.az, September 25). ADEX turned out to be a useful platform to promote Azerbaijan's indigenous defense industry, which showed off more than 270 types of products. Reportedly, Azerbaijan's arms exports have increased mainly to Asian, African and Middle Eastern countries (Trend, September 24, 25).
At this year's ADEX, apart from previously demonstrated products (see EDM, May 21) Azerbaijan displayed its new AT-30 automatic cannon, a remote-controlled mine-explosion system, IMA-07 mine detectors, domestic Yarasa/Bat and Stellar-V patrol drones, Pegasus-120 cargo-carrying drones, Orbiter-4 and AZAD kamikaze/surveillance drones (built jointly with Israeli Aeronautics), short-range (10–50 kilometers) tactical missiles, high-explosive concrete and laser-guided fragmentation aerial bombs (built jointly with Turkey's ASELSAN), BTR70-mounted Spear-2 mortars (of Israeli Elbit Systems), two new sniper rifles for special forces, as well as the AZ-50 assault rifle (Mod.gov.az, September 25; Azeridefence.com, September 3, 19, 25, 27, 28; Trend, September 25, 26, 27, 28). Moreover, Azerbaijan's Caspian Ship-Building Company exhibited the Milli/National Boat, designed for use by special forces. Azerbaijan also announced it would start to export its indigenous Gurza patrol cars and will soon start production of RPQ-26 grenade launchers (Azeridefence.com, September 25, 26, 27).
Within the framework of the arms exhibition, Azerbaijan's Ministry of Defense (MoD) and MoDIAR officials held separate talks with the representatives of Turkey's Defense Industry Ministry, Russia's Rosoboronexport and Tactical Missiles Corporation, China's Poly Technologies, Ukraine's Ukroborobprom, Belarus's Military-Industrial Committee on bilateral military-technical cooperation, as well as the defense ministries of the United Arab Emirates, Iran, Uzbekistan, Serbia, Turkey, Pakistan, Bulgaria and Montenegro (Mdi.gov.az, Mod.gov.az, September 24–28). Notably, before ADEX, Armenia's deputy speaker of parliament Eduard Sharmazanov visited Belarus, where he raised the issue of arm sales of Collective Security Treaty Organization (CSTO) countries to Azerbaijan. Nevertheless, shortly thereafter, Belarus delivered a new batch of Polonez operational-tactical missile systems to Azerbaijan (Armiya.az, Mod.gov.az, September 27).
ADEX-2018 was quite productive for Azerbaijan's government. The MoDIAR signed memorandums of understanding with Turkey's ASELSAN on the joint production of communications facilities, and afterwards with Azerbaijan's MoD on supplying the Armed Forces with ASELSAN's communication equipment (Mdi.gov.az, September 25). Meanwhile, Turkish Aerospace Industries (TAI) inked a cooperation protocol with the Azerbaijan National Academy of Sciences to pursue academic-research programs in the area of defense aviation (Hurriyet Daily News, September 26). TAI specializes in manufacturing aircraft and helicopters, including the T129-ATAK combat helicopter, which Azerbaijan had previously been interested in acquiring (Tai.com.tr, November 12, 2013). Moreover, officials from Turkey's Dearsan shipyard went on record that they plan to start building warships jointly with Azerbaijan's Baku Shipyard (Trend,September 29). Finally, Turkey's TİSAŞ is planning to produce a new version of the Zigana-type pistol with Azerbaijan. This handgun had previously been fabricated under the name "Zefer" (Azeridefence.com, September 28).
The Italian defense firm Leonardo, which specializes in the production of helicopters, aircraft, airborne/space security, and data processing (for intelligence and cyber security purposes), attended this year's ADEX for the first time. Azerbaijan had previously purchased Leonardo's Aermacchi M-346 trainer aircraft (Mod.gov.az, September 25, 2018; May 10, 2017), which can notably be modified into a combat jet with the installation of Azerbaijan's new QFAB-50-ISAB and QFAB-250-LG aerial bombs (Warspot.ru, February 27, 2017). And in addition to earlier-acquired AW139s/AW189s helicopters for search-and-rescue operations, Azerbaijan may soon buy Leonardo's AW169 and AW109 helicopters for offshore operations (Leonardocompany.com, December 20, 2012; Interfax, November 14, 2017).
One of the most interesting pieces presented at ADEX-2018 was the Adroit OPV-90 patrol vessel (for civilian/military tasks), manufactured by the French Naval Group (NG), which produces a wide range of multi-capable naval ships, aircraft carriers, as well as maritime surveillance and combat systems (Naval-group.com, accessed October 6). According to the French paper La Tribune, Baku is interested in purchasing these vessels, which could end up being jointly manufactured at the Baku Shipyard. Although the ship is supposed to be less heavily armored upon purchase, various anti-ship missile devices and missile-defense systems can later be installed onboard (Latribune.fr, Defence.az, October 5). The OPV-90 news came several months after Azerbaijani President Ilham Aliyev's working visit to Paris, where he discussed the possibility of cooperation with NG and Airbus on military industrial projects and the purchase of new higher-resolution satellites, respectively (President.az, Azertag.az, July 19). Earlier, Azerbaijani military portals reported that France had lifted the ban on its defense industry companies to sell defense products to Azerbaijan; though at the time, this was refuted by the French ambassador to Armenia (Azeridefence.com, July 10; Tert.am, July 12). Nevertheless, during the military parade in Baku several week prior (June 26), Azerbaijani pilots were seen wearing French-made LA-100 helmets, manufactured by MSA Safety (Istiglal.com, July 14).
Lastly, this year's ADEX also highlighted Azerbaijan's willingness to maintain and even expand its defense cooperation with Russia. Reportedly, one of the leading Russian defense companies, Shvabe, which manufactures advanced optical-electronic and laser equipment and took part in ADEX-2018, plans to open a local office in Azerbaijan (Azeridefence.com, September 30). Moreover, news emerged during the Baku-based arms exposition that Russian civilian helicopters could soon be repaired at an Azerbaijani service center that is going to be built together by Russian Helicopters Holding and Azerbaijan's Silk Way Helicopter Services (RIA Novosti, September 25, 27). Azerbaijan's domestic military industrial base has been able to achieve these milestones thanks to years of cooperation with Israeli companies. Notably, Israel's Rafael company has been equipping Azerbaijan's combat helicopters with modernized "Spike" rockets (operational radius of 30 kilometers). This armament will allow those helicopters to strike ground targets while remaining outside of detection and targeting range of Armenia's Verba man-portable air-defense (MANPAD) systems. Azerbaijan's Defense Minister Zakir Hasanov had earlier said that Azerbaijan's helicopters could destroy enemy targets at 10–50 kilometers, without entering the battlefield. During ADEX-2018, Rafael additionally demonstrated high-tech intelligence systems that could be mounted onto Azerbaijan's MiG-25 fighter jets (Virtualaz.org, September 30; Moscow-baku.ru, June 20).
All these developments spotlighted during last month's ADEX exhibition indicate Azerbaijan's push to obtain more high-tech weaponry, including missiles, electronic warfare systems, aviation, etc., while multiplying military ties with prominent foreign defense companies from all over the world. As such, Azerbaijan's defense procurement strategy is now reaching a new qualitative level when it comes to the types and sources of weapons being acquired (see EDM, June 19, July 25).