Why Taiwan's 2024 Presidential Election is Wide Open
Publication: China Brief Volume: 23 Issue: 5
By: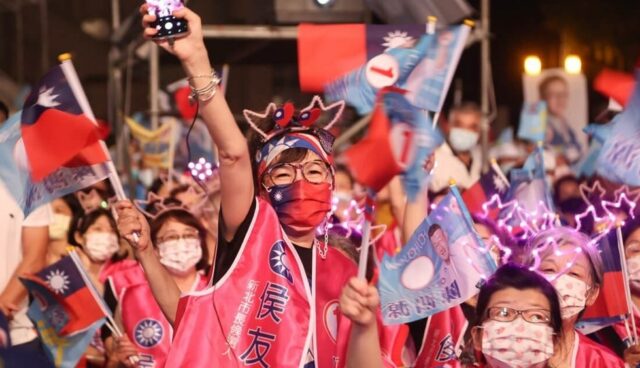 Introduction
Shortly after Taiwan's ruling Democratic Progressive Party (DPP) suffered the worst loss in its 37-year history, Nikkei Asia Review published an article entitled "Taiwan's KMT has a mountain to climb for 2024 presidential race" that cautioned not to read too much into the opposition Chinese Nationalist Party's (KMT) success in the local elections last November (Nikkei Asia, November 29, 2022). The piece argued that voters still perceive the KMT as being too close to China, a liability in a national election focused on cross-Strait relations, and hamstrung by uncertainty about who should serve as its presidential candidate next year. Although the KMT confronts significant challenges heading into Taiwan's 2024 elections, the difficulties the party faces should not be overestimated. Rather than a mountain, the KMT has a modest hill to climb.
Over the past 22 years, Taiwan's national politics have swung like a pendulum, favoring the DPP from 2000-2008, the KMT from 2008-2016 and the DPP again since 2016. Taiwanese voters, like their counterparts in other thriving democracies, sometimes vote for change even if they are not enamored with a particular candidate. Since Taiwan fully democratized in 1996, no political party has won three consecutive presidential terms, with DPP and KMT presidents alternating every eight years. President Tsai Ing-wen has avoided the kinds of issues, corruption scandals and major popular demonstrations against her policies that undid the presidencies of her predecessors, Chen Shui-bian and Ma Ying-jeou, leading to opposition wins in the 2008 and 2016 presidential elections, respectively. Nevertheless, Tsai has been dramatically weakened by the DPP's crushing defeat in the November 2022 local elections (Jamestown Foundation, November 29, 2022). She stepped down as DPP party chair after the elections as the party has taken a hit for its many pandemic missteps, a flagging economy and a contentious cross-Strait policy (United Daily News, November 27, 2022). The DPP's likely candidate in the 2024 election, current Vice President Lai Ching-te, while personally popular, would represent continuity with Tsai's policies (China Brief, March 3). Together, these factors will likely make the 2024 race the closest since 2004, when the DPP's Chen Shui-bian and Annette Lu eked out a victory against the KMT's Lien Chan and James Soong of the People First Party (PFP) by a margin of just 0.22 percent (Taipei Times, March 21, 2004).
The Weight of Incumbency 
In the first two and a half years of Tsai's second term, the DPP rode high on public support for its containment of the pandemic, a booming economy and a cross-Strait policy that stood firm in the face of China's intractable aggression. So successful was the Tsai administration's initial pandemic response that Taiwan went 200 days without a locally transmitted COVID-19 case from April to October 2020 (Newtalk, October 29, 2020). This feat earned Tsai a place on Time's 100 Most Influential People of 2020 list (Time, September 22, 2020) and the Bloomberg 50 (Bloomberg, December 7, 2020). The Tsai administration, however, stumbled in the latter stages of the pandemic, failing to promptly vaccinate the population, investing heavily in domestic vaccines despite their slim prospects for widespread adoption and clinging to draconian pandemic restrictions long after they ceased to serve the interests of public health. More than anything else, the insularity of the administration prevented it from making any significant course corrections. For example, despite the Tsai administration's mixed record in responding to the pandemic, in last year's Taipei mayoral race, the DPP ran Tsai's former Health and Welfare Minister Chen Shih-chung, who went down in defeat to KMT nominee Chiang Wan-an (Taiwan News, November 26, 2022). Only after the DPP's defeat in November, did the party acknowledge voters may have been unsatisfied with its handling of the pandemic (Focus Taiwan, December 28, 2022).
As the ruling party, the DPP shoulders the blame for public discontent over the pandemic and the government's response—a vulnerability that the KMT will look to exploit in the 2024 election campaign. The DPP's biggest vulnerability in this regard is the now-defunct COVID-19 vaccine produced by Medigen Biologics. The Tsai administration championed Medigen, with President Tsai herself being the first to be inoculated with it (Office of the President of the Republic of China, August 23, 2021). The Tsai administration's rationale for domestic production of COVID-19 vaccines was never clear. Taiwan lacked the capability to manufacture them expeditiously at scale, leading to the controversial decision to grant emergency use authorization (EUA) to Medigen despite phase three clinical trials being incomplete (Focus Taiwan, July 19, 2021).
Polls have shown ambivalence about Medigen among Taiwanese. The Taiwan Public Opinion Foundation (TPOF) found that 48 percent of respondents to its survey about Medigen opposed the government's decision to grant it EUA and 45 percent did not approve of the government's decision to develop domestic vaccines (Taiwan News, July 27, 2021). Respondents to a TPOF survey carried out in May 2022 again negatively evaluated Medigen (Radio Taiwan International, May 20, 2022).
Medigen is now embroiled in allegations of insider trading, irregular trading and financial statement fraud. These allegations have further cast a dark cloud over a flagship public health initiative of the Tsai administration. Prosecutors took Medigen chairman Stanley Chang and 16 others in for questioning in December after investigators conducted raids and seized documents at 16 venues (Taipei Times, December 31, 2022).
Cross-Strait Conundrum
Much like its handling of the pandemic, the Tsai administration's cross-Strait policy was popular early in her second term, but is showing signs of strain given its inflexible nature. To be sure, Taiwanese elected Tsai in part because they trusted her more than the KMT's 2020 presidential nominee Han Kuo-yu to safeguard Taiwan's sovereignty and way of life. As Tsai defeated Han in a landslide in which she received 57.1 percent of the vote, she entered her second term with a strong mandate to stand firm against Chinese aggression (Taipei Times, January 12, 2020). However, the ripple effect from U.S. House Speaker Nancy Pelosi's visit to Taiwan last August has complicated what had been a straightforward task for the DPP. As long as China's coercion of Taiwan was confined to sanctions, poaching of diplomatic allies and small-scale gray-zone activity, the Tsai administration could focus on strengthening ties with the U.S., Japan and other democracies, while taking care not to escalate tensions with Beijing. The DPP faced little public pressure to re-establish dialogue with China given it's hostility toward Taiwan, especially when the pandemic occupied the attention of Taiwanese society. Pelosi's visit was a game changer, though. Even if many Taiwanese welcomed the diplomatic recognition the visit conferred on their country, after observing China's unprecedented martial muscle flexing, they realized that the stakes of this game had risen sharply (China Brief, October 4, 2022).
The Tsai administration's decision last December to extend military conscription from four to twelve months drove home the point that conflict with China, while not imminent or inevitable, is more likely than in the past (Focus Taiwan, December 27, 2022). The conscription decision may prove to be a courageous but politically risky one, as young voters unhappy about having to serve longer could punish the DPP at the ballot box. A Taiwan Public Opinion Foundation (TPOF) poll conducted in January found that 49.5 percent of respondents were dissatisfied with President Tsai's cross-Strait policies, but 72 percent supported extending conscription to one year. Moreover, only 17.3 percent of those surveyed opposed the extension of conscription. Still, such numbers could be enough to help swing a close election in the KMT's favor. (TPOF, January 17).
Meanwhile, with an eye on Taiwan's 2024 election, Beijing has put away its sticks—at least temporarily—and brought out the carrots in a bid to bolster the KMT's chances and improve its reputation among Taiwanese. This includes lifting import bans on Taiwanese agricultural products, reducing the intensity of incursions into airspace near Taiwan, calling for the resumption of all cross-Strait flights and emphasizing what Beijing sees as shared interests rather than points of contention (Caixin Global, February 8; Taiwan News, January 30).
A survey conducted on behalf of Taiwan's Mainland Affairs Council in October 2022 found that while 78.2 percent of respondents believe China is unfriendly to the Taiwanese government, just 61.9 percent think Beijing is unfriendly to the Taiwanese people (Taipei Times, October 28, 2022). For this reason, China sees a genuine opportunity to influence Taiwanese voters by trying to portray the ruling DPP as the main obstacle to improving cross-Strait relations. Cognizant that perceptions matter, the DPP and its allies have slammed the recent trip of KMT vice chairman Andrew Hsia to China, his second since last August, accusing him of using the visit "to pay tribute to Beijing and seek support for the KMT in next January's presidential elections" (The South China Morning Post, February 9).
Risks for the KMT 
Despite the relatively favorable electoral landscape, the KMT could still lose the presidential race in early 2024 for several reasons. The first involves the challenge it faces in fielding a candidate who can both satisfy its conservative wing and appeal to non-aligned centrists and "light green" voters. Currently, New Taipei City Mayor Hou Yu-ih appears to be the KMT's most competitive candidate, but it is unclear if the "deep blues" will support him. They usually prefer a more unabashedly Beijing-friendly candidate. A December 2022 poll by the TPOF found that Hou is the frontrunner in the presidential race with 38.7 percent of the vote (TPOF, December 17, 2022).
Another potential problem for the KMT could be former Taipei mayor Ko Wen-je competing against them as a third party candidate in the race. Ko and his Taiwan People's Party (TPP) tend to pull more votes from the KMT than the DPP. Ko could lead a TPP ticket, or even appear as vice president on a KMT ticket led by Foxconn founder and billionaire Terry Gou. Taipei City councilor Huang Ching-yin, a TPP member, recently told Taiwanese media that Ko Wen-je's attitude now "is to put the national interest first and so he may not rule out serving in a deputy role in the 2024 presidential election" (NOW News, February 12).
Finally, the KMT could be adversely affected by Beijing's reaction to President Tsai's upcoming visit to California, where she plans to meet U.S. House Speaker Kevin McCarthy and speak at the Reagan Presidential Library. Taiwan reportedly persuaded McCarthy not to visit Taiwan, presumably to avoid a possible repeat—or worse—of last August's live-fire military exercises (Taipei Times, March 9). However, Beijing is still unhappy about the recognition the U.S. visit will confer on Tsai and can be expected to retaliate. The announcement on March 14 by Honduran President Xiomara Castro that she has instructed the country's foreign minister to open official relations with China is likely the opening salvo in Beijing's retaliation. Losing Tegucigalpa will leave Taipei with just 13 diplomatic allies, compared to 22 when Tsai became president in 2016 (Focus Taiwan, March 15). While the KMT may try to use this incident as evidence that the DPP cannot handle cross-Strait relations, voters could just as easily see it as another example of China's unflagging hostility towards Taiwan, and rally around the flag. Bursts of Taiwanese nationalism work to the benefit of the ruling party, not the KMT.
Conclusion 
Taiwan's 2024 election is shaping up to be its most important and closest contest for the presidency in several decades. For the first time since 2004, neither of the two main political parties has a commanding advantage. Furthermore, although Ko Wen-je could not win the presidency on his own, he could play a spoiler role against the KMT.
Looking ahead, both the DPP and KMT will aim to define the terms of the upcoming election. Actions by both China and the United States will likely play significant roles in determining which narrative prevails. An election that centers on safeguarding Taiwan's sovereignty will favor the ruling party, while a contest that is a referendum on the DPP's performance and the need for change will give the KMT an edge.
Matthew Fulco is a journalist and geopolitical analyst who worked in Taipei from 2014-2022 and Shanghai from 2009-2014, and is now based in the United States. He is a regular contributor to The Japan Times, The Economist Intelligence Unit and AmCham Taiwan's Taiwan Business Topics magazine.