After Two Sessions, Xi Turns Focus to U.S. Challenge
Publication: China Brief Volume: 23 Issue: 5
By: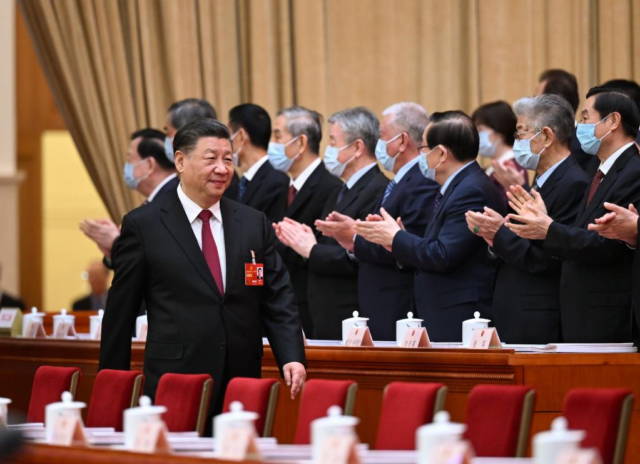 On March 10, at the first session of the 14th National People's Congress (NPC), Xi Jinping was unanimously "reelected" president (主席) of the People's Republic of China (PRC), with 2,952 delegates in the rubber-stamp legislature voting in his favor and zero abstaining or voting against him (People's Daily, March 11). Now that he has officially retained the head of state position, Xi has attained an unprecedented third term in all three of the top leadership posts, having held the salient Chinese Communist Party (CCP) general secretary and Central Military Commission chairman roles at the 20th Party Congress last October (China Brief, October 24, 2022). As a result, this year's Two Sessions, the NPC and the Chinese People's Political Consultative Conference (CPPCC; the consultative body that functions as the CCP's peak united front forum), conclude Xi's successful consolidation of power for at least another half decade, but very likely longer (China Brief, December 16, 2022). While Xi is unrivaled within the top CCP ranks, he cannot rest on his laurels due to detrimental developments in both the domestic and international arenas since the fall. Mounting public discontent and the rapid deterioration of U.S.-China relations have combined to heighten Xi's already intense focus on achieving "holistic national security." The specter of domestic unrest was driven home by both the student-led "white paper revolution" protests last fall and recent mass demonstrations against public pension cuts in cities such as Wuhan (BBC Chinese, February 21; China Brief, November 28, 2022). In his closing speech to the NPC, Xi stressed that "we must better coordinate development and security. Security is the foundation of development and stability is the prerequisite for prosperity" (Xinhuanet, March 13).
On the international front, Xi perceives U.S.-led Western efforts to counter and contain China as the most pressing challenge. Throughout the fall and early winter, Beijing sought to achieve a temporary reduction in tensions with Washington, albeit in the context of domestic preoccupation with the 20th Party Congress and economic revival after nearly three years of zero-COVID lockdowns. In doing so, the PRC aimed to forestall economic decoupling and alleviate U.S. export controls and other measures targeting China's advanced technology sector. These efforts were already challenged by Washington's bipartisan embrace of strategic competition with China, but it was the early February spy balloon crisis that ultimately obviated the possibility of even a slight thaw in relations (China Brief, February 13). It is also important to note that the risks of the intensifying rivalry with the U.S. are heightened for the PRC by the simultaneous enmeshment of its most consequential and powerful strategic partner, Russia, in an enervating war with Ukraine. Beijing fears that if Russia collapses or is totally defeated on the battlefield, China would be forced to face the U.S. and its allies largely alone (Eurasia Daily Monitor, March 13).
As prospects for a U.S.-China reset have faded, Xi has embraced his old playbook of confronting America abroad while seeking economic self-reliance at home. As a result, the policy focus at the NPC was on generating growth through domestic consumption and pursuing self-sufficiency in food, energy and advanced technology (China Brief, March 6). For example, the NPC approved a State Council reorganization that creates a Central Science and Technology Commission to centralize Party control of indigenous innovation (Xinhuanet, March 7). In his introductory press conference, incoming Premier Li Qiang pledged to expand existing incentives to promote self-sufficiency in grain production and achieve food security for China's 1.4 billion people (People's Daily, March 14; China Brief, June 17, 2022).
The American Problem
Xi has long viewed the U.S. as the primary obstacle to achieving his vision for the great rejuvenation of the Chinese nation. However, he has normally refrained from directly calling out America by name, tending to allude to the U.S. challenge in obvious, but indirect ways. For example, in his 20th Party Congress Report work report, Xi stated that the PRC faces a particularly dire international environment due to efforts by external forces, i.e., the U.S. and its allies, to "blackmail, contain, blockade, and exert maximum pressure on China" (China Brief, November 3, 2022). However, on March 6, in his remarks to a group of business association advisors attending the first session of the CPPCC, Xi explicitly cited the U.S. threat by name. He described the past five years as an "extremely unusual and extraordinary" time, when uncertainties in the external environment have proliferated," with "Western countries led by the U.S. seeking to implement all around containment, encirclement and suppression of China" (Cankao Xiaoxi, March 7).
Whether Xi intended to accelerate geopolitical competition with the U.S. or if circumstances prematurely drove him down this path, remains uncertain. Following the major U.S.-China flareup over Speaker Nancy Pelosi's visit to Taiwan last August, Beijing pursued a modest reduction in tensions with Washington, an effort that gathered momentum with then Foreign Minister Wang Yi's visit to New York last September and the meeting between Xi and U.S. President Joe Biden on the sidelines of the G-20 in November (China Brief, October 19). Despite the intensification of high-level U.S.-China dialogue during this period, the U.S. maintained its focus on strategic competition with China. In October, the Biden administration imposed export controls aimed at curbing China's development of advanced semiconductors and released a National Security Strategy designating the PRC as "the only competitor" facing the U.S. with both the intent and power to reshape the international order (White House, October 12, 2022; Department of Commerce, October 7, 2022). In January, the incoming House of Representatives created a bipartisan Select Committee on Strategic Competition between the U.S. and the CCP, which Beijing saw as confirming Washington's wholesale adoption of a "cold war mentality" (Huanqiu, February 6).
In spite of the overall competitive tendency in U.S.-China relations, Beijing placed hopes in high-level diplomacy between Xi's inner circle and the Biden administration. In January, the PRC Foreign Ministry stated it welcomed a planned  visit to Beijing by Secretary of State Antony Blinken in early February (China Daily, January 18). However, Blinken's visit was canceled on February 3 in response to the PRC spy balloon that penetrated U.S. airspace and traversed the country before being shot down by the U.S. Air Force off the coast of South Carolina. In mid-February, as U.S. ire over the spy balloon imbroglio was peaking, the NPC Foreign Affairs Committee released a statement in response to the U.S. House Foreign Affairs Committee's resolution "Condemning the CCP's use of a high-altitude surveillance balloon over U.S. territory as a brazen violation of U.S. sovereignty" (People's Daily, February 17; Congress.gov, February 9). The NPC statement not only blasts the U.S. for shooting down the balloon but also charges that "some American politicians exploited the issue to fan the flames, exposing their sinister anti-Chinese intentions."
The Russia Card
On March 7, Foreign Minister Qin Gang addressed the press on the sidelines of the NPC (FMPRC, March 7). As these events are heavily scripted set pieces, Qin's responses to the respective questions on U.S.-China and China-Russia relations deserve scrutiny. The first question that Qin answered on any bilateral relationship was from TASS, Russia's state news agency, regarding the state of Russia-China relations. In response, Qin held up the China-Russia relationship as a model for major-country relations. He then contrasted the comity of China-Russia relations with the U.S.'s fraught relationships with both powers, rhetorically asking: "Are exchanges between major countries undertaken through closed and exclusive bloc politics, or open and frank gentlemanly exchanges?" When he was subsequently asked about the state of U.S.-China relations, Qin cited the spy balloon incident as proof of ingrained U.S. hostility, stating  that the furious U.S. reaction to "an accident caused by force majeure" reveals its perceptions of China as its "primary rival and biggest geopolitical challenge" are "seriously distorted."
As the Russia-Ukraine conflict drags on, Beijing is belatedly realizing it must do more to achieve its baseline objective of preserving Russia as a viable major power and strategic partner with which to counter the West. In order to fulfill this objective, the PRC confronts a dilemma, either: 1) greatly increase military assistance to Russia to sustain Putin in his war of aggression against Ukraine; or 2) broker a peace deal that resolves the war on terms that are neutral or slightly favorable to Moscow. The first option is risky, however, as it would incur extensive Western sanctions, which could derail ongoing efforts to resuscitate the economy following three years of pandemic and zero-COVID lockdowns, thereby further fueling domestic frustration with the CCP.
With the Two Sessions completed, Xi appears to be turning his attention to mediating a political settlement between Russia and Ukraine. A call with Ukrainian President Volodymyr Zelenskyy is in the works and Xi is preparing to visit Moscow early next week (South China Morning Post, March 17). In addition to obviating the risk of Russia collapsing or suffering an irreversible defeat, such a breakthrough would serve the PRC's broader strategic interests in other ways. First, it would cement Beijing's position as the dominant player in the China-Russia axis, an asymmetry that, although well-recognized in the West, still sits uncomfortably in Chinese strategic circles. Moreover, by positioning itself as the only viable "honest broker" in the Russia-Ukraine conflict, Beijing would undercut the U.S.'s longstanding role as regional security guarantor, driving home the message that America can no longer safeguard European peace and prosperity. While this is unlikely to resonate with most Central and Eastern European countries that have soured on China due to its close ties with Russia, it could appeal to Western European countries such as France that treasure their "strategic autonomy." Indeed, French President Emmanuel Macron recently stated he plans to visit China in April, presumably following Xi's March visit to Moscow, in order to discuss the PRC's proposal for a political settlement of the Russia-Ukraine War (France 24, February 25).
In addition to serving the PRC's strategic objectives vis-à-vis the U.S., Europe and Russia, mediating Russia-Ukraine peace talks would advance Beijing's efforts to portray itself as a force for global peace and stability through the Global Security Initiative (GSI), which have gained momentum with Beijing's recent success in brokering a deal to restore normal diplomatic relations between Iran and Saudi Arabia, long-time geopolitical rivals in the Middle East (FMPRC, March 10; China Brief, March 3).
Conclusion
The most recent indication that Xi is committed to vigorously contesting the U.S. in all aspects of global politics is his announcement at the opening of the CCP's High-Level Dialogue with World Political Parties High-Level Meeting of a new Global Civilization Initiative (GCI; 全球文明倡议) (Xinhuanet, March 15). Xi stated that the GCI is predicated on respect for civilizational diversity and shared human values; appreciation of different civilizations' inheritances and innovations; and robust international, people-to-people exchange and cooperation." Xi's announcement was accompanied by a torrent of PRC criticism of the U.S.'s Summit for Democracy, the second meeting of which is planned for later this month. In contrast to PRC-led multilateral initiatives, such as GSI and GCI, which are portrayed as inclusive, the Summit for Democracy is cast as exclusive and divisive. For example, Wang Yi claimed the summit "blatantly drew an ideological line between countries and created division in the world," exposing "U.S. hegemony in the guise of democracy" (Xinhua, March 15). Whether or not the GCI catches on remains to be seen, but its roll-out confirms Xi's determination to present viable, competitive alternatives to U.S. international leadership across the board.
John S. Van Oudenaren is Editor-in-Chief of China Brief. For any comments, queries, or submissions, please reach out to him at: cbeditor@jamestown.org.