Will Russia Take Over Belarusian Oil Product Transshipment?
Publication: Eurasia Daily Monitor Volume: 17 Issue: 130
By: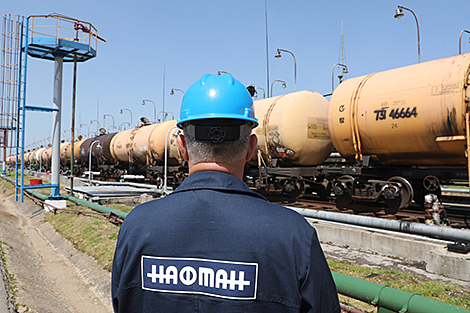 Russian Energy Minister Alexander Novak announced, on September 7, that Russia and Belarus are negotiating conditions for shifting Belarusian oil product exports from the Lithuanian port of Klaipeda to Russian transshipment terminals on the Baltic Sea, with an agreement expected in the next several weeks (1prime.ru, September 7). He added that the potential volume of fuel to be diverted might reach as high as 3 million–4 million tons per year and assured that Russian rail and port infrastructure would be sufficient to handle these amounts. The news was confirmed by Belarus's state oil refiner Belneftekhim (Interfax, September 7). The next day, Lithuanian Transport Minister Jaroslavas Narkevičius stated that the government in Vilnius has undertaken active dialogue with the administrative leaderships of both the Klaipeda seaport and Lithuanian Railways regarding the ongoing developments (Lrt.lt, September 8). To date, however, the Lithuanians have not observed any signs of disruptions or halting of Belarusian oil product exports through their territory.
The idea of redirecting Belarusian transit freight from the Lithuanian ports to terminals in other countries was floated by President Alyaksandr Lukashenka on August 28, in response to Lithuania's calls to impose sanctions on Belarusian officials (Belta.by, August 28; see EDM, September 11). Lukashenka stated then that he had already instructed his government to prepare to divert all cargoes (not only oil products). He did not, however, reveal where the Belarusian goods could be handled instead.
Lukashenka's threat to take revenge on Vilnius at first glance looks like a mere bluff, especially considering his misstatement that Belarusian cargo funds 30 percent of Lithuania's state budget (in fact, Belarusian freight represents only 30 percent of all of the cargo handled by the Klaipeda port) (Lrt.lt, August 28). However, the idea of redirecting Belarus's oil product transit was quickly picked up and amplified by Moscow, which has been unsuccessfully pushing Minsk to do so for many years already. As a result, the topic ended up on the agenda of a high-level intergovernmental meeting a few days later, when a Russian ministerial delegation visited Minsk on September 3 (TASS, September 3).
Vladimir Putin and Alyaksandr Lukashenka had debated the possibility of redirecting Belarusian trade to Russia's Baltic ports as early as 2005 (Naviny.by, August 2, 2005). But despite numerous public statements on this topic from politicians in both countries, nothing of the sort ever materialized. That said, the idea of shifting Belarusian oil product exports to transshipment terminals in northwestern Russia gained greater urgency after 2016. At that point, Russia, which had already been withdrawing its own cargoes from the ports of the Baltic States, began more forcefully pushing the authorities in Minsk to follow suit. Moscow had been working on reducing its own reliance on Baltic States ports since 2014, when it faced European sanctions for its aggression against Ukraine. As such, it has invested in building up its own port facilities on the Baltic Sea as well as expanding rail line connectivity to them. Those investments have had an effect: in 2019, cargo handled at the Russian ports of Russian ports at Primorsk, Ust-Luga, Vysotsk and St. Petersburg grew year-on-year by 16.7, 7.3, 5.3 and 1.7 percent, respectively; whereas, most Baltic ports experienced drops in trade of between 5 and 10 percent. This has compelled the Baltics to seek economic cooperation with China and/or Belarus if the reduced handling of Russian cargoes cannot be reversed (see EDM, December 5, 2019).
Back in 2016, as an incentive to Belarus, Russia's Transneft proposed to cut duty-free crude supplies to Belarusian refineries if the latter would agree to redirect their export volumes to the Russian Baltic terminals (RBC, September 27, 2016). Additionally, Russian Railways presented 25 percent transit discounts for the Belarusians in exchange for the cargo redirection (Kommersant, October 18, 2016). Yet, even when Russian Railways subsequently doubled its above-mentioned tariff reduction promises to 50 percent (belta.by, April 11, 2017), the Belarusian suppliers nevertheless remained unwilling to change up their exports logistics.
Since that time, only limited Belarusian oil product cargoes have been handled by Russian transshipment terminals; the vast majority of Belarus's transit has continued to go through ports in the Baltic States. In 2019, Belarusian companies exported around 1.4 million tons of fuel through Lithuania, around 3.2 million tons through Latvia, and around 1.4 million tons through Estonia. In comparison, only a modest 200,000 tons were handled at Russia's Baltic Sea ports (Belchemoil.by, November 12, 2019).
Therefore, is it possible that the situation could change now?
On the one hand, it appears rather obvious that Belarusian oil product exports through Russia's ports of Ust-Luga, Vysotsk or St. Petersburg are still not economically competitive with the Baltic States' ports. According to one estimate, even with the above-mentioned Russian Railways discount (valid until 2025), the Ust-Luga option would be around $10/ton more expensive for Belarusian oil product exporters than transshipment via Lithuania's Klaipeda terminal (Energybase.ru, September 4, 2020). Moreover, it is worth underscoring that Belarus would be abandoning $30 million worth of investment for 30 percent of the Biriu Kroviniu Terminalas (BKT) shipping terminal at Klaipeda it has made since 2013 (see EDM, September 11; Baltnews.lt, September 3).
On the other hand, the authorities in Minsk are currently standing with their back against the wall in talks with their Russian counterparts on future economic cooperation. Thus, it should not be ruled out that Belarus may ultimately publicly agree to a step-by-step diversion of its oil cargo to the Russian ports. Yet, any such promise will surely be premised on securing additional compensation or discounts from the Kremlin, and it may never wholly materialize in reality as Minsk continues to stall or feign compliance with the possible agreement.