Dismissing European Outrage, Russia Turns Itself Into a 'Great Pariah Power'
Publication: Eurasia Daily Monitor Volume: 17 Issue: 130
By: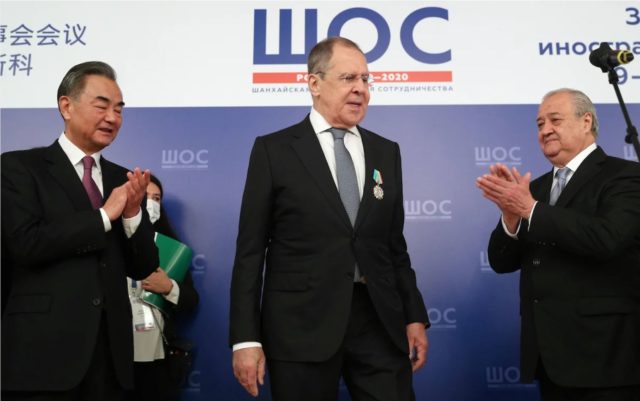 With its latest double breach of norms of international behavior—poisoning the opposition leader Alexei Navalny and embracing the discredited Belarusian autocrat, President Alyaksandr Lukashenka—Russia has managed to unite Europe in outrage. Last week (September 17), the European Parliament approved, by a large majority, a harsh resolution not only demanding a strong response to the Navalny case but also calling for a new strategy on relations with the openly hostile Russia (Nezavisimaya Gazeta, September 17). Russian propaganda lashed out viciously against this firm stance and predicted that a confrontation with Russia would destroy the European project (RIA Novosti, September 19). Moscow is particularly upset because Germany, which used to be the moderating influence in setting the European Union's course, is now among the strongest advocates of punishing Russia's transgressions. Mainstream political pundits in the Russian capital interpret the cancelation of Foreign Minister Sergei Lavrov's visit to Berlin as an unmistakable sign of the severe deterioration of this key bilateral relationship (Russiancouncil.ru, September 18).
Russian diplomacy seeks to present an expansion of ties with Asia as compensation for the curtailing of connections with Europe. In early September, the defense ministers of the Shanghai Cooperation Organization (SCO) met in Moscow, and Sergei Shoigu made space at the table for a few extra guests from the Collective Security Treaty Organization (TV Zvezda, September 4). The following week's meeting of SCO foreign ministers sought to prepare an agenda for the upcoming heads of state summit that, despite Russia's best effort, will happen in November only as a video-conference (Kommersant, September 11). Then, it was the turn of the secretaries of national security councils of the SCO states to hold a virtual meeting. Russia's Nikolai Patrushev set the tone with the claim that the United States was exploiting global cooperative efforts to counter the COVID-19 pandemic in order to surreptitiously develop biological weapons (Rossiiskaya Gazeta, September 15).
All these meetings, nonetheless, failed to produce any opening for Russia to demonstrate capacity for influencing key global developments. In particular, Russia sought to mediate between China and India over their dangerous border dispute in the Himalayas; but the two Asian powers can be expected to bilaterally sort out or escalate the quarrel as they see fit (Izvestia, September 8). Meanwhile, the long-planned and delicately progressing talks between the Afghan government and the Taliban are happening under US auspices, with no role for Russia (Carnegie.ru, September 15). Likewise, the escalating economic confrontation between the US and China leaves Russia on the far margins of the crucial global interaction—with the SCO also entirely irrelevant in this matter (Nezavisimaya Gazeta, September 16).
In turn, any progress in advancing plans for Eurasian cooperation depends upon readiness to invest in joint projects. China has been working diligently on executing President Xi Jinping's trademark Belt and Road Initiative, reassuring Russia of its benign intentions; but at the same time, Beijing has so far seen little need to cut in Russian partners (Russiancouncil.ru, September 18). Russia's economy is, indeed, sinking in yet another recession, which undercuts its capacity for investment—notwithstanding the newly announced $1.5 billion line of credit to Belarus as a guarantee of support for the embattled Lukashenka (Novaya Gazeta, September 16). This "generosity," even if provided with rather obvious reluctance (and with much, if not all, of it earmarked for repaying Minsk's old loan to Moscow—see EDM, September 16), stands in sharp contrast with the Russian government's stinginess regarding domestic social programs, resulting in contractions of incomes and increased poverty (Kommersant, September 14). Even former finance minister and Putin loyalist Alexei Kudrin argues that the anti-crisis measures have been too limited to prevent impoverishment, which currently affects some 20 million people, or 13.5 percent of Russia's population (RBC, September 18). The Kremlin found it necessary to respond, reiterating that the policy was carefully calibrated to minimize the impact of the crisis (TASS, September 18).
That "calibration" is based on forecasts of the oil price, which has recovered from a sharp drop in April to the almost agreeable plateau of $40–45 per barrel and is expected to stabilize at this level (Rossiiskaya Gazeta, September 17). Yet, these expectations ignore the profound shifts on the global energy market, which devalue Russia's strength as a major exporter of hydrocarbons and aggravate the risk of new falls in petro-revenues (Forbes.ru, September 8). Putin had a meeting last week with Alexei Miller, the CEO of the Russian natural gas monopoly Gazprom, and expressed his expectations for solid profits; left unsaid was any mention of the ongoing problems with the Nord Stream Two gas pipeline (Kremlin.ru, September 16). The project was interrupted by US sanctions, and Germany has threatened to cancel it altogether as a response to Russia's violations of basic norms of political behavior—most immediately, the poisoning of Navalny with the Soviet-developed nerve agent Novichok (Riddle.io, September 16). Gazprom may sponsor a soccer club in Germany's Bundesliga, but it cannot convince European customers of the reliability of its supplies; even Turkey is cutting down on imports from Russia (Nezavisimaya Gazeta, September 7; see EDM, July 6, September 16).
Losing ground on European energy markets, Moscow seeks to compensate by energizing the information war, in which the history of World War II is chosen as one of the key battlegrounds. Eighty-one years ago, on September 17, 1939, the Soviet Red Army entered that war by invading Poland, but this date is carefully omitted in Moscow's official historical calendars (Republic.ru, September 17). In order to guard the approved version of history from "liberal revisionists" or European "slanderers," a special task force for prosecuting falsifications has been established in the Russian Investigative Committee (Moscow Echo, September 17). Putin's narrative on the causes and consequences of the war has become dogma, with any deviation treated as a crime (Polit.ru, September 17).
This politicization of the past, in which the failures and crimes of Stalinism are omitted and whitewashed, adds to the estrangement between Russia and its European neighbors, which see a greater need for containing Moscow's aggressiveness and fewer reasons for or benefits of engagement. Russia can no longer qualify as a "Great Energy Power"; its scientific schools have lost their innovative edge; its human capital is exhausted; and the Kremlin's reliance on coercive military capabilities over all other tools of persuasion or attraction have reduced Russia's international profile to a "Great Pariah Power." Putin's elites can pretend that the status of paramount troublemaker and norm-breaker suits Russia just fine. But Lukashenka's own inability to swiftly and brutally bring the Belarusian opposition to heel signals that Russians may tolerate Putinism only so far before starting to demand a different future.