With an Eye on Tibet, China Reacts Warily to Warming U.S.-Nepal Ties
Publication: China Brief Volume: 22 Issue: 15
By: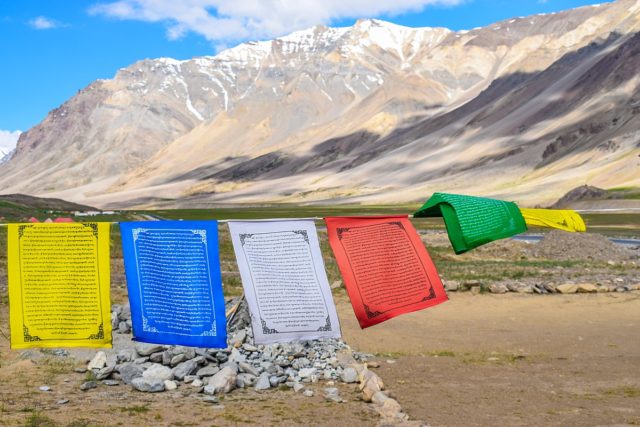 Introduction
U.S. Under Secretary of State for Civilian Security, Democracy, and Human Rights Uzra Zeya's three-day visit to Nepal in May evoked a strong reaction from China. During the visit, Zeya, who is also President Joseph Biden's Special Coordinator for Tibetan Issues, met with an array of high-level Nepali officials, including Prime Minister Sher Bahadur Deuba as well as Nepali human rights activists. She also visited two Tibetan refugee settlements in Nepal where she interacted with refugees and enquired about their problems (Kathmandu Post, May 22). Zeya had arrived in Kathmandu after meeting the Dalai Lama, senior officials of the Tibetan exile government as well as officials and representatives of the Tibetan refugee community in India (The Hindu, May 18).
The Chinese response was swift. The U.S. "should stop meddling in China's internal affairs under the pretext of Tibet-related issues, and offer no support to the anti-China separatist activities of the Dalai clique," People's Republic of China (PRC) Foreign Ministry Spokesperson Zhao Lijian said in a press conference (PRC Ministry of Foreign Affairs, May 19). At the 14th meeting of the Nepal-China Bilateral Consultative Mechanism, which was held a few days after Zeya's visit, Chinese officials reportedly expressed their misgivings over her engagements to their Nepali counterparts (Kathmandu Post, August 4). Then in July, Liu Jianchao, the head of the International Liaison Department of the Chinese Communist Party (CCP) visited Kathmandu, where at meetings with leaders of Nepal's major political parties, he asked them to reaffirm their commitment to the 'One-China' policy (Nepal Foreign Affairs, July 14).
Nepal affirmed support for the One-China principle in 1955, when it established diplomatic relations with the PRC. This means that Nepal recognizes Taiwan and Tibet to be a part of China and has "committed not to allow its soil to be used for any inimical activities against China" (Ministry of Foreign Affairs, Government of Nepal). Despite this affirmation, Chinese insecurities over Tibetan activism in Nepal run deep. An estimated 20,000 Tibetan refugees live in Nepal (South Asia Monitor, September 20, 2020). Chinese apprehensions over Tibetan activism in Nepal go back several decades. However, there has been a perceptible deepening in such Chinese apprehensions in recent months.
Nepal's Support of Tibetan Insurgents
Nepal's significance to China stems from its geographic location. To Nepal's south lies India, China's geopolitical rival. More importantly, Nepal borders China's "Himalayan underbelly," Tibet (Nepali Times, March 25). The PRC's concerns over political turmoil in Tibet have shaped its policies towards Nepal. Beijing is particularly apprehensive that Tibetans based in Nepal will trigger unrest in Tibet, weakening China's control over the region. As a result, Chinese intelligence closely monitors Tibetans in Nepal and Nepali policies impacting Tibetan rights and activism.
Beijing's annexation of Tibet in 1950 made Nepal a neighbor of China for the first time. The flow of Tibetans escaping Chinese repression began in the early 1950s and surged in 1959 after the failed Lhasa Uprising that culminated in the flight of the Dalai Lama and his followers into India and Nepal. Some of these Tibetans settled in Nepal's Mustang district bordering China. It was from Mustang that the CIA launched a covert operation, which involved providing Tibetan Khampha guerrillas with arms and training to fight the People's Liberation Army inside Tibet. After the U.S. established diplomatic relations with the PRC in 1971, the CIA wound up support to the Kham insurgency. The Nepal Army disarmed the guerrillas and by 1974, the Tibetan resistance waged from Nepal's soil was over (The Record, November 3, 2020).
Nepal's Cracks Down on Tibetans
The resistance to Chinese rule waged from Mustang underscored to Beijing the threat that Tibetan refugees in Nepal posed to its control of Tibet, despite Kathmandu's commitment to a One-China policy. Over the decades, Beijing has therefore not only pressed Kathmandu to crack down on Tibetan activism in Nepal, but the PRC has also tightened its border controls to prevent Tibetans from entering Nepal.
In the early decades, Tibetans arriving in Nepal were issued Refugee Identification Cards (RCs), conferring legal status on their stay in Nepal. Foreign governments and international organizations were allowed to resettle Tibetan refugees. However, this has changed under Chinese pressure. Nepal stopped issuing RCs to Tibetans from 1989 onwards, rendering thousands of Tibetans without legal status and thus vulnerable to deportation and government crackdowns, and deprived of access to education or jobs in Nepal. [1]
Since 2008, anti-China protests, including self-immolations, have increased, both inside Tibet as well as among Tibetan refugee communities in India and Nepal (Times of India, February 12, 2013 and The Hindu, February 13, 2013). Chinese pressure on Nepal to stamp out Tibetan activism has consequently grown and Nepali authorities have obliged. Tibetans are arrested if they protest or even display the Tibetan flag or raise 'Free Tibet' slogans. Tibetan refugees are also often rounded up and temporarily held ahead of visits by Chinese leaders to preempt protests. They are not allowed to celebrate the birthday of the Dalai Lama or key milestones in their history. Surveillance of Tibetan camps has grown and Nepali authorities share intelligence with the Chinese. Worryingly, Tibetans are being deported back to China (Asia Democracy Chronicles, April 25). Indeed, Nepal has even cracked down on Nepali citizens expressing solidarity with the Tibetan cause (Kathmandu Post, October 17, 2019).
In 2019, Nepal and China signed an Agreement on a Boundary Management System and a Treaty on Mutual Legal Assistance on Criminal Matters. Both agreements have major implications for Tibetans entering Nepal. Under the border management agreement, for instance, those "found while crossing [the] border illegally" are liable to be handed over to China within seven days (The Tribune, February 12, 2020).  The repression of Tibetans by Nepali authorities acting under Chinese pressure has had the desired chilling effect. The number of "Tibetans escaping into exile [in Nepal] each year which was a "steady total of 2,500 to 3,500" in previous years "dwindled to an unprecedented low of just 18 Tibetans in 2019" (International Campaign for Tibet, February 11, 2020).
Chinese Leverage Over Nepal
As a small country that is landlocked and sandwiched between India and China, Nepal has been vulnerable to pressure from both countries. Widespread poverty, political turmoil and civil war have increased its vulnerability to pressure from its two giant neighbors. While India's presence and influence in Nepal has a long history, China's influence in the country, which was once limited by the Himalayan barrier, has risen substantially in recent decades. This has been facilitated in part by Nepal's mounting interest in not only reducing its dependence on India but also availing itself of Chinese financial and other support to develop its infrastructure via the Belt and Road Initiative.
China's role in Nepal's economy has grown rapidly over the past decade; since 2014, China has been Nepal's largest source of Foreign Direct Investment (Xinhua, 21 July, 2021). In 2021, China accounted for 70 percent of the total FDI coming into Nepal (The Statesman, March 9). Beijing has also cultivated close ties with Nepal's political parties, especially among the country's Left-wing parties. Indeed, China played a major role in the 2018 merger of the country's two major Communist parties to form the Nepal Communist Party (NCP) government. China's growing economic clout and political influence in Nepal provided it with leverage over Nepal. It resulted in Beijing meeting with considerable success in getting Nepal to concede its demands on policies vis-à-vis Tibetan refugees.
Beijing's Waning Influence
However, over the last couple of years, China's influence in Nepal has waned. Beijing was unable to prevent not only the split in the NCP and the exit of Nepal's pro-China Prime Minister K.P. Sharma Oli from office, but also, the formation of a new government under the Nepali Congress in August 2021 (China Brief, April 8). Nepal's new Prime Minister Sher Bahadur Deuba is considered close to India and the United States.
Over the past year, Nepal has taken decisions that have set China's interests back. This February, Nepal's parliament defied Chinese pressure to ratify the Millennium Challenge Corporation (MCC) compact, a $500-million U.S grant for the development of power transmission and road construction projects in Nepal (Deccan Herald, March 5). Chinese analysts have described the MCC as an American "tool" to draw Nepal into its Indo-Pacific strategy (Global Times. March 3).
Less than a month later, Nepal stood its ground in talks with China during Foreign Minister Wang Yi's visit. The main item on Wang's agenda was BRI projects, but although nine agreements were signed, none pertained to BRI. Differences between the two sides on project funding – Nepal prefers grants to loans – could not be bridged (Kathmandu Post, March 27). Indeed, it does seem that five years after Nepal got on to the BRI bandwagon with much enthusiasm, its partnership with China over BRI is in limbo (Kathmandu Post, May 20).
Significantly, over the past year, the Deuba government has been more lenient with Tibetans residing in Nepal. In March, a rally to mark Tibetan Uprising Day was held in Kathmandu (Khabarhub.com, March 10). Unlike in previous years, Tibetan refugees in Nepal were allowed to celebrate the 87th birth anniversary of the Dalai Lama. Significantly, diplomatic officials from the U.S, Japan, France and the European Union were present at the event (Annapurna Express, July 6). Consequently, Zeya's controversial visit to the Tibetan refugee settlements must be seen in this context. Although Nepal's foreign ministry informed the media that the government is unaware of her meetings with refugee leaders in Kathmandu, Tibetan officials have indicated otherwise (Kathmandu Post, May 22). It is also likely that these increased U.S. official engagements are affecting the Nepali government's softer line toward Tibetan refugees.
Insecurity Over Tibetan Activism
China's rather strong response to Zeya's visit reveals its mounting insecurity on Tibetan activism in Nepal. With a U.S.-friendly political party at the helm in Nepal and American interest and influence in that country surging over the past year, Beijing is apprehensive over Tibetan refugee activism in Nepal receiving a shot in the arm in the coming months. This parallels cooperation between the U.S. and India, which has also grown remarkably in recent decades, especially in the context of countering the threat posed by a rising China. Beijing will be apprehensive that the U.S. and India will collaborate in Nepal by supporting Tibetan rights and that this will lead to increased Tibetan activism there.
At a time when it is preoccupied with tensions with the U.S. over Taiwan, China will not want to see tensions intensify in and around its soft 'underbelly' in Tibet. It can be expected to intensify efforts to bring back a friendly government in Nepal. With Nepal scheduled to hold general elections in November, China will likely step up its efforts to bring about another merger of Nepal's communist parties to bolster their chances of a return to power.
Dr. Sudha Ramachandran is an independent researcher and journalist based in Bangalore, India. She has written extensively on South Asian peace and conflict, political and security issues for The Diplomat, Asian Affairs, and the Jamestown Foundation's Terrorism Monitor and Militant Leadership Monitor. She can be contacted at sudha.ramachandran@live.in.
Notes
[1] Sudeshna Thapa, Yangchen Dolker Gurung and Jeevan Baniya, "Living in Limbo: Tibetan and Bhutanese Refugees in Nepal," South Asia State of Minorities Report 2019:  Migrants, Refugees and the Stateless (The South Asia Collective, 2020).