Year 2020 in Review: The Saga of a Bitterly Divided Belarusian Society
Publication: Eurasia Daily Monitor Volume: 18 Issue: 2
By: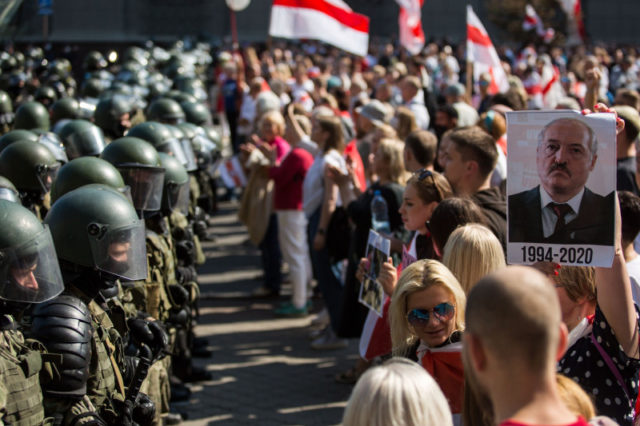 At the beginning of 2020, Belarus was becoming increasingly assertive and willing to resist Russian pressure tactics (see EDM, January 14, 2020). And that assessment remained valid at least until late May. Against the background of Belarus and Russia's lingering oil price dispute, US Secretary of State Michael Pompeo visited Minsk, on February 1, and declared that the United States could satisfy Belarus's entire petroleum demand. Also that month, the first analysis of the Belarusian economy by the banker Victor Babariko was publicly released: the document pointedly described Belarus as a drug addict that needed to wean itself off Russian aid. Even Nobel laureate Svetlana Alexievich, invariably critical of Alyaksandr Lukashenka, opined that at present, the Belarusian president's personal interest matches "ours" as it boils down to retaining the country's sovereignty. In March, the Belarusian military held joint drills in Vitebsk Oblast with troops from the United Kingdom. And following a major drop in global oil prices, Foreign Minister Vladimir Makei emphatically declared that there was no point in further negotiations on integration with Russia until the price of oil sold by Russia to Belarus would be determined.
By early March, Belarus drew intense scrutiny for its approach to fighting COVID-19: no lockdown and no desire to close borders. The most closed country in Europe suddenly seemed to be the most open one—especially after March 18, when Russia unilaterally shut the border with its fellow Union State partner. Also, in March–April, reports noted that Belarus was negotiating the opening of credit lines with the International Monetary Fund (IMF), World Bank and European Investment Bank. After Russian TV aired criticism of Belarus's alleged complacency vis-à-vis COVID-19, Makei accused Russia of "pouring dirt" on Minsk (see EDM, April 14, 2020). That April, Russian liberal pundit Leonid Radzikhovsky declared that bilateral relations were "simply finished" (see EDM, April 22, 2020). In the meantime, Belarusian society showed signs of healthy self-organization in the face of the pandemic. The sociologist Andrei Vardamatski characterized this as a "dilution of cement" (see EDM, April 28, 2020)
However, in April, Yauheni Preiherman of Minsk Dialogue sounded the alarm (he would double down on it three more times during 2020) that in the face of Russia's potentially aggressive pursuits, Belarusian society is vulnerable because it is not consolidated. Those on the side of the opposition ought to restrain their harsh rhetoric toward the authorities, he contended (Nasha Niva, April 14, 2020).
Due to the coronavirus crisis, Moscow postponed its military parade commemorating the 75th anniversary of the victorious end of World War II; but Minsk consciously chose to conduct its own parade on May 9. The act, though highly controversial, was in some ways a propaganda coup against Moscow within the former Soviet space (see EDM, May 12, 2020). Around the same time, a Russian television correspondent was stripped of his accreditation in Belarus after airing a brief episode accusing Minsk of neglecting the pandemic.
The date of the presidential election was set for August 9, 2020. And on May 8, Valery Tsepkalo, a former ambassador to the US and former director of the High-Tech Park near Minsk, declared his presidential ambitions. Shortly thereafter, Victor Babariko and vlogger Sergei Tikhanovsky also entered the presidential race. By May 26, Sergei Gaidukevich, who chairs the Liberal Democratic Party, withdrew his previously announced candidacy—vivid confirmation that the contest was now so competitive that the electoral chances of the incumbent president were in jeopardy.
On May 29, the first strong contender, Tikhanovsky was arrested. Foul play by the authorities led to his arrest, which fueled tensions within portions of Belarusian society. Unlike Tsepkalo and Babariko (the most popular presidential hopeful), both of whom targeted the urban educated class, Tikhanovsky's messages resonated with Lukashenka's traditional base—i.e., the less educated and provincial part of the electorate.
In June, a survey conducted by the Sociology Institute of the Belarusian Academy of Sciences was leaked, showing that Lukashenka's popularity rating in the city of Minsk was just 24 percent. The electoral chances of the incumbent, thus, looked slim unless the field of opponents could be weeded out even more. And indeed, on June 18, Babariko was arrested and accused of money laundering, an accusation that might be taken seriously had it not been leveled specifically under the described electoral circumstances. By the time of his detention, Babariko had obtained at least 360,000 valid signatures on his behalf, whereas only 100,000 were required by law. Subsequently, Tsepkalo was denied registration and was forced to leave Belarus. The Central Electoral Commission chose to register Svetlana Tikhanovskaya, the wife of the now jailed presidential hopeful Sergei.
By mid-summer, the Belarusian presidential campaign looked to be a foregone conclusion, with Lukashenka set to comfortably win his sixth term as president. But that narrative took an unexpected and bizarre turn less than two weeks before election day. At the end of July, 33 Russian mercenaries were apprehended near Minsk, suspected of being dispatched by Moscow in order to organize riots in Belarus. For what it is worth, the alleged explanation first unearthed by Komsomolskaya Pravda, that the entire affair stemmed from a failed plot by the Ukrainian intelligence services to capture those Russian mercenaries (Komsomolskaya Pravda, August 6, 2020), was recently confirmed by Petro Poroshenko, the former president of Ukraine, who stepped down in May 2019 (Tut.by, January 1, 2021).
The affair involving Russian mercenaries notwithstanding, the election was held on schedule, and the official electoral outcome showed a highly implausible 80.8 percent of the vote for Lukashenka and just 10.09 percent for Tikhanovskaya. This apparent blatant fabrication of the election results, combined with a wide belief among opposition-minded activists that Tikhanovskaya must have won, sparked large-scale post-election rallies, a brutal crackdown and atrocities committed by riot police, as well as the forced exile of Tikhanovskaya. The protests have continued non-stop for months. In recent weeks, they finally subsided but have not ceased entirely (see EDM, December 16, 2020).
The takeaways from the past year's events are fourfold. First, Belarusian society has changed. The share of the private sector in the country's labor force is now approaching one half. Over the course of 20 years, the proportion of people with only an elementary education declined sevenfold, while those with a higher education almost doubled (Svaboda.org, November 27, 2020). Belarusians as a whole have become less risk-averse in their entrepreneurial behavior. Clearly, some critical mass of the urban middle class no longer tolerates electoral fraud, especially considering that, unlike in previous elections, the incumbent, may in fact not have won this time.
Second, since 2014, Western governments approvingly watched what looked like a slow but steady geopolitical reorientation of Belarus. Moreover, following Russia's aggression against Ukraine starting in 2014, the West was ready to deemphasize its tired democracy promotion policy in favor of propping up Belarus's sovereignty as a bastion against Russian interventionism—which implied having to work with the head of state in Minsk. But in a matter of two days in August, Lukashenka squandered the entire political capital he was amassing for six years. The European Union imposed sanctions on Belarus and the United States adopted the new Belarus Democracy Act, appended by expressions of concern over Belarus's sovereignty again becoming jeopardized by Russia (BDG, December 26, 2020). Hardly any political commentator, however, believes these Western measures will result in regime change in Belarus (Tut.by, December 17, 2020).
On the contrary, Russia, whose ability to shape events inside Belarus has always been second to none, is now the only kingmaker in that country. While Russia's pursuits in Belarus have been subject to sundry conspiracy theories, so far these actions have been best approximated by Feodor Lukyanov's July 29 suggestion that Moscow's optimal behavior at this point is to do nothing (Ekho Moskvy, July 16, 2020). Indeed, however unpalatable to the Kremlin the incumbent Belarusian president may be, he is the lesser evil in the absence of any reliable replacement. And since the West's influence over Minsk is essentially reduced to virtue signaling, there is no reason to hurry.
Finally, the gravest and at the same time most intractable problem for Belarus is the growing chasm within Belarusian society, whereby each side of the divide—the Lukashenka loyalists versus the protest movement—is engaged in what the philosopher Viacheslav Bobrovich calls "appropriation of the people" (Facebook.com/vbobrovich, January 2, 2021). In other words, each side implies that it alone speaks for the whole of society and considers its opponents traitors, not worthy of taking into consideration. Bridging this divide is the most urgent task for Belarus. Lukashenka's New Year's message to the nation reflected this urgency: "Let us make the new year the year of people's unity" (Sputnik.by, January 1, 2021). What is required, however, extends far beyond words.