YUKOS CASE REVERBERATING IN LITHUANIA AND FAR BEYOND
Publication: Eurasia Daily Monitor Volume: 2 Issue: 23
By: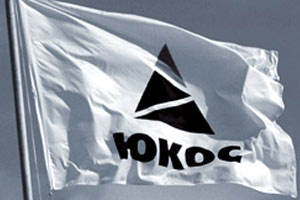 In a further disquieting signal ahead of the upcoming George W. Bush–Vladimir Putin summit (see EDM, January 31), the White House announced on January 31 that the United States would support Russia's bid for admission to the World Trade Organization in 2005. Inasmuch as WTO membership is for market-economy countries, the U.S. decision appears to overlook the Kremlin's destruction of the U.S.-friendly Yukos company through decidedly non-market methods, the role of state-controlled Gazprom in this process, and the growing fusion of the KGB-bred state officialdom with the management of Russia's energy companies — a trend presaging the use of such companies as state foreign-policy instruments.
Steven Theede, the American chief executive of Yukos, yesterday described the Russian government's seizure of Yukos' largest asset, Yuganskneftegaz, as a multi-billion-dollar "theft." At a news conference on February 1 in London, Theede said that Yukos management would pursue the company's interests not only in U.S. courts, but also in the European Court of Human Rights. Yukos' principal remaining units, such as Tomskneft and Samaraneftegaz, are now similarly threatened with seizure to cover government-imposed retroactive tax bills. (Reuters, AP, February 1).
Tomskneft and Samaraneftegaz are the key suppliers to Lithuania's Mazeikiai refinery and Butinge maritime oil-loading terminal, which form that country's largest economic entity and main taxpayer, and whose principal shareholder and operator is still Yukos. Lithuania fears that Russian government-connected companies will demand control of Mazeikiai under the threat of halting oil supplies. Russia's Lukoil company used that tactic in 2000-2001 and came close to success, at which point Yukos came, in effect, to the rescue. Whether Putin would tolerate an arrangement that shields Lithuania from Russian pressure seems far from certain.
Robert Amsterdam, the human rights lawyer who represents Yukos' jailed main shareholder Mikhail Khodorkovsky, visited Vilnius on February 1-2 at the invitation of the Institute for Democratic Politics, a Lithuanian NGO. At a round-table discussion in the Lithuanian parliament and a follow-up news conference, Amsterdam termed the Khodorkovsky trial and the persecution of other Yukos executives and shareholders "a grotesque assault upon human rights in Russia." Describing the rise of authoritarianism in Russia as a trend with dangerous international implications, Amsterdam called for a proper international response, one that would "offset the voices of opportunism" emanating from certain Western governments. He described the Russian authorities' handling of Yukos executives as a form of hostage-taking, and the government's seizure of Yukos' assets as state expropriation.
Characterizing the Russian Prosecutor-General's Office as an "expropriation agent" in this affair, and the role of Gazprom as that of an "expropriation mechanism," Amsterdam also pointed to the Russian authorities' intimidation of businessmen, witnesses, and lawyers in the case. He called for an international legal investigation into the Russian government's political use of the Prosecutor's Office and of Gazprom. This case, he said, shows how government-induced fear can spill beyond Russia's borders. "We must resist the Russian authorities' export of fear. Russia exports fear along with its energy."
Amsterdam zeroed in on certain West European governments, such as the German and French, going along with Russia's authoritarianism and — in Germany's case — supporting the expropriation of Yukos. Commenting, "Gazprom's interests are closely linked with German government and business interests," he called for uncovering the political impact of Gazprom. He warned that Gazprom's interests could turn into threats to democracy within the countries where Gazprom establishes itself. Reluctance to speak up, he noted, harms democracy in Europe as well as in Russia. Those European governments that, for their own comfort, fail to react to repressive measures in Russia, "display symptoms of the vulnerability of European democracies" (BNS, ELTA, February 1, 2).
The Bush Administration's handling of this situation would seem to fit that description. Ahead of the U.S.-Russia summit, the Kremlin may be led to conclude that it is looking not only at a "Berlin-Paris axis" in opposition to the United States, but also at a Berlin-Paris-Washington "axis" in support of Vladimir Putin.