Russia Invites Fringe European Politicians to 'Observe' Upcoming Presidential Election
By: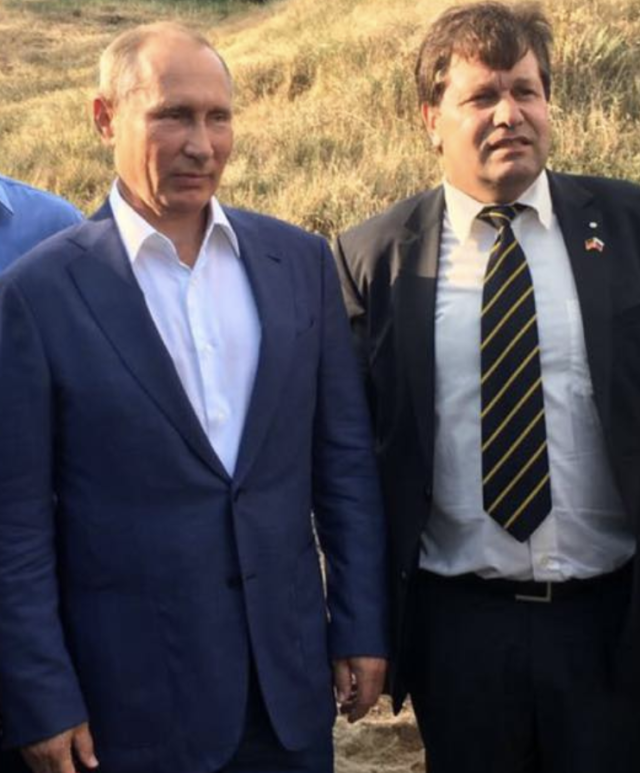 Russia is well-known for having connections to the political far right in Europe, but its links to the European far left are just as firmly established. This was affirmed once again by invitations made to Italy's Stefano Valdegamberi (affiliated with the far-right Lega Nord) and Andreas Maurer (leader of Germany's far-left Die Linke) to observe the Russian presidential election on March 18 (Facebook.com/anton.shekhovtsov, March 3). The invitation to Valdegamberi was signed by Vyacheslav Volodin, the chair of the State Duma (lower chamber of the Russian parliament), and the invitation to Maurer was issued by one of the deputy chairs of the Federation Council (upper chamber). An image of the invitation to Valdegamberi was posted on the Facebook page of Anton Shekhovtsov, a German-based Ukrainian academic and author of Tango Noir: Russia and the Western Far Right. Valdegamberi's invitation was dated February 21, while the invitation to Maurer was dated even more recently, on February 27. Nevertheless, both invitations requested an answer by March 4. This exceptionally tight turn-around time strongly suggests prior agreements and cooperation between both parties and the Kremlin—meaning a near-certainty of acceptance. The presence of Western observers at the election is presumably intended to provide legitimacy to the results, although some might argue that the identity of the invited individuals will have the opposite effect. Moscow's relationship with Die Linke represents the culmination of a process whereby this German party's support for Russia has become more brazen.
Maurer was in Ukraine earlier in 2018, from February 3 to 7, when he visited the Donetsk People's Republic (DPR). Maurer claimed he went to observe alleged Russian infringements of Ukrainian sovereignty. After the trip he said, "We were in the village of Zaitsevo—300 meters from the front line. I have not seen a single Russian soldier, a Russian tank, and even more so—Russian divisions. More than this, the European media and the Ukrainian authorities say that you are firing upon your own territories. I asked this question to your [DPR] soldiers. The answer was obvious—a father would never fire on his children, whom he took to school [before going] to the front. This is absurd. I realized one thing: those who serve in the DPR forces are the people who lived on this land" (Webtelek.com, February 21, 2018). Maurer crossed into the DPR from Russia's Rostov region and consequently was charged with violating Article 331.2 of the Ukrainian Criminal Code (Violation of the order of entry into the temporarily occupied territory of Ukraine).
A similarly open declaration of support came from Die Linke's 2017 convention in Hannover, where the party formally adopted a platform criticizing the sanctions on Russia, condemning the deployment of North Atlantic Treaty Organization (NATO) troops in Central-Eastern Europe, and refusing to condemn Russia's annexation of Crimea (Krymr.com, June 16, 2017). In the past, its support was less obvious: two left-wing Bundestag deputies visited the DPR in February 2015 as part of a "humanitarian mission"; they apparently delivered medicine to the region and met with separatist leader Alexander Zakharchenko. Further, Landtag (German state legislature) members Hikmat al-Sabty and Torsten Kaplin from Mecklenburg–West Pomerania traveled to witness and legitimize the infamous 2014 referendum in Crimea, which began the whole process of deterioration in East-West relations. In 2014, however, both members were heavily criticized by their party, including the co-chairman, Bernd Reixinger. On Twitter, Reixinger wrote, "We did not send anyone and we do not expect any report. The referendum was a dangerous step in the direction of escalation" (Deutsche Welle—Russian service, July 24, 2015). But more recently, Die Linke has become more open in its support for Russia, possibly betraying concern from its patron that Russian support for European politicians is not paying off as quickly as needed.