US Sanctions Throw Lifeline to Russian Domestic Plane Manufacturers
By: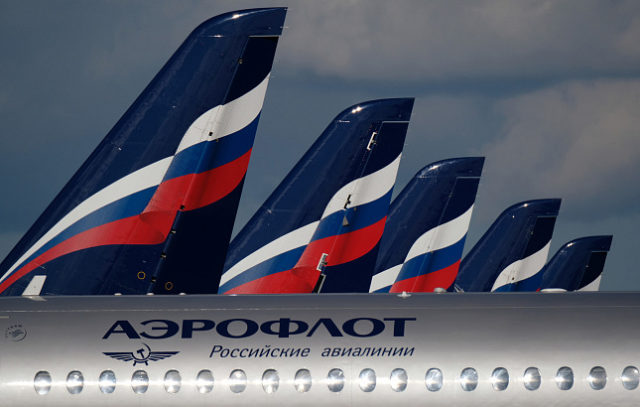 In terms of the United States' sanctions policy toward Russia, the effect on Russian aviation production and the country's domestic airlines is an important and often overlooked story. On one hand, US sanctions threaten to hurt Russian airlines, forcing them to use fewer Western-made aircraft. On the other hand, the Russian government sees this as a positive because of the distinct potential it creates to increase Russia's defense output—and put money into the pockets of Kremlin-friendly oligarchs and the state by doing so.
Russia is an aviation powerhouse, both in terms of production and in airline passenger numbers. In January 2018 alone, Russia saw 7.5 million passengers on Russian domestic airlines; and with Delta no longer offering direct flights from New York to Moscow, that number is bound to increase, despite being down from last year (Kommersant, February 28, 2018; March 6, 2018). These strong statistics make the industry, and especially state-owned Aeroflot, a potential target of US sanctions. Aeroflot CEO Vitaly Savelyev was named on the US "Kremlin List," which does not specifically implicate him in any shady dealings, but it does make doing business outside Russia difficult (ATO, January 30, 2018; see EDM, February 5). Savelyev's Aeroflot operates mostly Boeing and Airbus aircraft, so his continued ability to do business in the West is essential. However, new opportunities in the Russian aviation sector may compel Aeroflot to increasingly look inside the country for new aircraft.
The production of aircraft in Russia is also affected by US sanctions and negative attention. Russia's state-owned United Aircraft Corporation (OAK) CEO Yuri Slyusar ended up on the Kremlin List, as well (ATO, January 30). In addition, OAK itself was added to the US Treasury's company sanctions list in October. OAK is responsible for the oversight and production of all domestically built Russian aircraft, from Su-series fighter jets to the new Irkut MC-21 narrow-body passenger plane. A key difficulty in Russian-US aviation relations was highlighted last fall by Vedomosti, which noted that the MC-21 was originally planned to be built with US-made Pratt & Whitney engines; in light of Washington's new sanctions, however, Irkut decided to use the engines they had already ordered but halted any further purchases from Pratt & Whitney (Vedomosti, October 30, 2017). Instead, Irkut will use Russian-made PD-14 engines produced by the United Engine Corporation (ODK), which is a subsidiary of the state-owned defense company Rostec. ODK's managing director is Sergey Vladimirovich Popov, an engineering expert and a United Russia legislative member in the nearby Perm Region (ZSPerm.ru, accessed March 23, 2018). Having an active member of Vladimir Putin's political party at the head of a government-funded state contractor naturally creates lucrative potential for corruption.
During his militarily focused presidential campaign, Putin himself visited the ODK's Ufa plant, where they produce the engines for the MC-21 (Kremlin.ru January 24; see EDM, March 15). Increasing the Russian defense-industrial sector's output (including civilian-sector products) puts money in the pockets of the state while producing a national product—a win-win for the Russian state and an expressed goal of the Russian president. Aeroflot has recently reached a deal to lease 50 new MC-21 planes from Rostec's leasing arm, Aviakapital Service. The first 25 will be built with Pratt & Whitney engines, while the rest will potentially be equipped with ODK's PD-14 engine (RT, ATO, February 1). The planes will arrive sometime in the next year, and this purchase shows Aeroflot's commitment to meeting the Russian state's import substitution policies. In turn, this will likely mean fewer business opportunities in Russia for Boeing and Airbus, particularly as Russian domestic passenger plane production ramps up in response to Western sanctions.