Moldova: The Geopolitics of an Internally Captured State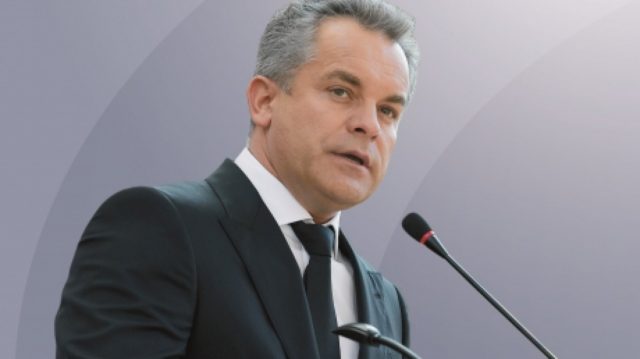 On March 27, 2017, The Jamestown Foundation hosted a discussion on Moldova with Senior Fellow Vladimir Socor. His talk, entitled "Moldova: The Geopolitics of an Internally Captured State," covered not only the internal political situation, but also Moldova's vulnerability to Russian soft-power influence, Moldovan-Romanian relations, the country's halted progress in European integration, the US role in the Transnistria conflict resolution process, as well as developmental analogies with Georgia and Ukraine. Socor's two-hour-long presentation touched on many strategically important issues. As he noted, after being presented by the EU as a "success story," Moldova's internal politics have become centralized in the hands of one individual, billionaire and Democratic Party chairman Vladimir Plahotniuc—that is, Moldova has succumbed to state capture—while other parties were coopted or "salami sliced" into insignificance. Moreover, corruption remains a serious problem and has become associated inside the country with the process of European integration. President Igor Dodon and his pro-Kremlin Socialist Party are now the most popular political force in Moldova. As Socor pointed out, Plahotniuc has established a political alliance of sorts with Dodon, but this relationship is purely tactical.
Russian influence in Moldova remains firm, particularly in the religious and broadcast television spheres, but Romanian influence over the country has also recently been growing, with bilateral trade up and young Moldovans—particularly those who studied in Romania—increasingly considering themselves Romanian culturally. The anti-corruption fight in Romania has had an impact on Moldova, although what passes for reforms in the latter country is limited to specific requirements by the IMF. Socor delved into the need for the US to play a greater role in Moldova and the conflict resolution process with Transnistria, after Washington had voluntarily limited its own role in favor of the EU and relegated Moldova to its role within the wider context of Ukraine's stability. US support for Plahotniuc today is, in fact, an extension of this preoccupation in Washington with "stability"—which Plahotniuc is perceived as being able to provide.
About the Event:
Moldova's wealthiest businessman has taken over political power,  broken up the multi-party system, helped elect a pro-Russia head of state against the pro-Western opposition, and claims at the same time to pursue a European course. Vladimir Plahotniuc is playing the European Union and the United States, Russia, and their respective sympathizers in Moldova against each other. Meanwhile, negotiating a "special status" for Transnistria could set a dangerous precedent usable against Ukraine in the Donbas.
Monday, March 27, 2017
12:30 P.M.–2:00 P.M.

The Jamestown Foundation
1310 L Street, NW
First Floor Conference Room
Washington, DC 20005
Audio from Event
Discussant Biography
Vladimir Socor
Vladimir Socor is a Senior Fellow of the Washington-based Jamestown Foundation and its flagship publication, Eurasia Daily Monitor (1995 to present), where he writes analytical articles on a daily basis. An internationally recognized expert on former Soviet-ruled countries in Eastern Europe, the South Caucasus, and Central Asia, he covers Russian and Western policies there, focusing on energy policies, regional security issues, secessionist conflicts, and NATO policies and programs.
Mr. Socor is a frequent speaker at U.S. and European policy conferences and think-tank institutions. He is a regular guest lecturer at the NATO Defense College and at Harvard University's National Security Program's Black Sea Program (Kennedy School of Government). He is also a frequent contributor to edited volumes. Mr. Socor was previously an analyst with the Radio Free Europe/Radio Liberty Research Institute (1983–1994). He is a Romanian-born citizen of the United States based in Munich, Germany.