A Weak AQIM and a Paralyzed Hirak: Algeria's Moment of Stability 
Publication: Terrorism Monitor Volume: 20 Issue: 6
By: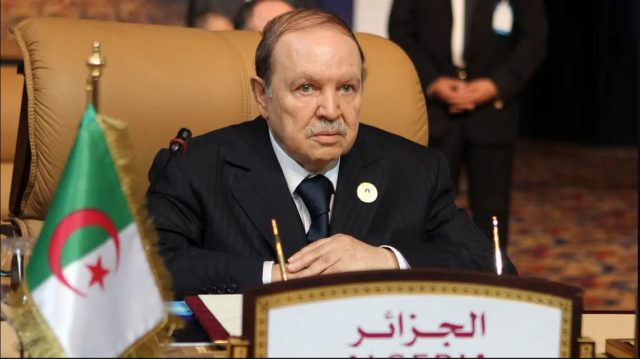 A Weak AQIM and a Paralyzed Hirak: Algeria's Moment of Stability 
Dario Cristiani
The third anniversary of the birth of the Hirak Movement in Algeria occurred on February 22, 2022. Three years earlier, in early February 2019, the then Algerian President Abdelaziz Bouteflika officially announced his decision to run for a fifth term, despite his obvious poor health (Bouteflika subsequently passed away on September 17, 2021) (Algérie Press Service, February 10, 2019, Jeune Afrique, September 18, 2021). His decision triggered nationwide protests and showed how the Algerian government might have been formally stable but had grown increasingly unsustainable under the surface, particularly among the country's younger population.
After weeks of demonstrations, Bouteflika reversed course and announced that he would not seek a fifth term, postponed the election, and called for a caretaker government to hold the country's new elections. These decisions were aimed at buying time against growing public discontent (The Jamestown Foundation Hot Issue, March 17, 2019). Yet, these measures were not enough and from the end of February 2019, a widespread, and above all inter-generational and inter-classist, protest movement emerged. This wave of protests led to the end of Bouteflika's regime through his resignation in April 2019.
However, it would be misleading to suggest that Algerian civil society was silent before the emergence of the Hirak Movement. Algerian cities witnessed protests almost on a daily basis before the Hirak Movement. Yet, the nature and scope of protests used to be limited to specific, often material, and localized grievances. Aware that elections and normal political channels were not effective in conducting this discontent and achieving what various interest groups and social and economic actors wanted, protests became the way for the people to present their requests to the incumbent power and push authorities to take action (Jamestown Hot Issue, January 24, 2017).
With the Hirak Movement, however, there was a shift. These new protests became systemic and aimed at achieving a change of the system (what the Algerians usually call the pouvoir) and did not target specific goals or sectarian aims, but expressed discontent at the entire post-independence political and economic elites and the groups and clans who have controlled the country since achieving independence from France in 1962. This ambition was well summarized in one of the slogans that came to characterize the Hirak Movement: yetnahaou ga3! ("They all should go!"). The movement was nurtured by the first generation born after the end of the civil war and the Black Decade of the 1990s, which entered the job market with no direct memory of the pain and destruction of the 1990s (Terrorism Monitor, January 25, 2019).
By now, it is clear that the Hirak Movement failed in achieving the systemic change it wanted. Yet, the experience it gained cannot be deemed as a total failure because it became an actor that forced the Algerian pouvoir to redefine its relationship with Algerian society. In a way, the Hirak Movement redrew the borders of the political game in Algeria and forced the military authorities and political players to evolve. However, also thanks to the global COVID-19 pandemic outbreak, the Algerian authorities managed to exploit the health emergency to put the movement in a corner and destroy its potential for change (Liberté Algérie, February 23).
The fact that the Hirak Movement did not manage to achieve its initial goals and demands, and the fact that its intensity gradually waned away, does not mean that the grievances that triggered, and fueled, that discontent are now gone or less significant than before. From this point of view, while the Algerian authorities managed to adapt to this wave of the protests, the factors that pushed many Algerians from many different walks of life to take to the streets and protest have not been addressed and can easily reignite. This will represent a sort of permanent sword of Damocles on Algeria's government.
AQIM and its Algerian Marginality
As the third anniversary of the establishment of the Hirak Movement was approaching, al-Qaeda in the Islamic Maghreb (AQIM) released a new video after an unusually long media hiatus. On February 12, AQIM's media branch al-Andalus released the video titled "An appeal and call for mobilization (Niad wa-Istinfar)" in which a young militant, whose name is allegedly Abd al-Muhsin Abu Julaybib, spoke alongside scenes from a number of videos and references to historical jihadist and al-Qaedist figures (Twitter.com/@SimNasr, February 12). Julaybib, who joined the group in 2019 according to what he stated in the video, is from the town of Zemmouri in the northern province of Boumerdes and he referred specifically to Algerians who protested. He criticized them, claiming that real change can only be achieved with force and not through peaceful means, which is extremely relevant when looking at AQIM's previous positions regarding the Hirak Movement.
In May 2019, Abou Obeida Youssef Al-Annabi, who was later appointed as emir of AQIM in November 2020, became the head of the AQIM Shura Council and ideological leader of the organization (Militant Leadership Monitor, October 2018). At that time, he had approved the pacifist actions of the demonstrators. He asserted that jihad was not limited to armed struggle (France24, May 30, 2019). This was his attempt to capitalize on the mounting discontent in Algeria and become an interlocutor for the protest movement and use it as a recruitment pool. This attempt, however, obviously failed. AQIM had no capacity to exploit the discontent mounting in Algeria, which was unlike its predecessors in the early 1990s because it had managed to make inroads among the disfranchised youth of major urban centers in Algeria.
AQIM's inability to represent a pole of attraction and its consequent incapacity to recruit protesters by exploiting their discontent is likely the reason why Julaybib also recalled an old controversy inside the Algerian jihadist circles regarding the evolution of the Armed Islamic Group's (Groupe Islamique Armee, GIA) strategy in the 1990s, which involved the targeting of civilians. He defined the GIA as kharijite (outside the fold of Islam) and stressed how AQIM's jihadists are different from the GIA and have a good reputation in the areas where they operate. The shifting strategy of the GIA in the mid-1990s to move beyond targeting only police and security forces to civilians who were considered "apostates" pushed a number of its members to leave the group. They then created a splinter group, the Salafist Group for Preaching and Combat (Groupe salafiste pour la prédication et le combat, GSPC), that later became AQIM in 2007 and avoided the GIA's indiscriminate killings (Terrorism Monitor, May 5, 2017).
Julaybib's video is thus interesting for several reasons. As already mentioned, it showed a shift in AQIM from being open to peaceful protests in Algeria to abandoning the ambition to win the sympathies of those who protested under the Hirak Movement's banner. However, this shift is likely linked to the inability of AQIM to win any of the protesters' sympathies and is more a reaction to AQIM's failure and lack of attractiveness to the Algerian people. In addition, the poor quality of the video of Julaybib, which was unusual for al-Andalus, also suggests that at least AQIM's militants operating in Algeria are hampered by logistical and organization problems. From this point of view, the video was a sort of admission of weakness by the group in Algeria and proves once more that while AQIM remains an Algerian player, its main strategic focus, and success, is consistently elsewhere, such as in Mali and more broadly the Sahel. It is in this area where the activities of the Group of Support for Islam and Muslims (Jama'at Nasr al-Islam wal Muslimin, JNIM) is much more effective and relevant than AQIM in Algeria (Terrorism Monitor, April 5, 2017).
The Russian Military Invasion of Ukraine and the Algerian Paradox
The third anniversary of the Hirak Movement came as Russia was launching its military invasion of Ukraine (Eurasia Daily Monitor, February 24). Although Algeria is not immediately involved in this conflict, the implications for the country are extremely significant on many levels. Against this backdrop, the most important element to consider is the mixed impact that this conflict can have on Algerian domestic dynamics. On the one hand, the build-up to the crisis and the actual outbreak of war following Russia's large-scale invasion pushed hydrocarbon prices up to levels unseen since the early 2010s. Algeria is benefiting significantly from this development as higher revenues are providing some relief to the ailing Algerian public finances. Years of declining oil prices, coupled with domestic problems, reduced the Algerian capacity to use public money to cool down social tensions. But with prices rising again, current President Abdelmadjid Tebboune has decided to establish a "dignity subsidy" worth 13,000 Algerian dinars (around 91 USD), which appears to have come straight from the post-Arab Spring Bouteflika playbook (Algérie Press Service, February 15).
However, while growing prices are boosting revenues on what the country is able to sell in the short-term, Algeria has limited spare energy capacity to actually capitalize more from these specific dynamics. The country is indeed pushing its oil production to around one-million barrels per day in April in line with the decision of OPEC+ (Jeune Afrique, March 5). However, years of mismanagement, governance issues, legal problems, and tight contractual conditions have prevented the country from stably boosting its output. Moreover, even if Sonatrach (Algeria's national oil company) manages to resolve all of its problems, it would take years for the country to tap most of its potential. Rising domestic consumption is reducing the quota for exports, which means in the short-term, Algeria will not be able to increase its production significantly and make the most out of the current global situation (Jeune Afrique, March 2).
As the Russian military invasion in Ukraine persists, Algeria is facing a diplomatic paradox. Algiers abstained from the UN General Assembly vote to condemn Moscow's aggression toward Kiev. More generally, Algeria has remained neutral regarding the conflict, a position in line both with the country's historical approach to global politics and reflecting the close political, economic, and military ties existing between Algeria and Russia. That said, European countries have so far avoided putting too much pressure on Algeria for this lack of condemnation and are unlikely to do so in the foreseeable future. On the contrary, in the wake of the war, the Italian minister of Foreign Affairs, Luigi Di Maio, went to Algiers for a number of meetings together with Claudio De Scalzi, the CEO of Ente Nazionale Idrocarburi (ENI), which is Italy's oil and gas giant and a major actor in the global energy market. On behalf of the European Union, they sought to negotiate an increase in Algerian oil and gas supply to Europe to partially offset the impact of declining imports from Russia. This was a clear display of the increasing European attention toward Algeria (Algérie Focus, March 6; Le Figaro, February 28).
From this point of view, Algeria can exploit this specific diplomatic situation similarly to what it did in other situations. For instance, in the early 2000s after 9/11, Algeria went from being an international pariah to a trusted counter-terrorism ally for the Americans and Europeans. In this current case, Algeria can sell its (potential) energy capacity to partially reduce Europe's dependence on Russia in return for greater political and diplomatic freedom. On top of avoiding being targeted for its position close to Russia, Algeria can also reduce the pressure from European countries on how it handles protests and domestic social discontent.
However, there is a third element, which is significantly concerning for Algeria, linked to the current crisis in Ukraine, and specifically its food security and especially food prices. This is a common problem for many African and Middle Eastern countries, although Algeria is not in as difficult condition a situation as other countries (Le Monde, March 2; Algérie Press Service, December 28, 2021). Algeria is the second largest consumer of wheat in Africa and the fifth largest importer of cereals in the world. Their current stock level is sufficient for six months (L'Opinion Maroc}, March 7). Historically, France represents Algeria's major partner in this market, but Algerians were discussing a diversification of its sources and looking at Russia as a potential alternative (Jeune Afrique, January 15, 2021). While a problem with internal shortages might not be an immediate concern, the actual problem comes from the generalized increase in food prices. Algerian history is full of examples of social and political crises sparked by rising prices for bread, the most notable being the October 1988 riots which were at the very root of the civil war of the 1990s. This development, therefore, has the potential to offset the positive impact that rising revenues has on strengthening social peace and will force authorities to devote even more resources to promote social stability at home.
Conclusions
Three years on, the Hirak Movement contributed to changing the parameters of the political game in Algeria but failed to promote structural, systemic change within an Algerian polyarchy dominated by a military that has merely reorganized itself. It accordingly purged a significant part of the political and business elites closely linked to Bouteflika, but still reproduces old schemes. While accommodating some of the Hirak Movement's requests, particularly in the early months of the mobilization, the Algerian elites still managed to contain the movement through the measures they took to control the COVID-19 pandemic.
The current return of a commodity super-cycle is likely to help the Algerian pouvoir further strengthen its immediate control. Paradoxically, despite its close ties with Russia, Algeria is likely to avoid diplomatic and political isolation, particularly from European countries, as they desperately need alternative sources of energy to Russian supplies. Against this backdrop, the recent AQIM-released video shows that the group is now totally marginal in the domestic scene, and has completely failed in its bid to attract even just a small part of protesters.
While AQIM, through JNIM, is now a crucial actor in the Sahel, in Algeria and the broader Maghreb it continues to struggle for relevance. For Algeria, this proves once more that the actual, major structural threat it has faced in the past – radical Jihadism – is now totally marginalized. However, because the Hirak Movement did not achieve the systemic change it hoped for, the grievances that nurtured its mobilization have not been addressed, and this poses a serious systemic challenge to Algeria in the long-run that the current elites seem to be both unwilling and unable to solve.
Dario Cristiani is a Senior Fellow at the German Marshall Fund of the United States (GMFUS) in Washington D.C., working on Italian foreign policy, Mediterranean Security, Terrorism, and Global Politics in close connection with Istituto Affari Internazionali in Rome. He is also a political risk consultant working with businesses operating in Mediterranean markets and teaches as a guest lecturer in several institutions in Europe and North Africa (Koninklijke Militaire School, Istituto Alti Studi Difesa, SIT Tunis). He was a Visiting Researcher at the International Centre for Policing and Security at the University of South Wales in Pontypridd (UK) (2018/2020) and the director of the Executive Training in Global Risk Analysis and Crisis Management, (GRACM) and adjunct professor in International Affairs and Conflict Studies at Vesalius College (VUB) in Brussels (2014/2018). He received his Ph.D. in Middle East & Mediterranean Studies from King's College London in 2015. The views expressed in his articles are his own and do not necessarily represent those of the German Marshall Fund.