A Year in Review: Armenian Government Hampered by Path Dependence
Publication: Eurasia Daily Monitor Volume: 17 Issue: 15
By: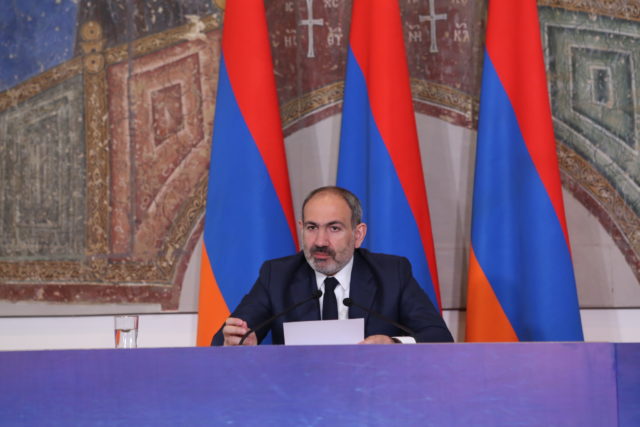 In 2019, Armenia's economic situation markedly improved, registering GDP growth of 6.5 percent, a stable financial system, upgraded credit ratings, higher budget revenues and reduced public debt (Emerging Europe, December 30, 2019). According to a poll conducted in September and October by the International Republican Institute (IRI), 28 percent of citizens noted a significant improvement in their households' financial situation, compared to 17 percent in 2018, although the majority of respondents saw no change for the better. Prime Minister Nikol Pashinyan's government remains popular, with 70 percent of the population feeling optimistic about the country's future and expressing satisfaction with the government's anti-corruption campaign. But on the other hand, the proportion of respondents emphasizing socio-economic issues and the need for job creation has increased significantly in comparison with previous polls from October 2018 and May 2019; and 82 percent of respondents consider judicial reform a priority (Iri.org, December 9, 2019).
It remains to be seen how the Armenian government's obligation this year to fully implement the customs tariffs associated with its membership in the Moscow-led Eurasian Economic Union (EEU), which is set to raise prices on over 700 goods, will affect the socio-economic situation. Claims that access to the EEU market will boost investment in Armenia can still be heard but seem increasingly half-hearted, especially now that Armenia's rotating EEU presidency has ended. The tourism sector may potentially become a more important source of growth than in previous years, as European-based low-cost airlines Ryanair and Wizzair have confirmed the start of operations out of Yerevan and Gyumri (so far, Ryanair announced six destinations in Germany, Greece, and Italy; Wizzair has announced flights to Vienna and Vilnius). While that expansion is moderate compared to neighboring Georgia (Wizzair, which launched its first flights from Budapest to Kutaisi in the fall of 2014, currently serves 40 European destinations from Georgia's second largest city; Ryanair entered Georgia's market in 2019 and currently serves four destinations from Tbilisi and Kutaisi), the availability of cheaper flights may stimulate tourism to Armenia as it did in other developing countries. The government also plans to increase spending on road construction and other infrastructure (B24.am, December 23, 2019).
Meanwhile, Pashinyan's push for significant change at home seems inconsistent at times. Indeed, it might have been easier to carry out radical reforms, particularly constitutional and judiciary reforms, immediately after the snap parliamentary elections in December 2018 (see EDM, November 21, 2019). Despite the Armenian prime minister's previously stated preference for slow and cautious reforms, he more recently seems to have concluded that the "deep state" has been creating obstacles for systemic change. At a cabinet meeting in December, he stated that the entrenched bureaucratic apparatus and unreformed public institutions are ineffective and acting against the change demanded by the revolution; he declared the situation must change (Azatutyun.am, December 12). Such a conclusion is hardly surprising, as it was rather predictable that in addition to low professional qualities, many Armenian government functionaries retained Soviet- and post-Soviet-era mentalities; drastic measures would be required to overcome them. Additionally, many officials were appointed on the basis of loyalty to the former regime and continue to resist with vitriolic propaganda and character assassination attempts. These attacks have intensified following the indictment of former president Serzh Sargsyan for embezzlement (Azatutyun.am, December 4, 2019) and during the trial of former president Robert Kocharyan. The familiar cast of Pashinyan opponents posing as "protectors of national and cultural identity" (see EDM, September 19, November 21, 2019) made proposed education reform another reason to blame the government; the Armenian Revolutionary Federation (Dashnaktsutyun) went as far as to call for "guerilla strikes" at a party assembly (Azatutyun.am, December 9, 2019). In summary, serious domestic political issues still need to be solved by a coherent and consistent approach to the reform agenda. Drastic measures such as the implementation of transitional justice, constitutional and judiciary reforms, or the adoption of a law against illicit enrichment could be used to undermine the former regime's material and ideological base; and such measures may be expected to receive broad public approval.
The government's foreign affairs in 2020 are expected to remain largely unchanged, adhering to the "multi-vector policy" paradigm. In late December of last year, the previously planned delivery of four Russian Su-30SM fighter planes (see EDM, November 21, 2019) finally took place (1in.am, December 29, 2019). Over the foreseeable future, Russia will remain Armenia's main weapons supplier. This year, a slight decrease in military expenses compared to 2019 is anticipated (Hetq.am, October 2, 2019), but with reduced corruption and embezzlement the allocated amount will actually allow for increased procurements. At the moment, it seems a balance in relations with Russia has been achieved despite the former Armenian presidents' (and their proxies') attempts to use their Russian connections to undermine Pashinyan's position. Russian analyst Sergey Markedonov has noted that the current Armenian prime minister's pragmatic approach has helped him build a working (and mostly dependable) relationship with Moscow (1in.am, January 8, 2020). Arguably, Russia also had to adopt a pragmatic approach and show some level of flexibility in light of the 2018 Velvet Revolution in Yerevan, as it could not risk losing a reliable regional partner in case of an unsuccessful attempt to remove a highly popular leader. However, it is worth keeping in mind that the relatively accommodating mood in Moscow may harden if Pashinyan's domestic popularity begins to decline.
Armenia's relationship with the European Union continued to develop within the framework of the 2017 Comprehensive and Enhanced Partnership Agreement. Brussels has expressed satisfaction with Yerevan's anti-corruption measures to date, and the European bloc has offered to boost its financial support to the South Caucasus country. The EU supports the government's 2019–2023 Judicial Strategy as well as its 2019–2022 Anti-Corruption Strategy and will assist with their implementation (Hetq.am, October 4, 2019). Meanwhile, Armenia's relations with the United States will likely remain cautious as 2020 unfolds because of Yerevan's unwillingness to provoke Moscow as well as the recent tensions in US-Iranian relations (see EDM, January 28, 2020). According to Pashinyan, both are "friendly states," and Armenia cannot afford to find itself in a confrontation with either (Aravot.am, January 5, 2020). Finally, an expansion in Armenia's relations with China may be anticipated in 2020, particularly with regard to attracting investment. But it remains to be seen whether or not domestic political tumult grows intense enough in the coming months to derail any of these expected foreign policy trends.